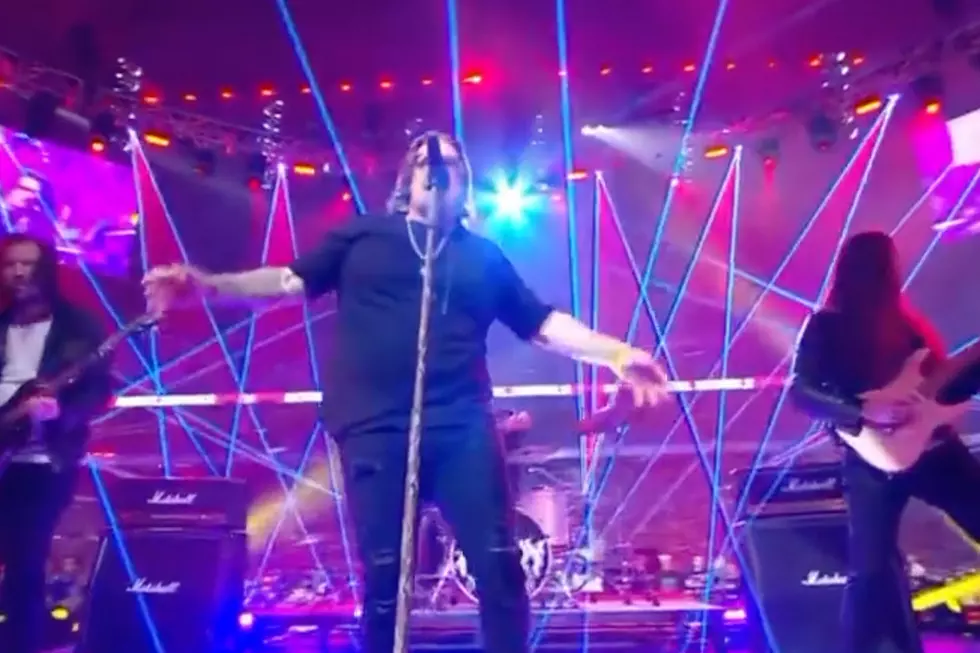 Hardy Unleashes 'Sold Out' Live During WWE Royal Rumble [Watch]
WWE/Twitter
Hardy let his rock side take center stage on Saturday night (Jan. 28), giving an opening performance at the 2023 Royal Rumble in San Antonio, Texas. Before the matches began in the annual WWE (World Wrestling Entertainment) event, the country singer warmed up the crowd with a blazing performance of his song, "Sold Out."
"Sold Out" is a longtime live favorite for Hardy fans, and it's included on the track list of his just-released half country, half rock album, The Mockingbird & the Crow. From the opening bars of his performance, it was clear which half of the album this song belongs to: A scream-sung, distorted banger, the song is Hardy's mosh-worthy declaration of chip-on-his-shoulder individuality and unalterable redneck sensibilities.
"Middle finger to the sky 'til I'm gone and dead / .44 in the Ford for the copperheads / Alcohol in my cup, got the whole house / Wall to wall and I still ain't sold out," Hardy crows in the lyrics of "Sold Out." While country fans might know a twangier side of Hardy, this livestreamed and pay-per-view event was a testament to his hard rock bonafides, with the singer bounding around the stage and headbanging against a back drop of strobe lights as he sang.
A clip of the event circulating social media shows Hardy's performance, plus a comedic cameo from sports analyst Pat McAfee.
Also at Saturday night's Royal Rumble, Hardy was featured in a backstage promo clip that showed him following a reporter through the backstage area of the venue, only to turn and run when he recognized a familiar face: Wrestler Solo Sikoa. Fans of the sport might recall that in early January, Hardy was a special guest during WWE's Monday Night RAW in Nashville, and he hopped into the ring to smash Sikoa with a guitar during the wrestler's match with wrestler-musician Elias. The joke, of course, was that Elias is known for using instruments as weapons during his brawls, and Hardy came to his defense in the ring with the only thing he had handy -- an acoustic guitar.
In fact, Hardy has had multiple run-ins with WWE recently. He previously explained to Taste of Country that he's got some connections with the wrestling organization, so much so that someone at WWE arranged for hard rock legend Ozzy Osbourne to film a short video congratulating Hardy on his recent marriage to Caleigh Ryan.
Recently, Hardy has been busy with live TV appearances in support of The Mockingbird & the Crow. His current single is "Wait in the Truck," a duet with Lainey Wilson.
The 50 Best Ever, Country Music Duets, Ranked
Country music is well known for its collaborations, and there is no shortage of duets within the genre's lifespan. But we've cut it down to 50 of the genre's most memorable duets over the past several decades, as you'll see here.
More From Taste of Country