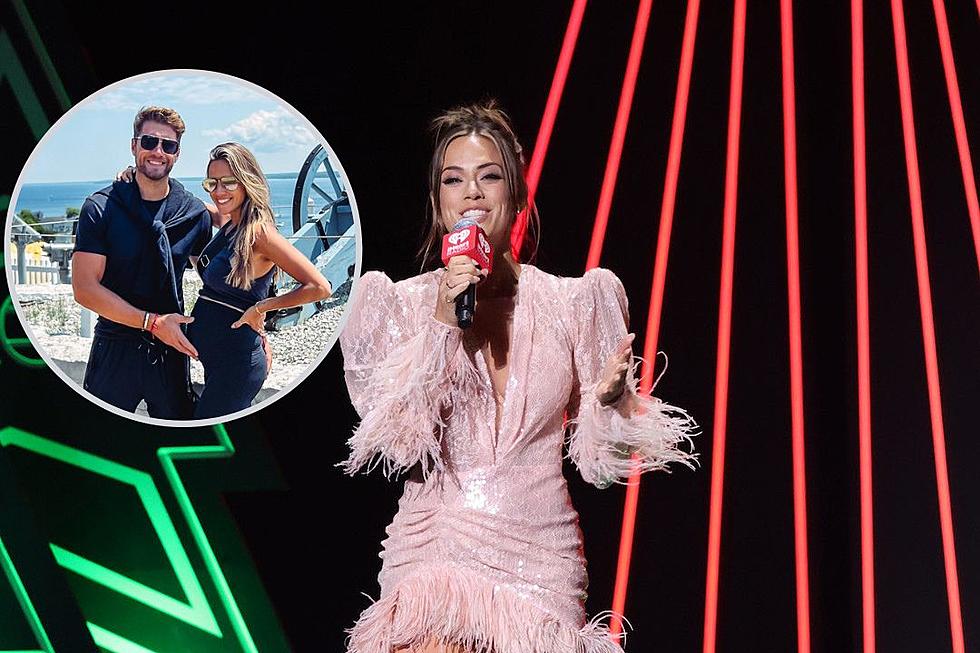 Pregnant Jana Kramer Strips Down For a Sultry Maternity Shoot [Pictures]
Michael Loccisano, Getty Images
As Jana Kramer counts down the days until she welcomes her baby boy -- the singer's third child, and her first with fiancé Allan Russell -- she's soaking up every moment of her pregnancy.
On Saturday (Oct. 21), Kramer celebrated hitting the 34-work mark with a series of black-and-white maternity photos. The singer put the spotlight on her growing baby bump, going topless -- except for a strategically-placed arm -- for the photo shoot. She also wore unbuttoned, distressed jeans, creating a look that was both casual and sultry.
Russell also made an appearance in the photos, standing behind his bride-to-be and cradling her bump. He selected an outfit to match Kramer's laidback-but-sleek aesthetic of the maternity shoot, selecting a white t-shirt and jeans for the occasion.
Kramer revealed her pregnancy back in June, shortly after she and Russell announced their engagement. Since then, she has gone on to say that their baby-to-be is a boy, and that she's due on Dec. 2 -- which also happens to be her 40th birthday -- but that she plans to welcome her son via C-section a week and a half beforehand.
As the couple count down their final weeks of pregnancy, Kramer also commemorated the experience with a low-key baby shower with some close friends. She also shared snapshots from that experience on Sunday (Oct. 22), including photos of the group's matching sweatsuits, a cheese plate and the s'mores they roasted together by the fire.
"The sunset, laughs by the fireplace, prayers for sweet baby and a cozy sleepover. It was perfection," she wrote in her recap. "Little guy is so lucky to have these aunties and I'm so blessed to have their love. Thank you girls for everything."
9 Country Stars Who Dated + Married Pro Athletes
We're not going to say every relationship involving a country singer and a professional athlete is doomed, but the odds of true love lasting aren't great.
Here are nine country singer/athlete couples. Seven went to the altar, and of those seven, just three survive today. A high-profile divorce is a more common result of this kind of relationship, but for the sake of our romantic heart, we'll admit the sample size is very, very small.
18 Celebrity Country Couples You Probably Forgot About
Carrie Underwood is a part of this list, twice! So too is Keith Urban, Brad Paisley and Dwight Yoakam. See all the celebrity country couples that once were, until they broke up.
More From Taste of Country