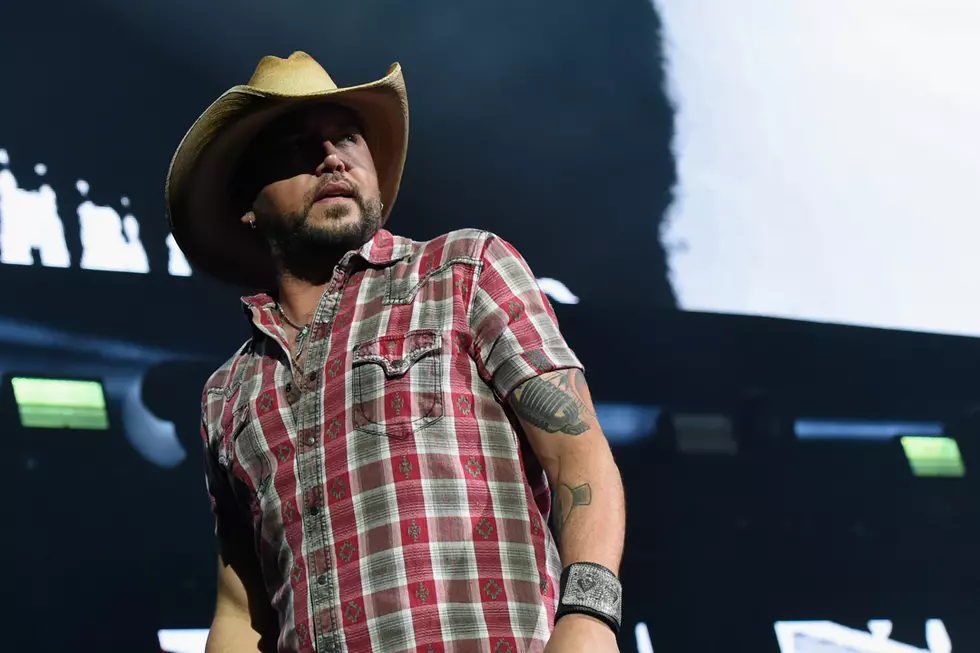 Jason Aldean's Upcoming '9' Album Will Be 'Like Two Whole Albums'
Rick Diamond, Getty Images
Jason Aldean has revealed the track listing for his upcoming ninth studio album. The country superstar is set to release 9 on Nov. 22.
Aldean's latest effort finds him doubling down on the album format in an era that's hyper-focused on singles, according to a press release that describes the 16 new tracks as "interwoven."
"People buy albums with eight songs for 10 bucks now, but with 9 it's like you're getting two whole albums at once," Aldean states. "I want fans to feel like they're getting more than they bargained for and I want it to be something they listen to from top to bottom, and never hit skip … or thumbs down or whatever."
Aldean once again employs his longtime producer, Michael Knox, as well as his road band. He has always relied upon those players, instead of employing Nashville studio musicians for his albums.
Jason Aldean Fans Will Love Riley Green:
The new album has a focus on the kind of drinking songs that form the backbone of so much of country music.
"I don't know. Maybe I'm just drawn to drinking tunes," Aldean reflects. "They just go together with country music and it's hard to pass them up. But it's not the 'Hicktown' type stuff with keg stands, it's more like sitting at the bar and doing some thinking. It's all coming from a more mature standpoint."
Aldean's 9 album is set for release on Nov. 22. It is currently available via pre-order. The album' first single is "We Back," and fans who pre-order will also receive a new song titled "Dirt We Were Raised On" as an instant download.
The country superstar is slated to hit the road in 2020 for his We Back Tour beginning on Jan. 30 in Columbia, S.C. The trek runs through March 14 before wrapping up with a show in St. Paul, Minn.
Jason Aldean's 9 Track Listing:
1. "Tattoos and Tequila" (Michael Dulaney, Neil Thrasher)
2. "Blame It On You" (Kurt Allison, John Edwards, Tully Kennedy, Michael Tyler, Brian White)
3. "Champagne Town" (Matt Dragstrem, Josh Thompson)
4. "Some Things You Don't Forget"(Nick Brophy, Michael Dulaney, Jennifer Hanson, Neil Thrasher)
5. "Got What I Got" (Thomas Archer, Alex Palmer, Michael Tyler)
6. "Keeping It Small Town" (Jaron Boyer, Ben Hayslip, Morgan Wallen)
7. "Camouflage Hat" (Ben Hayslip, Jameson Rodgers, Josh Thompson)
8. "Came Here to Drink" (Jaron Boyer, Alex Palmer, Michael Tyler)
9. "We Back" (Tyler Hubbard, Jordan Schmidt, Brad Warren, Brett Warren)
10. "Dirt We Were Raised On" (Rhett Akins, Jaron Boyer, Josh Thompson)
11. "I Don't Drink Anymore" (Kelly Lovelace, CJ Solar, Neil Thrasher)
12. "Cowboy Killer" (Jaron Boyer, Josh Hoge, Michael Tyler)
13. "One for the Road" (Lynn Hutton, Brandon Kinney, Josh Thompson)
14. "Talk About Georgia" (Kurt Allison, Tully Kennedy, Michael Tyler)
15. "The Same Way" (Brock Berryhill, Brantley Gilbert, Cole Taylor)
16. "She Likes It" (Jaron Boyer, Ben Stennis, Michael Tyler)
Riley Green's New Song Is Stunningly Personal
Jason Aldean Has One of the Top 2000s Country Albums — Find Him Below!
More From Taste of Country