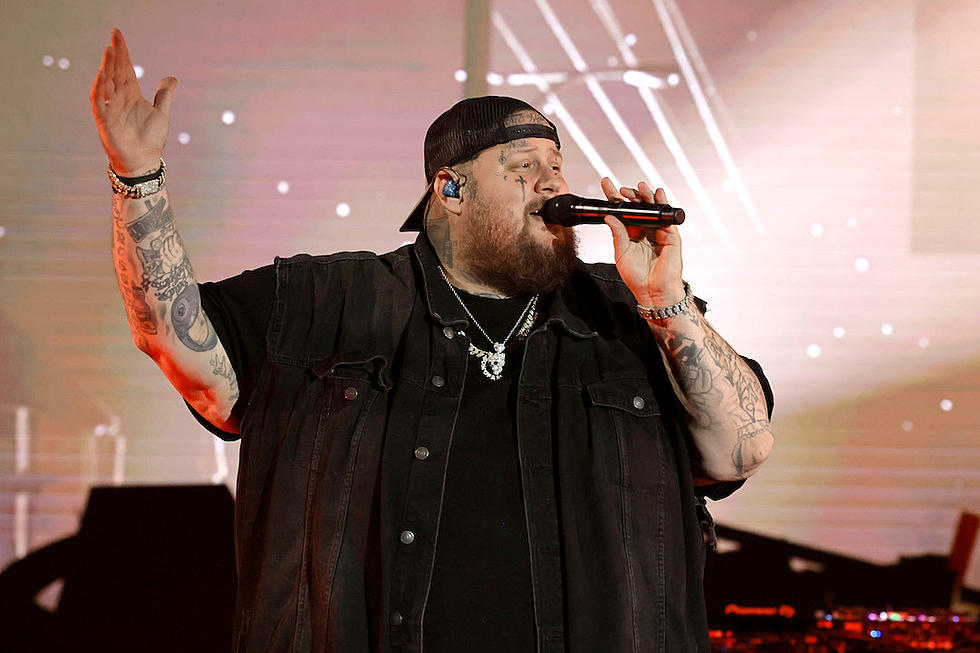 Why Jelly Roll Plans to 'Go Phoneless' for the Rest of 2023
Kevin Winter, Getty Images
As he wraps his first-ever major headlining arena tour, Jelly Roll is looking back on 2023 with gratitude.
In an emotional social media post, the singer reflects on his lengthy Backroad Baptism Tour, including not only the show dates themselves but also the three television appearances and the nearly 20 stops at homeless shelters, jails, rehab centers and juvenile facilities he visited in the midst of the tour.
Not only did Jelly mount a successful, far-reaching headlining tour, but he also committed a dollar of every ticket sale to charity organizations for at-risk youth, ultimately raising $590,000 for that cause.
"I never even dreamed that this would be possible," the singer writes. "My gratitude is at [an] all-time high. I got emotional every night on stage — seeing the impact of these songs. Seeing people laughing, dancing, crying together was something I'll never forget."
But after working hard to make every night a special experience, Jelly says, he's exhausted.
"I am home and fighting a cold, the road ran me down pretty bad this time," he admits, explaining that he's got a plan to rest and re-calibrate for the remainder of the year.
"I'm going to get rid of my phone again and go phoneless for the rest of the year to focus on family and try to be as present as possible for my family," Jelly continues. "I'll be posting when I can from the iPad or my wife's phone. Thank y'all for the most incredible tour."
Jelly Roll says that the experience of seeing his songs' impact live and in-person on the Backroad Baptism Tour had a huge impact on him. "When I started writing songs when I was a kid I did it as a means of therapy and way of connection. I never in my wildest imagination would've thought that it could've ended up in arenas," he says.
"I'm learning to be fearless and dream bigger," he adds, "because my plans were small compared to the plans God had for me."
10 Things You Didn't Know About Jelly Roll
The
Jelly Roll: Save Me
documentary on Hulu tells
Jelly Roll'
s complicated life story and spares no details. He's shockingly honest about addiction, prison, his childhood and his insecurities. Here are 10 key takeaways from the project.
Gallery Credit: Billy Dukes
11 Songs that Foreshadowed Jelly Roll's Country Music Career
Jelly Roll has taken the country music world by storm over the past year, and he will release his first full-length country album, Whitsitt Chapel, on June 2. Before he jumps right into the deepend of the genre, let's take a walk down memory lane. There are 11 songs that seemed to foreshadow his country music career.
More From Taste of Country