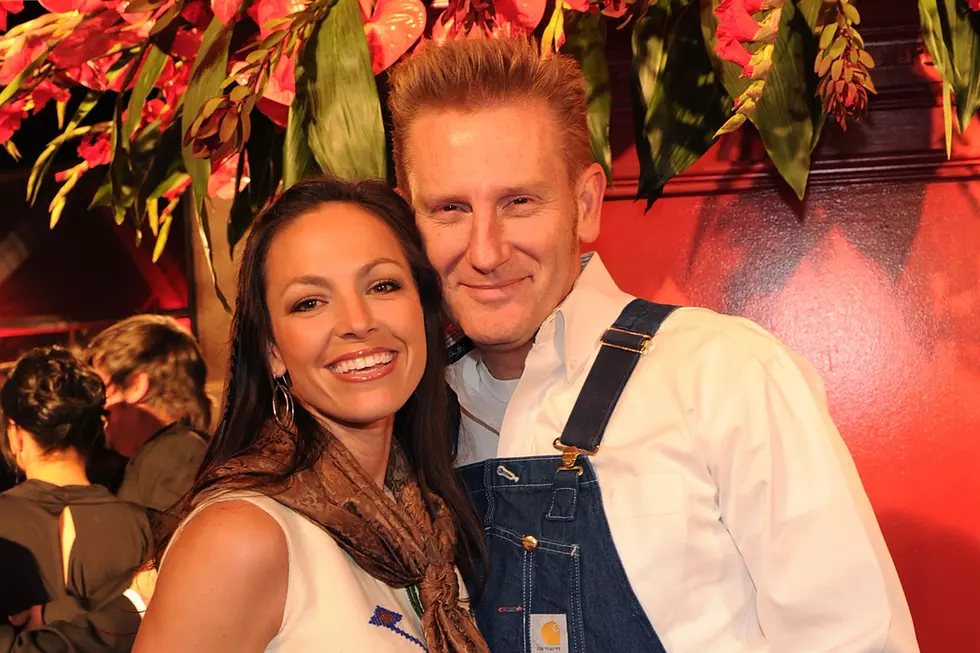 Joey + Rory Announce Special Pre-Sale for New Hymns Project
Rick Diamond, Getty Images for BMI
Grammy-nominated country duo Joey + Rory are releasing a new album of classic hymns that they have recorded, and they're offering fans a deluxe version of the project as a special pre-sale.
The country duo are set to release Hymns That Are Important to Us on Friday, Feb. 12 in a special deluxe edition that will be available exclusively at Cracker Barrel locations across America. Fans will be able to pre-order the CD exclusively via Cracker Barrel's website beginning on Friday, Jan. 15.
According to a press release, "the CD package includes never-before-seen photos of Joey and Rory and their family, a magnet, lyrics, excerpts and stories from Rory's blog, This Life I Live and a closer look into the couple's journey creating this album together." A dollar from each sale of the deluxe edition will go to support the Loeys-Dietz Syndrome Foundation, a nonprofit Joey + Rory chose because the disease affects their daughter's best friend.
"Joey and I feel blessed to partner with Cracker Barrel for the deluxe package of our new hymns album," says Rory Feek. "These songs of faith and hope mean so much to us, and to have them wrapped within intimate stories and photos from our lives is a dream come true. We are both big fans of the restaurant, and our family has held hands and said blessings over many meals there throughout the years."
The project is one that is particularly special to Joey. The new tracks "capture the words and melodies that were the soundtrack to Joey's childhood," Rory adds. "It's the one Joey has always wanted to make — filled with the hymns she grew up with."
The duo recorded the album after Joey was diagnosed with Stage 4 cancer. "We recorded the album in a studio in Nashville early in the summer — just after recovering from [Joey's] first big surgery in Chicago," Rory says. "And then she did her vocals where she could … in hotel rooms, our house, wherever and whenever she felt up to singing."
The tracks include one song, "When I'm Gone," that is not a classic hymn, but is very important to the couple. Originally released on their His & Hers album in 2012, the song features Joey singing lead and is written from the now-hauntingly prescient perspective of a woman who is dying, telling her loved ones that they'll be all right after she has gone.
Cracker Barrel are excited about the very special partnership.
"Joey and Rory have been a part of the Cracker Barrel family for many years, playing at our Home Office and releasing their sixth studio album in our stores in 2014," says Senior Marketing Manager Julie Ulmer. "When they approached us about partnering on this album, we were honored to have the opportunity to support the project and share their music again, while also giving to a charity they care so deeply about."
Joey + Rory, Hymns That Are Important to Us Track Listing:
1. "Take My Hand, Precious Lord"
2. "I Surrender All"
3. "He Touched Me"
4. "Softly and Tenderly"
5. "Jesus Loves Me"
6. "It Is Well With My Soul"
7. "The Old Rugged Cross"
8. "I Need Thee Every Hour"
9. "How Great Thou Art"
10. "I'll Fly Away"
11. "Jesus Paid It All"
12. "Suppertime"
13. "When I'm Gone"
Country Stars Who've Been Touched by Cancer
More From Taste of Country