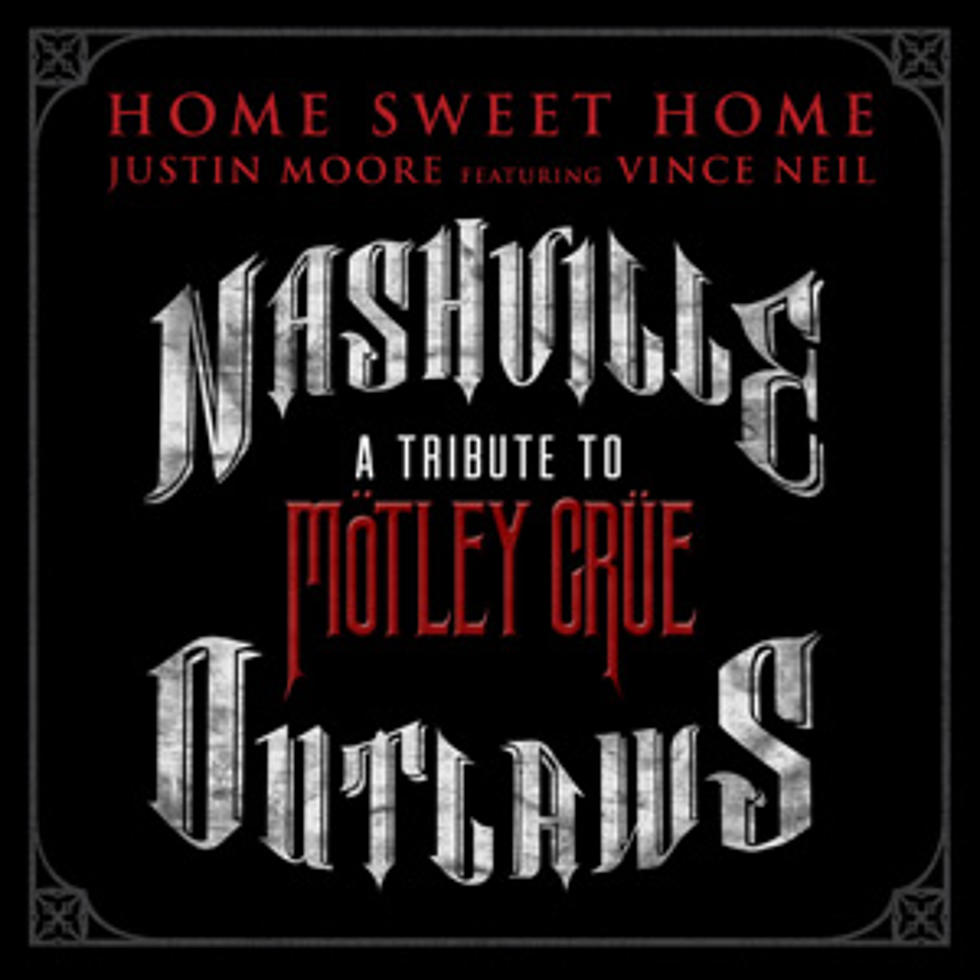 Justin Moore (Feat. Vince Neil), 'Home Sweet Home' [Listen]
Big Machine Records
Like the many before it, Justin Moore's cover of Motley Crue's 'Home Sweet Home' stays true to the original. The country singer's down-home roots give the song (slightly) new meaning. In fact, the classic rock track fits in nicely with today's Nashville sound.
The influence of '80s rock can be found all over country radio, but few songs get a blessing quite like Moore's track from the 'Nashville Outlaws: A Tribute to Motley Crue' album. Vince Neil makes an appearance on the song and in the music video, serving as little more than a backup singer to Moore during each chorus.
"I'm on my way, I'm on my way / Home sweet home," the two men shout during the song's climatic pitch, and a half a dozen times before that.
While Neil and Motley Crue's presence on this project is what will draw attention, it's Moore's sturdy country voice that makes it work. One can see how he's a tough person to sing alongside, especially if your voice is a few years past its prime. A lesser singer is simply overshadowed.
"Take me to your heart / Feel me in your bones / Just one more night / And I'm comin' off this long and winding road," Moore sings to close the second verse.
Vintage clips of Motley Crue at the height of their debauchery are weaved into the music video, but Moore's version comes across as a promise to his family, instead of a promise to any sexy girl within a puckered lip's reach. The guitar work ties this song back to its '80s roots. Moore's player screams like Mick Mars did so many years ago, allowing fans both young and old to appreciate this remake.
Why Fans Will Love It: The familiar rock anthem is given a pure country twist.
Key Lyrics: "I'm on my way, I'm on my way / Home sweet home"
Did You Know?: Carrie Underwood has country music's second most popular version of this Motley Crue cover. She recorded 'Home Sweet Home' to be used as the farewell song for contestants on Season 8 of 'American Idol.'
Listen to Justin Moore, 'Home Sweet Home'
Justin Moore and Vince Neil Talk About 'Home Sweet Home'
More From Taste of Country