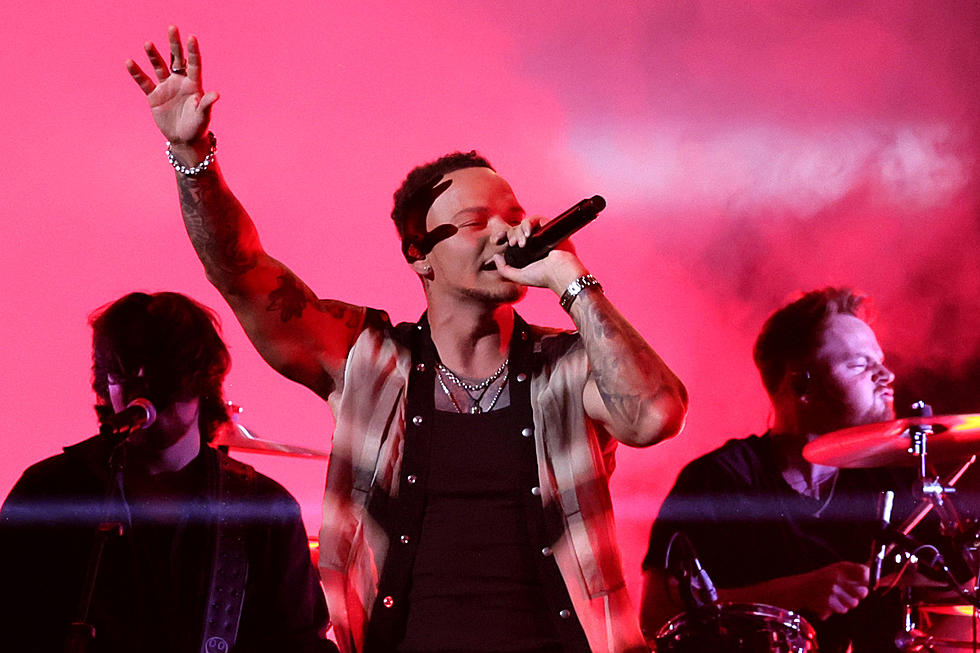 Kane Brown Sizzles With 'Bury Me in Georgia' at the 2023 ACM Awards
Theo Wargo, Getty Images
Kane Brown took the stage during the 2023 ACM Awards for a dazzling performance of his new single, "Bury Me in Georgia." He performed during the live broadcast of the show.
Brown took the stage against a colorful backdrop of flashing red and white lights, singing along to the groove-heavy beat with upbeat, dance-a-long swagger. During the second chorus, he upped the ante even more with a flash of pyrotechnics.
The singer's backing band got a big spotlight during the song, which included a rocking electric fiddle solo and prominent drum line. As he threw the focus onto his band mates, Brown walked around the stage, spending a moment with each other musician on the stage.
"Bury Me in Georgia" is the follow-up single to "Thank God," Brown's No. 1 duet with his wife Katelyn. On the carpet before the 2023 ACMs, he explained that after topping the charts with a sweet, romantic ballad, he wanted to switch things up with something up-tempo. Though she wasn't onstage singing with her country superstar husband this time around, Katelyn danced along to the song from her seat in the crowd.
Brown's in the middle of a big night at the 2023 ACMs: He earned his first-ever nominations in artist categories this year, including a mention in the Male Artist of the Year category as well as the biggest category of the night, Entertainer of the Year.
The singer's hit single "Thank God," a duet with his wife Katelyn, also got considerable love in the nominations list, earning nods in the Visual Media of the Year, Music Event of the Year and Single of the Year categories.
Brown's 2023 Drunk or Dreaming Tour dates are still going strong, and after they wrap in mid-June, he's planning to take a brief break from music as he explores the possibilities of acting more. The singer recently made his on-screen debut in CBS series Fire Country.
The 2023 ACM Awards are taking place at Frisco, Texas' Ford Center. Dolly Parton and Garth Brooks are co-hosting the show, marking Brooks' first time ever hosting a major awards show as well as the legendary pair's first time working together.
Country Stars Step Out On the Red Carpet at the 2023 ACM Awards
See Dolly Parton, Jelly Roll, Ashley McBryde and more stars walk the red carpet ahead of the 2023 ACM Awards.
More From Taste of Country