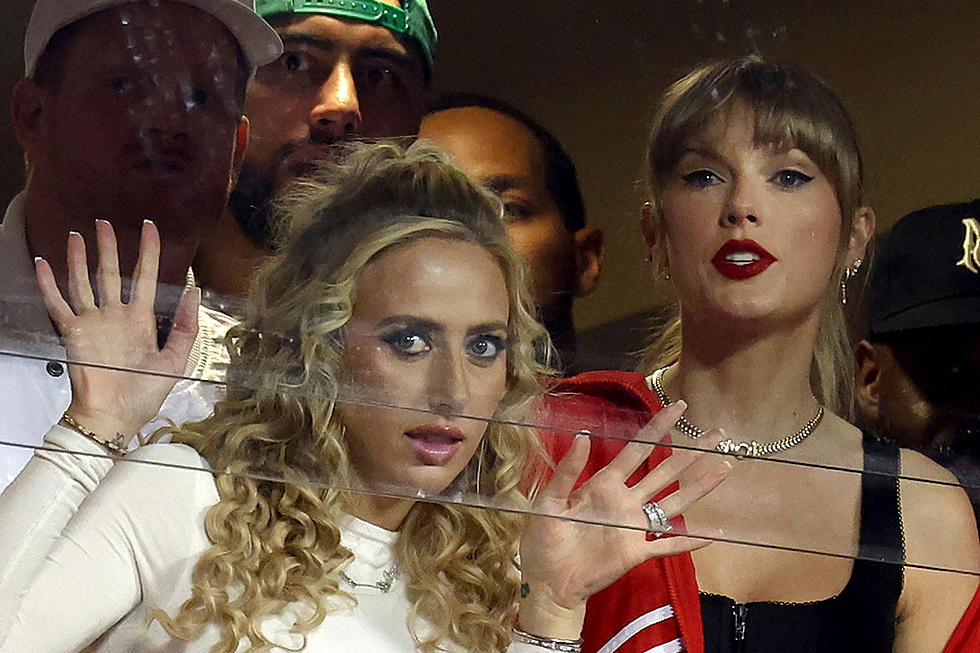 Taylor Swift Found a New BFF at Travis Kelce's Kansas City Chiefs Game [Pictures]
Jamie Squire, Getty Images
Pictures of Taylor Swift at Thursday night's (Oct. 12) Kansas Chiefs game find her spending time making Travis Kelce's mama, Donna, laugh. She also found a new friend.
The pop star watched the Chiefs romp over the Denver Broncos from a suite at GEHA Field at Arrowhead Stadium in K.C. Once again, she was seated near Donna Kelce, and there are some stellar pics of the two having fun.
Related: Win a Trip to Paris to Experience Taylor Swift's the Eras Tour
She also palled around with Brittany Mahomes, wife to former NFL MVP and current Chiefs quarterback Patrick Mahomes. The two women have met before — Swift invited Mahomes to dinner when the team was in New York — after all, you don't give a stranger that kind of warm embrace.
Both Swift and Mahomes offered big reactions to various plays in the game.
A full photo gallery of Swift's best moments with Mahomes and Mama Kelce can be found below. Many fans wondered about the outfit she chose for the game, and Taste of Country also has the scoop on that.
The hitmaker was wearing a black dress with a Chiefs red windbreaker over top. It's part of sportscaster Erin Andrews' brand Wear and retails for about $70 at the Chiefs merchandise store.
The game marks the third time Swift has showed up to cheer for Kelce. Rumors that they were dating were confirmed last month when she took in an early season game against the Chicago Bears. The next week, she came to see him on the road as the Chiefs played the New York Jets.
Kelce was injured last week in Minnesota, and Swift was not there for that one. Superstitious fans started to believe her absence was the cause. There's no proof of that, but it's worth mentioning that with his girl watching, he had a great night on Thursday, going for over 100 receiving yards.
The next Chiefs game is another home game. On Oct. 22 they'll host the rival Los Angeles Chargers.
Pictures: Taylor Swift Cheers On Travis Kelce In Kansas City
Taylor Swift
found a new BFF at the Kansas City Chiefs game this week. The pop star attended boyfriend Travis Kelce's game against the Denver Broncos at GEHA Field at Arrowhead Stadium on Thursday (Oct. 12). She was spotted chatting with Donna Kelce and Patrick Mahomes' wife Brittany.
Gallery Credit: Billy Dukes
PICTURES: See Inside Taylor Swift's Stunning Manhattan Apartment
Taylor Swift's spectacular luxury apartment in Manhattan is currently for rent, and pictures show a property that is a lavish mix of historic and very modern.
Gallery Credit: Sterling Whitaker
More From Taste of Country