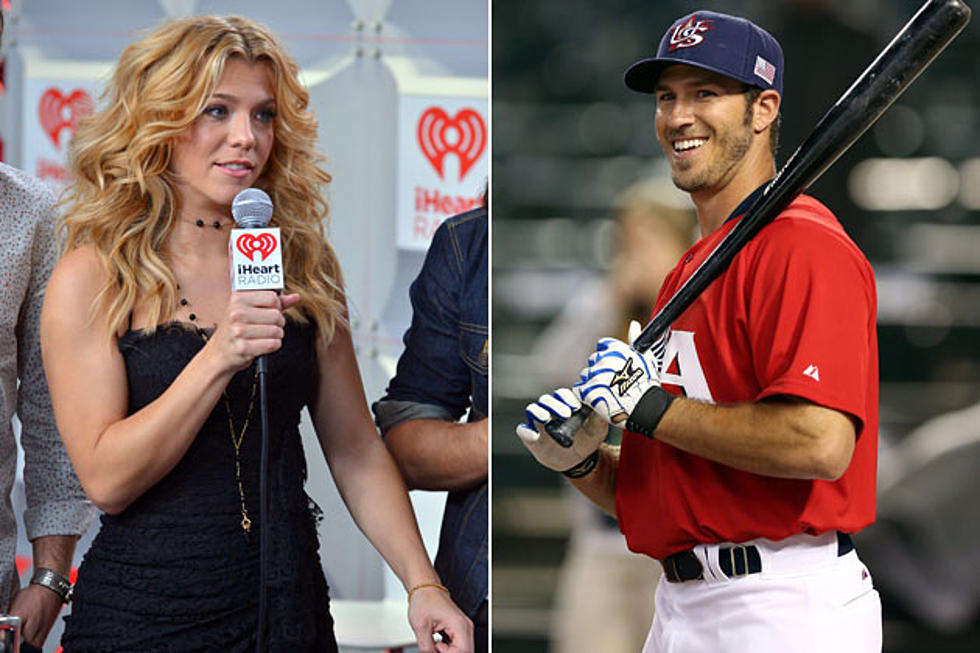 Kimberly Perry of the Band Perry Engaged
Bryan Steffy / Christian Petersen, Getty Images
The Band Perry's Kimberly Perry is officially engaged to her boyfriend of nearly 20 months.
The singer confirmed her long-rumored relationship to Toronto Blue Jays catcher J.P. Arencibia while announcing their engagement on Tuesday (Oct. 1). The proposal was a dream come true -- literally -- for Perry.
After the Blue Jays' season drew to an end on Sunday, Arencibia returned to Nashville. Perry thought Monday night's family get-together was just for dinner, but when she arrived at the family property, the 27-year-old former University of Tennessee player was waiting by a large oak tree.
The Tennessean was first to break the news of the engagement, explaining how this particular oak tree is special to Perry. In fact, the first time she saw it as a teenager she began dreaming of being proposed to beneath its branches. Of course, she knew what was coming when she was surprised by her boyfriend beneath it.
"I saw that and I thought, 'This is really happening,'" Perry tells the Nashville newspaper.
But before Arencibia could take a knee, Perry was sent back into the house to change into the pink dress she dreamed of getting engaged in. There, she found a letter from her family and a bracelet her grandfather had given her grandmother when they began dating.
"I got to read the letter and get dressed and put on my grandfather's bracelet," she shares. "I came back out on the front porch and he was standing there and he got down on one knee. It was perfect."
In addition to news of their engagement, details of how the couple met and began dating have finally emerged. For Perry, it began at the Florida Strawberry Festival, but the baseball player had been thinking about her since seeing the 'If I Die Young' video. Arencibia worked his way backstage at the fest, the pair exchanged phone numbers and began dating (secretly) in February 2012. Perry said she knew he was Mr. Right because he understood the nature of her career, and because she never felt spiritually or emotionally separated when they were apart.
The couple say they plan to get married next summer. Perry's entire family approves of the Miami native.
More From Taste of Country