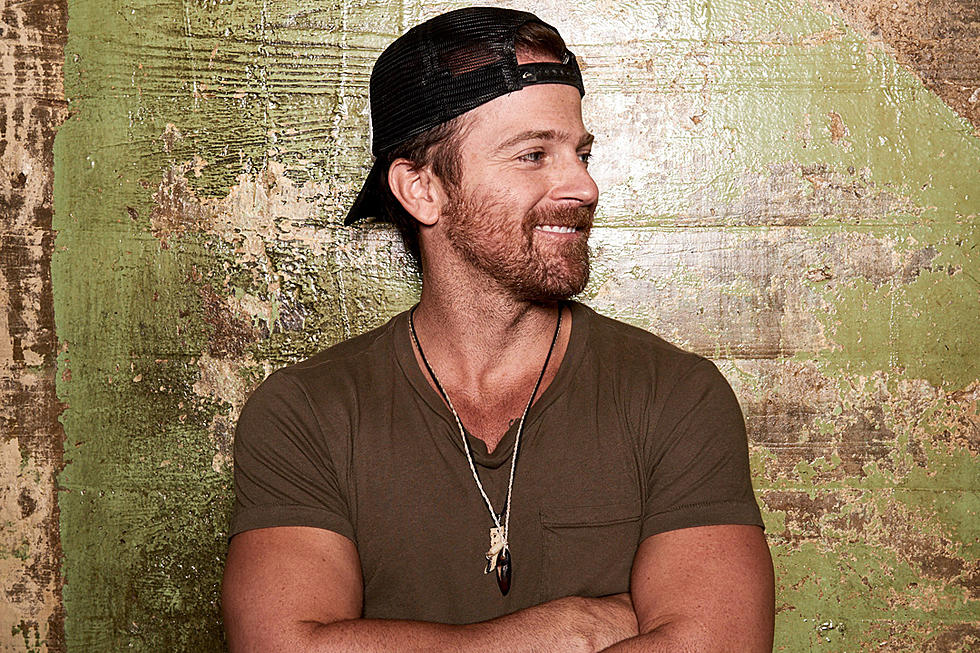 Have Faith, Will Travel: Kip Moore's Spiritual Journey to 'Slowheart'
John Shearer for Taste of Country
Kip Moore has been labeled 'fire and ice,' but songs from his new Slowheart album prove he's more complex. We sat down with Moore before the release of his third studio album — an album that's more playful and buoyant that any he's shared to date. Maturity and experience have allowed him to accept dark spots in his soul, but something else bubbles beneath the surface.
Kip Moore found God in Iceland. He felt his touch while enjoying a symphony of cold March winds, waterfalls and understood silence. Here, off a beaten path once or twice removed from a true beaten path, is where the singer's next chapter begins.
Like Moore, Iceland is misunderstood. The climate is warmer than most places at that latitude, with the Gulf stream creating dynamic shifts from season to season. It's a small, compact country full of intellectuals and poets, most huddled near the capital city of Reykjavik. This leaves miles and miles of open inland desert and coastal shores for exploring.
"The Lord pour out his largess there as long as earth continues," famed poet Jonas Hallgrimson writes of his home country in "A Toast to Iceland."
Like whiskey, milk, wine or water, the Lord's largess is wasted if one is not thirsty or holding out his hands. You won't catch it with your cell phone up, poised to document the experience for a purpose that is unclear. Faith comes with few accessories.
"I've always had it," Moore, a raised Baptist, says of his faith. "It weakens at times. I definitely have a lot of flaws, but I always hold onto it and it always pulls me back up." He's seated at a back corner table in a grungy pool hall that's tucked beneath the rising, overpriced condominiums and trendy restaurants of Nashville's 8th Ave. This quiet sanctuary tastes like smoke and sin, but at this late morning hour, the tables are wiped, the floor is mopped and the jukebox is resting.
Moore, on the other hand, is restless. After an early power lunch from a local juicer, the 37-year-old country veteran is engaged in his least favorite part of the job, but you'd never know it. He's cordial — it was tough to convince him that no one was upset he was eating — and pays close attention to detail and efficiency. He doesn't enjoy having his picture taken, but he's good at posing and has strong opinions on the results. In conversation Moore shepherds you through the facts, taking great care to ensure that the story you're telling about him doesn't step out of the walls of truth. He's kind, but firm — imagine all of the fire of his live shows, but with half the smiles.
Moore sang about his relationship with God once. It didn't go well. "Dirt Road" stalled inside the Top 50 on the Country Airplay chart and started him on a spiral of depression that birthed Wild Ones (2015), a stormy album that did not include his lyrically challenging analysis of a greater power and heaven. "Young Love" was another unreleased single that didn't stick. Longtime friend and co-writer Westin Davis helped with both, and he was there for the aftermath.
"I think he kind of saw how quickly it could all go away, and he worked so hard," Davis shares. "When those two failed, he went through a place of, 'Well I thought I had this thing figured out, but maybe I don't.'"
God led Moore out of the darkness, he admits in an uncharacteristic near-whisper midway through the chat. Religion isn't a bullet-point topic, and he hesitates to approach it, as if he's just beginning a rebirth. Simple explanations become more abstract. Stoic words hang in the air. Moore glances around the room a bit and looks down, as if he's not quite comfortable or hasn't quite figured out all of the 'right' answers. It's this discovery process that started a chain of events that led to Slowheart (MCA Records, Sept. 8), his most optimistic record to date. Yes, Moore thinks a lot about faith.
"I felt it strong in Iceland," he says. "That's something I'll never be able to explain to you at the table — you had to be in my skin to understand it."
"I believe I'm going somewhere," he adds when pressed. "Everybody's got their own way to look at things and, yeah … I think that I've been saved by grace, that's what I think."
The commercial success and critical praise of Wild Ones left his record label team eager for a new album, but unsolicited suggestions and opinions on songs he should record, or lyrics he should tweak, found cracks in a tight inner circle that surrounds him. Moore passed on hits. He spurned songs aimed at a younger audience because they weren't true to him. His record label suggested changing a lyric on a new song called "Bittersweet Company" to make it more appealing to radio stations. He wouldn't budge.
"A lot of times as artists we get backed into this corner because we all want our music played to the masses, and a lot of times the only thing you'll hear on the radio are happy go-lucky songs," Moore points out. "When it comes to my music, I'm never going to sacrifice my song for the sake of being played on the radio."
But he's not afraid to say no. "If not being a pushover means being an asshole, then maybe I'm an asshole," he furthers, now pounding his fingertips on the table. "But I'm not a pushover."
Miles of text has been published on Moore's penchant for being a bull. Drama sells, and media is quick to jump on controversy, shaping a narrative that paints this singer as prickly or difficult. He's honest, and he'll answer questions set in front of him, but he argues that the questions set the tone. He may be right.
"You guys will make click bait," he says of the modern entertainment business model. "You'll do a title to get people to look, and it completely misrepresents what the actual moment was."
"It's no secret that I can't stand that people can't step away from their phones for two seconds and actually be present. But anytime I give people a hard time at a show, it's always in good fun," Moore explains. "A lot of times I'll even bring them on stage or bring them back to the dressing room after the show to take a picture and have a beer. It's never in a malicious light. I am intense and I'm not the guy that walks in a room and makes a loud noise to be seen and be heard — I'm kind-hearted behind the curtain, where I think that it matters."
A new song on Slowheart called "Good Thing" captures the good-natured, carefree side of Kip Moore. The singer recalls Sam Cooke early on, describing the sweet simple love you dream of. This part of the conversation comes easy, but in the end Moore admits the emotion may have been fleeting. As a rule he's slow to fall in love, thrives off of misery and has chosen his career over his personal life again and again for nearly two decades.
"I've definitely loved before, but I'm the king of letting it slip through my fingers and not doing anything about it," he says.
"More Girls Like You" is a subtle shift. He's not ready to settle down, but he's open to the idea. He wants kids one day, yes, but introduction of his music video should clarify his intent with that song, the leadoff single from Slowheart. "It's more of that person that you find so amazing that you hope that when you have a kid, they turn out as amazing as her," he says. "That's what this new song is about."
"I think that every situation I've ever been in, I've taken the time, when it's over to truly reflect on what it was" Moore says. "I've taken the time to truly take in whatever the other person has told me. I allow my vulnerabilities to be exposed after the fact. And that's usually when the learning process comes."
When he released "More Girls Like You" as a single (February 2017), media pounced on the idea that he was suddenly domesticated. That too, it seems, was exaggerated by headlines. Slowheart isn't a love album. While there's more playfulness and optimism found in its walls, it doesn't rest there. You will still find familiar intensity and dark nostalgia. Songs like "Try Again" leave a clear passageway to true love, but the final 90 seconds of "Guitar Man" all but shut the door again.
"Well I had me a pretty baby, thought she was the one / But she soon grew tired of this love on the run / Said she felt second, told me I had to choose / She's back in Georgia and I'm here with you," Moore sings on a song best compared to Billy Joel's "Piano Man." It's his most personal, autobiographical song to date and the song he'd recommend if you were to only listen to one of the album's 13 tracks.
To live happily in Iceland is to learn to love long stretches of cold and darkness — or at the very least draw inspiration from this isolating time. Volcanoes dot the land, and as much of 10 percent of the country is made up of glaciers. Weather patterns on this Nordic island shift with a moment's notice. Spring leads to an endless summer that eventually bleeds into the green-lit skies of autumn and early winter, and finally, three months of 20-hour dark days. Iceland can break your heart and sew your soul back together. So can Kip Moore, it would seem.
"What fuels (Bruce) Springsteen and Springsteen says fuels other people is their insecurities," Davis says, adding of Moore, "And there's something always bothering him. Always."
The forever-focused, self-evaluating Moore summarizes his life more succinctly. The fire and ice? The long stretches of darkness followed by an album that blasts sunshine like an endless summer? It's an absolute commitment to his art.
"I've had to swim against the current a lot," Moore says, giving that familiar grin that somehow makes his eyes blue and brighter. "But you know, I've always enjoyed the current."
Kip Moore: The Cover Shoot
More From Taste of Country