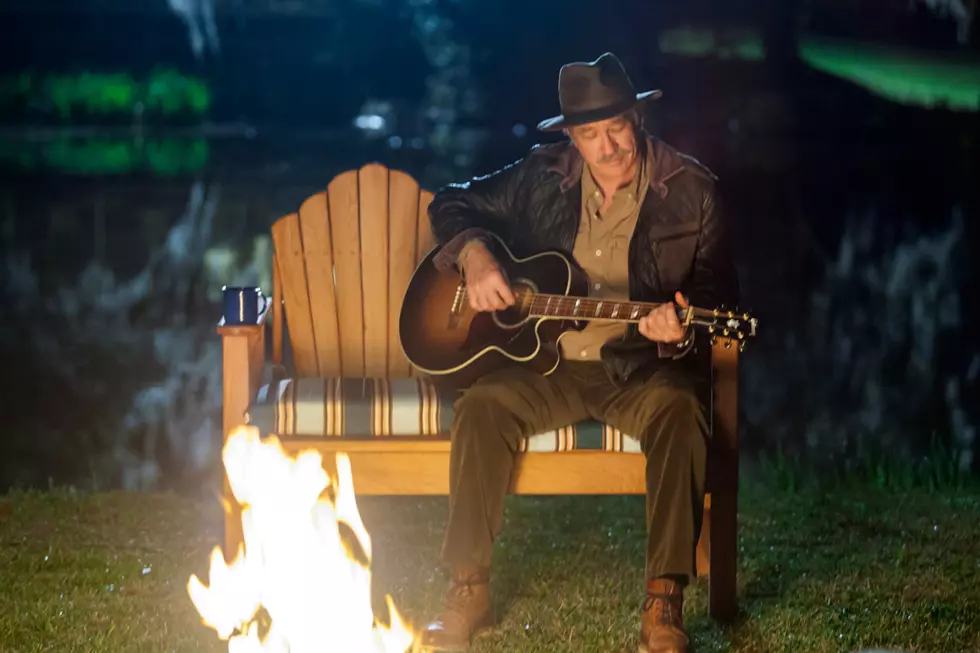 Kix Brooks Debuting Never-Before-Heard Song in New Hallmark Movie
Copyright 2018 Crown Media United States LLC/Photographer: Bonnie Marquette
Kix Brooks is a busy man, but not too busy. The musician and actor is bringing both of those worlds together in a new movie for the Hallmark Channel, Home by Spring.
Brooks plays the character of Arthur, a billionaire who is not sure he approves of the man who wants to marry his daughter. That helped him get a handle on the character.
"I'm a dad, and I only want what's best for my kids," Brooks tells Taste of Country. "I'm certainly gonna raise an eyebrow, probably, at who they want to spend the rest of their lives with, like I think most dads do."
Brooks drew on his observations of some of the wealthier people he's had occasion to be around to flesh out the character.
"This character is always leaning forward," he observes. "He's not really on his heels a lot. He doesn't get caught off guard a lot. He likes to be in control, likes to be confident about the situation — until he finds out that maybe he's not right!" he adds with a laugh.
He admits he had to re-think aspects of the role when producers asked him if he wanted to contribute a song.
"I had no intentions of singing. I didn't see this character as being a musician or anything like that. Hallmark said, 'It seems like kind of a shame to have you in this movie and not performing, is there any way that could be worked in?' So then you start re-building a backstory on your character, and I was thinking, 'Well, this guy could have had a band in college,' like a lot of people I run into. Accountants, dentists and everything else that used to play music, and lots of them are good pickers who just gave it up to get a real job, so to speak."
Brooks sings a new song in Home by Spring — except, not really.
"It's actually a very old song," he shares, revealing that it was his wife, Barbara, who reminded him about a song he wrote around 1983 called "Barefoot Days" that would work well for the film.
"I bet I haven't played the song in at least 20 years," he says. "I couldn't find the song, and one of the writers I still haven't found! It took me two days just to track down where the song was, because I never recorded it."
William Shockley and Dustin Rikert produced the film, on which Brooks served as an executive producer. Together with Brooks' son, Eric Brooks, they comprise a company called Team Two Entertainment, which produced the film for the Hallmark Channel. Eric Brooks wrote the script, and Kix says they have a great working relationship.
"We have great communication with each other; we're really, really close friends as well as having I think a pretty classic father-son relationship. My line with him is always, "I'm bigger than you and I always will be,' the same thing my dad told me," he says with another laugh.
"He studied his craft, and he's good at it," Brooks says. "I don't get in his lane too far, because I don't want to screw him up. It's really fun working with him. We've worked on several projects together, and I've really come to respect that he's good at what he does."
Brooks is also staying busy with his winery, as well as the preservation of Nashville's Fort Negley, a Civil War-era fort project he's passionate about. His year also includes some travel with his wife and Las Vegas shows he's still got on the books with Reba McEntire and Ronnie Dunn. He says they haven't ruled out taking the Reba, Brooks & Dunn show on the road eventually, but he's not running full-tilt like he once did, and Brooks likes the fact that he can step in and out of making music now.
"It's not as desperate of a process as it used to be for me, which is real enjoyable," he notes. "I'm not under the gun. It's sort of fun to think of music in terms of inspiration instead of perspiration."
Home by Spring premieres on the Hallmark Channel on Saturday (March 31).
See More Country Singers Who Have Tried Acting
More From Taste of Country