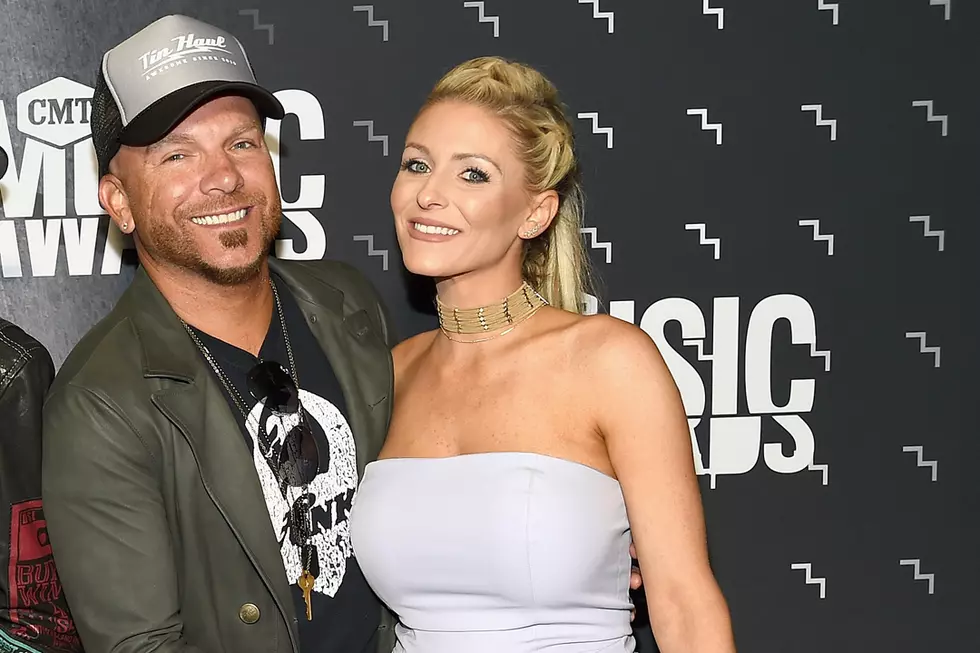 LoCash Singer Chris Lucas and Wife Welcome Baby Girl
Rick Diamond, Getty Images
LoCash singer Chris Lucas and his wife Kaitlyn have welcomed their third child. Daughter Violet Reid Lucas was born on Sunday (Sept. 3).
People reports that Violet was born at Williamson Medical Center in Franklin, Tenn., a Nashville suburb. She weighed 8 lbs., 1 oz., and measured 19 inches at birth.
"We are just blessed to have another absolutely beautiful little girl in our family," Lucas says.
"My wife is my rock and backbone that enables me to do what I do," Lucas adds. "To see her with our three kids makes me look up to God and say thank you for giving me this life and showing me what it's all about!"
In addition to their new little girl, the couple are also parents to 17-month-old daughter Remi McKenna and 7-year-old son Caden.
Pregnant Country Wives Hit the Red Carpet
Lucas revealed the pregnancy exclusively to Taste of Country in February during the Country Radio Seminar in Nashville, sharing that he and Kaitlyn were surprised at the news they would be parents again.
"She's got endometriosis so I didn't think Remi was going to be born," Lucas said "and then she's born and the doctor's like, 'It's a miracle!'"
He adds with a laugh, "Ten months later … 'It's a miracle!'"
Lucas tells People that he and his family will probably address Violet by her middle name of Reid, but they chose her first name very carefully to honor a family tie.
"Violet is named after Kaitlyn's great-grandma, so Violet's great-great-grandma," he states. "And Reid is probably what she will go by — [it's] a name that me and Kait fell in love with."
It's been a great year for LoCash, who are flying high with the career success of their most recent album, The Fighters. Lucas' bandmate Preston Brust and his wife Kristen also welcomed a baby girl named Love in January, and on Monday (Sept. 4) the duo learned they are nominated for Vocal Duo of the Year in the 2017 CMA Awards.
Lucas says his son Caden is as excited about his sister as his parents are, telling his father, "Dad, I can't help but cry when I look at her."
"He is a great big brother and is so excited for his new sister to love and protect," he shares.
See Country Music's Best Baby Reveals!
We Promise You've Never Seen a Cover Quite Like This!
More From Taste of Country