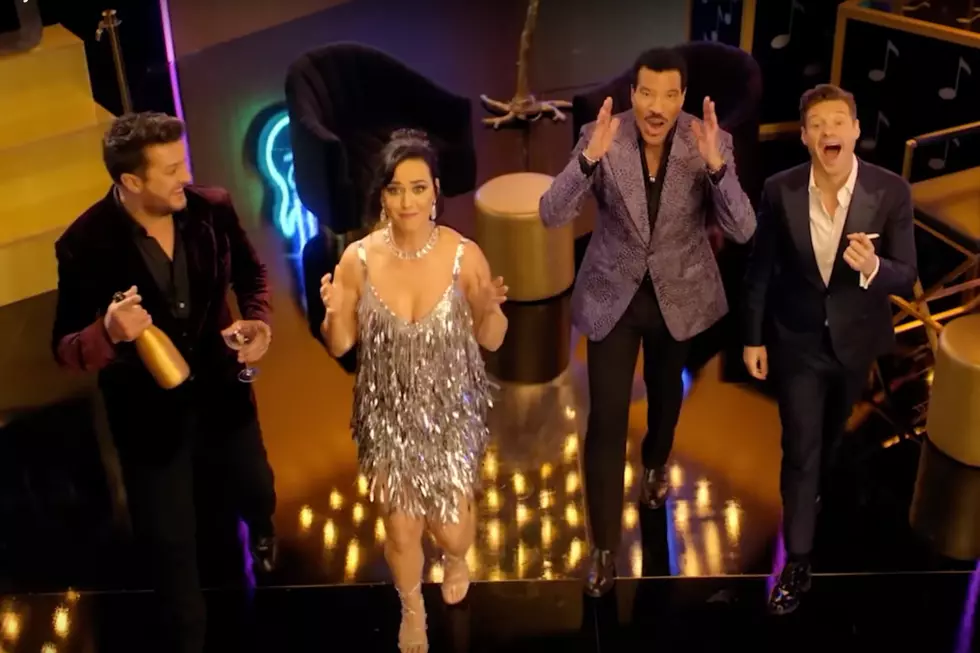 Luke Bryan and the 'American Idol' Judges Star in a Vegas-Themed Teaser for Season 21 [Watch]
YouTube
Gang's all here: Luke Bryan and the rest of the American Idol judges are gearing up for the launch of the show's 21st season, and they're celebrating another round of Idol with a glitzy, high-stakes teaser video inspired by the bright lights of Las Vegas.
In a short teaser video promoting Season 21 of Idol, Bryan joins fellow judges Katy Perry and Lionel Richie, plus show host Ryan Seacrest, in Vegas for an evening out at the casinos -- and an announcement of when the new season of the show will air. The quartet hit Sin City -- with a sign changed to Sing City for the occasion -- each grabbing their Golden Ticket to get in on all the action this season of American Idol has to offer.
At the end of the clip, the teaser reveals that Season 21 will premiere on Feb. 19.
The Vegas theme for this season's trailer might have something to do with the fact that Idol is now in its 21st season, and 21 is another name for blackjack. Of course, one contestant will wind up rolling the dice and winning big this year, as Bryan, Richie and Perry whittle down a list of contestants to one final winner for the 2023 iteration of the show.
All three Season 21 judges are familiar faces, as Perry, Bryan and Richie were all in the judges' seats last season, too. Seacrest, meanwhile, has been a part of all 20 seasons to date, ever since the show's inception. The upcoming season will mark Idol's sixth year on ABC after running for 15 seasons on Fox. Perry, Bryan and Richie have all served as judges for the entirety of the show's ABC era.
Season 20 of the show wrapped in May 2022, with country singer Noah Thompson being crowned the winner during a star-studded, three-hour finale.
14 'American Idol' Singers Who Secretly Hooked Up — Or Did They?
At least two couples who met through
American Idol
got married, while one more could be headed in that direction. Not all
American Idol
hookups have a happy ending, however. Here are seven of the most talked about meet-ups, plus the
real
scoop on how serious things got.
More From Taste of Country