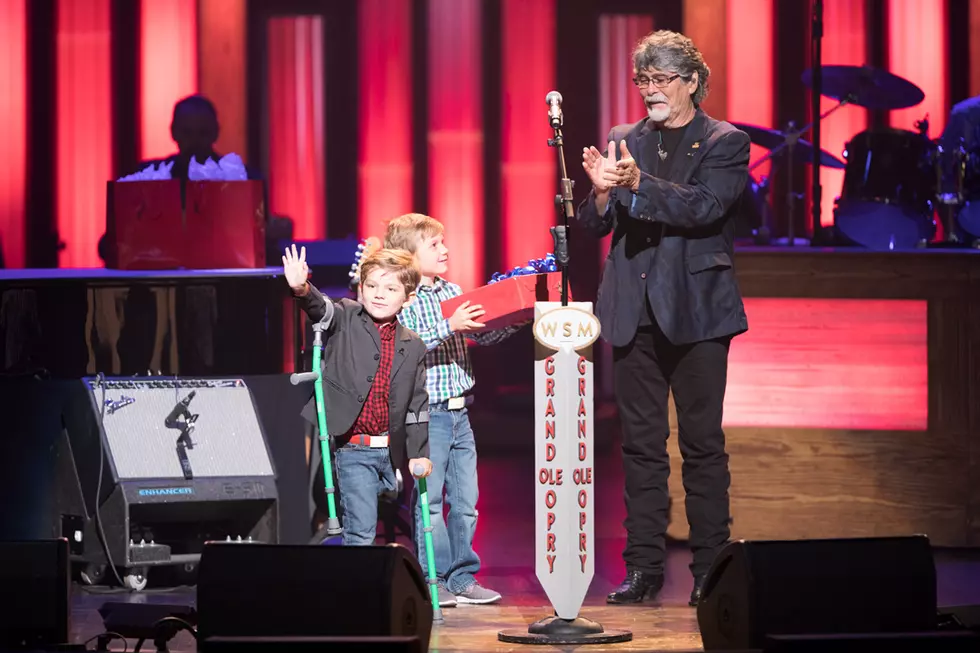 For Luke Bryan, Chip Esten + More, Supporting St. Jude Is Personal
Chris Hollo for the Grand Ole Opry
The star of the Grand Ole Opry on Wednesday night (Sept. 13) wasn't Randy Owen or Charles Esten. It wasn't even Luke Bryan. A 5-year-old named Kael stole the hearts of everyone watching and listening.
Kael started chemotherapy at just three weeks old, and three months later his mother recalled having to decide if the doctors at St. Jude Children's Research Hospital should amputate his leg. Cancer had taken over the bone and vascular system, so they made the tough decision and have barely looked back since doctors conducted a hip disarticulation amputation.
As Nashville's Deacon Claybourne tried to talk to reporters about the importance of St. Jude backstage, Kael bounced around in his arms and then out, eager to speak into the microphone. Later fans wouldn't let him leave after he presented Owen with a gift to commemorate his years of service with St. Jude, and the young man happily obliged.
The OMG level of cute came with nothing bitter in spite of the reason for the evening. St. Jude treats kids with cancer and other life-threatening diseases, but on this night some of the biggest stars in the format had agreed to play in support of a cause universally supported in country music. Owen helped raise the first of nearly $800 million during Country Cares for St. Jude radio fundraisers in 1989, and when asked if he was surprised so many generations of singers have stepped up to help, he looked shocked by the suggestion.
"That's what country music is all about," he says. "It's always been that way. No, I'm not surprised at all."
Esten, his Nashville co-star Clare Bowen, Owen and Bryan all performed on Country Cares for St. Jude Kids night at the Grand Ole Opry. Each also spoke about their personal reasons for being part of the night and the fight. For Bowen, it was her childhood battle with cancer. Esten watched his daughter battle cancer when she was a little girl, but now 18 years old, he's happy to report she's a survivor and a state champion soccer player.
"Long before I had a daughter that was sick I had a grandmother that gave to St. Jude," he revealed. "None of us really knew why. We didn't have that personal connection back then." Later when his daughter was diagnosed he figured out where that money went. Kids had an 80 percent chance of survival then, compared to near-zero when his grandmother started donating.
Bryan's short set featured his single "Light It Up" and a few short comments about why St. Jude was important to him. The father can imagine what parents with a child with cancer are going through too easily — those story-songs that come during each year's radiothons choke him up too.
As Kael and his brother entertained on stage, several more St. Jude patients walked around backstage on Wednesday night, occasionally bumping into the stars. One precious moment came when Bryan surprised a little girl and her family. Her face lit up, but all the stress her mom was carrying fell away for a few precious seconds as Bryan kneeled to talk. At this moment, mom cried real tears — happy tears. Her hand shook as she told Bryan how much that meant.
When they say country cares for St. Jude, it's not just lip service or a snappy marketing slogan. Bryan, Owen and dozens more prove it's a lifestyle.
September is Childhood Cancer Awareness Month, and supporters are encouraged to help St. Jude in its efforts to end childhood cancer.
Watch: Maddie + Tae Get Real About Cancer
More From Taste of Country