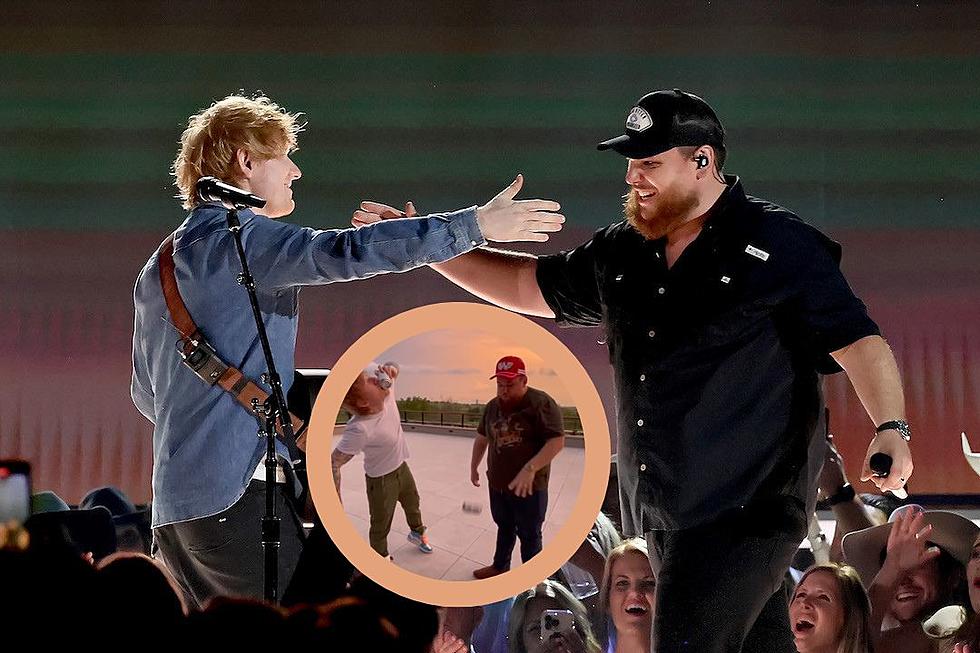 Watch Luke Combs Teach Ed Sheeran How to Shotgun a Beer
Theo Wargo, Getty Images/Instagram
It's the cross-genre musical bromance we never knew we needed. Luke Combs and Ed Sheeran have long been fans of each other, but now they're bonding offstage, too.
Most recently, Combs taught the English-born pop singer-songwriter the finer points of one of country music's greatest pastimes: Shotgunning a beer. The two stepped out onto a patio at sunset for the lesson, which Sheeran posted on his Instagram.
"Alright, for context, Luke is — what is it, shooting?" Sheeran explains to camera, as he and Combs stand next to each other holding cans of Miller Lite.
"Shotgunning," Combs corrects him, as he works on punching a hole in the bottom of his can.
"Luke is teaching me how to shotgun a beer," Sheeran continues.
"You wanna be mindful of where your top is ... you want this pointing at the sky," the country singer says, explaining the finer points of his technique. Combs even offers to go first in order to demonstrate the process, but Sheeran gamely decides that they should shotgun their beers at the same time.
"I think we go together, right?" he says.
And so they do — after a countdown, both singers raise their beer cans above their heads, and Sheeran's technique is actually pretty good. He still can't beat Combs, though, as the country singer slams his beer to the ground effortlessly after shotgunning it.
It's all just a little cross-cultural learning between friends — and in the comments section of Sheeran's post, Combs tips his hat to his pal's British background.
"Cheers, mate! (Did I do that right? Haha)," he comments.
Of course, Sheeran and Combs' onstage collaborations go way back. Last week, they performed Sheeran's "Life Goes On" together at the 2023 ACM Awards, marking Sheeran's debut on the ACMs stage. Before that, they teamed up on a stage across the pond, with Combs bringing Sheeran out as a special guest during the Country 2 Country Festival in 2021 for a rendition of Sheeran's "Dive."
Sheeran has good reason to brush up on his beer-shotgunning skills. Before his ACMs debut, he told Billboard that he has often felt tempted to make a foray into the country genre.
"I talk about this to my wife all the time. I would love to transition into country," he admits. "I love the culture of it, I just love the songwriting. It's just, like, brilliant songs."
Country Stars Step Out on the Red Carpet at the 2023 ACM Awards
See Dolly Parton, Jelly Roll, Ashley McBryde and more stars walk the red carpet ahead of the 2023 ACM Awards.
More From Taste of Country