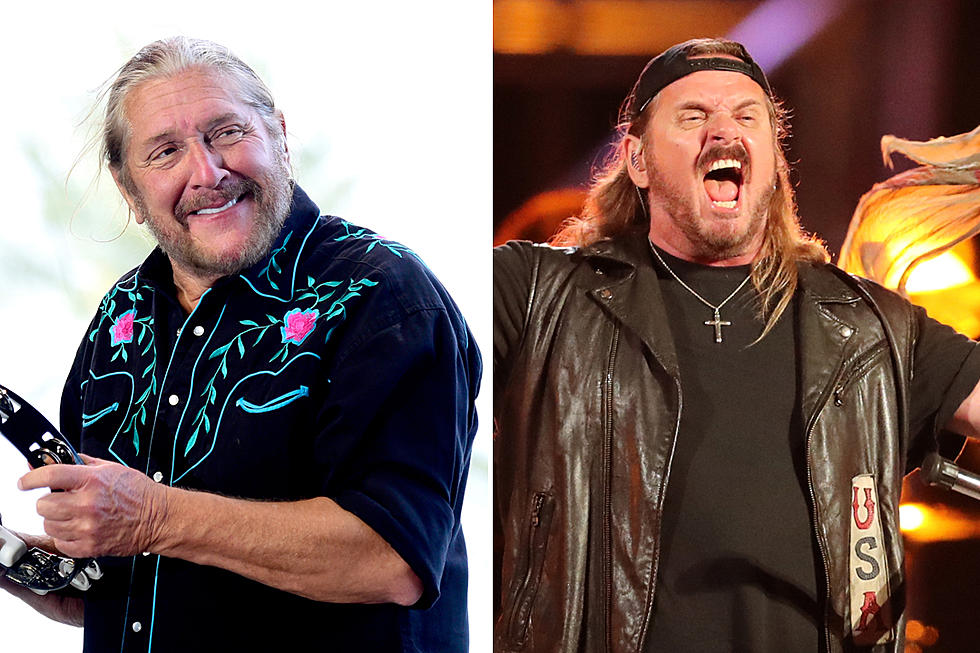 Marshall Tucker Band's Doug Gray on Lynyrd Skynyrd's Final Tour: 'It's Never Gonna Be the End'
Frazer Harrison / Christopher Polk, Getty Images
Lynyrd Skynyrd are preparing to hit the road for what's being billed as their final tour, but one of the band's longtime friends and fellow Southern rock legends says there's no way that marks the end of the line.
The Marshall Tucker Band are set to play on the bill with Skynyrd on a number of the upcoming dates of the Last of the Street Survivors Farewell Tour, which is set to launch Friday, May 4, in West Palm Beach, Fla., at the Coral Sky Amphitheatre. Kid Rock, Hank Williams, Jr., Charlie Daniels Band, Bad Company, 38 Special, Blackberry Smoke and Blackfoot are among the other artists who will perform with the rock and southern music icons on various dates of the tour.
It's nothing new for Skynyrd and Marshall Tucker to play together.
"In the beginning, [original Skynyrd singer] Ronnie [Van Zant] was my best friend," Marshall Tucker singer and founding member Doug Gray tells Taste of Country. The two groups played together during some of their earliest years. After a tragic plane crash killed Van Zant and other members of Skynyrd in 1977, the band was dormant for years before re-launching with a modified lineup, while Marshall Tucker Band has continued on in a variety of lineups over the years. The two revitalized acts recently played together on a fan cruise, and with their overlapping histories, it was only natural that they should pair up for some of the upcoming dates.
Fans who see the upcoming joint dates will surely want to hear Skynyrd classics including "Sweet Home Alabama," "Gimme Three Steps" and "Free Bird," along with Marshall Tucker staples "Can't You See," "Fire on the Mountain," "Heard It in a Love Song" and more. Gray says one of the hardest parts of putting together a show is seeing whether there's enough time for one of the live jams that have become such an integral part of Tucker shows over the decades, though he suspects that a jam between some of the members of both groups will take place on at least some shows.
"I just can't imagine it being the end. It might be called that, but I think that somebody will wake up and say, 'You know, we can't stop. We can't possibly stop.'"
Gray hasn't given any thought to what emotions he'll experience walking offstage on the final night of their shows together, knowing it's the last time.
"To me, it's everlasting," he reflects. "It's everlasting because of the memories that I hold in my heart, and it's never gonna be the end. Because in my mind, I'll still be thinking of the old guys and the new guys out there performing stuff that Ronnie would have appreciated. He would have been the first one to admit, 'I wanted this to last forever.'"
Legacy and memories aside, Gray questions whether the upcoming shows will truly spell the end of Skynyrd, regardless of what they have said.
"I just can't imagine it being the end," he admits. "It might be called that, but I think that somebody will wake up and say, 'You know, we can't stop. We can't possibly stop.' That'll probably be what's being said at the last of the tour."
At 69 years old, Gray himself is already a few years past most people's retirement age, but he still keeps a very busy schedule of dates with Marshall Tucker Band every year. That's something he has no intention of changing.
"Marshall Tucker Band will never quit," he vows. "They'll have to roll me out of the concert hall. I keep thinking of all the people who've wanted to come back for two shows, or 10 or 20 times, and I can't imagine not giving it to them and keeping on as long as I can."
The Marshall Tucker Band will perform a number of dates apart from Lynyrd Skynyrd in 2018 on their Juke Jammin' Tour. To keep track of all the band's concert dates, visit their official website.
ToC RISER Devin Dawson's Live Take on "Asking for a Friend" Is Stellar
Country Music Tours Hitting the Road in 2018
More From Taste of Country