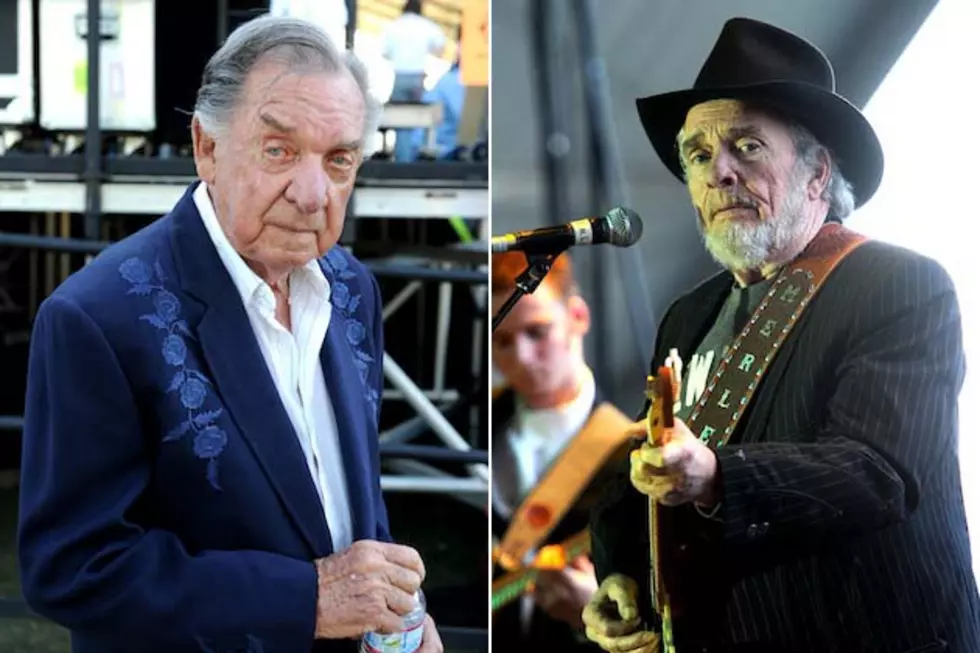 Merle Haggard Remembers 'the First Outlaw,' Ray Price
Frazer Harrison(2), Getty Images
Although the legendary Ray Price has passed away, fans and friends alike will continue to fondly remember him and the impact he made on country music. Fellow crooner Merle Haggard remembers Price as "the first outlaw."
Haggard got to know Price opening for him on a 90-day tour run way back when, forming a lifelong friendship that spans almost five decades. In a way, Haggard had a front row seat to the entertainer's extremely successful career.
He tells News Channel 5, "He was probably the first outlaw. I think Willie (Nelson) will agree. He was out there fighting for what he believed and doing it his way, and being criticized and all that."
"I remember when he laid the guitar down and started hiring violin players and all that, and everybody thought he was crazy," the 'Mama Tried' singer continues. "Crazy like a fox. He knew what he was doing."
Price's velvety baritone and outlaw attitude changed country music forever in a way that has stuck around in the genre, inspiring artists and tickling the ears of fans.
"He brought country music to a different level I think," Haggard adds of Price, a Country Music Hall of Famer. "He was laying pop music behind country songs and having success. He won an award for 'For the Good Times.' A lot of people said, 'What is Ray Price doing? He's got all those violins and things.' He held up that award and said, 'This is what I've been trying to do.'"
Although the "first outlaw" is now gone, Price's legend and inspiration will continue to reverberate.
More From Taste of Country