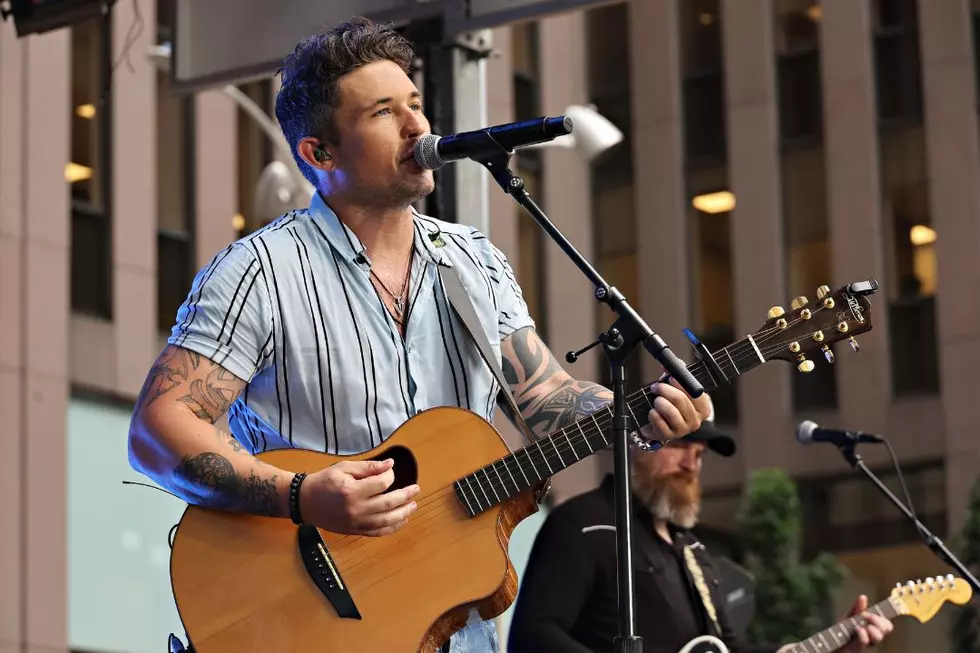 Michael Ray Is Focused on the 'Next Chapter,' Announces 2023 Tour Dates
Cindy Ord, Getty Images
Michael Ray is diving into the new year with a brand new tour and the promise of new music. The singer announced a batch of tour dates for 2023 that will begin this month and run through the spring and into the summer.
"So excited to announce the first leg of my 2023 tour!!" he writes in an announcement on social media.
"I want y'all to come out to see us this year, hear some NEW MUSIC and know that my band and I are gonna take great care of that time because it means so much to us!! See y'all very soon!!"
In addition to the tour, Ray has apparently been working on new music with producer Michael Knox. The country singer released his last full length album, Amos, in June 2018, and he followed up with a seven-track EP called Higher Education in August 2021.
In time since those projects, Ray says he's been reflecting and spending time with family.
"My romance with the business of music was starting to take its toll on me," he admits in a press release. "Things really come into focus when you take the time to live a little life. I feel like the music that we've been writing has real intention and is focused on the next chapter."
"I've discovered lately, especially in spending time with my family, that there's a lot of life you miss when you've got your head down, doubling down on work," he continues. "I think a lot of folks feel that way as all our lives changed, and so this idea of being present has moved beyond an idea … it's how I'm living life these days."
Ray's 2023 tour dates will include the return to cities that welcomed him early in his career. Additional dates will be announced soon — the current dates are on sale on Ray's website.
Michael Ray's 2023 Tour Dates: 
Feb. 18 —  Los Fresnos, Texas @ Los Fresnos Rodeo
March 3 — Aberdeen, S.D. @ Dakota Event Center
March 4 — Valley City, N.D.  @ North Dakota Winter Show Concert
March 11 — Portland, Maine @ Carnaval ME
March 17 — Greenville, S.C. @ The Foundry
March 24 — Mahnomen, Minn. @ Shooting Star Casino Hotel & Event Center
April 22 — Sonora, Texas @ The JL Bar Ranch, Resort & Spa
April 25 — Huntsville, Ala. @ Von Braun Center Arena
April 26 — Temecula, Calif. @  Temecula Stampede
April 27 — Las Vegas, Nev. @ Stoney's Rockin Country
April 28 — Clovis, Calif. @ Clovis Rodeo
May 19 – Denver, Colo. @ Grizzly Rose
May 20 – Inman, Kan. @ 365 Sports Complex
June 3 — Victorville, Calif. @ San Bernadino County Fairgrounds
June 15 – Wildwood, N.J. @ Barefoot Country Music Fest
Aug. 26  — Cedarburg, Wis. @ Country in The Burg
See the Most Played Country Song from the Year You Were Born
Who had the most played country song during the year you were born? This list is a fascinating time capsule of prevalent trends from every decade in American history. Scroll through to find your birth year and then click to listen. Some of these songs have been lost through the years, many of them for good reason!
2023 Country Music Festivals Guide
Enjoy an updated list of country music's best festivals, across America, Canada, Great Britain and more. This list of 2023 country fests will be updated to reflect postponements, cancelations or lineup adjustments.
More From Taste of Country