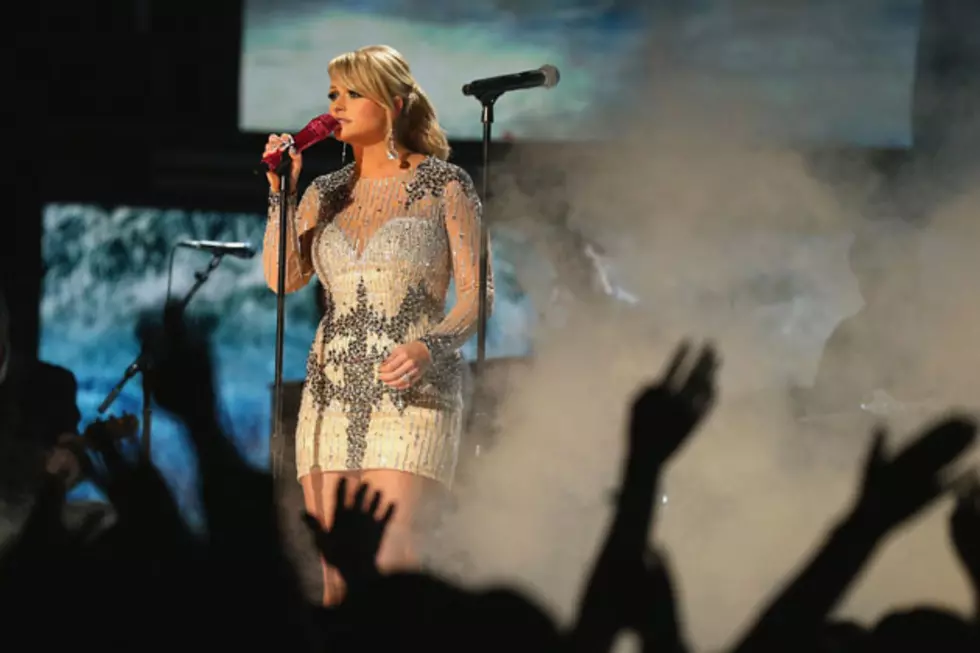 Best Miranda Lambert Lyrics
Christopher Polk, Getty Images
Many of the best Miranda Lambert lyrics came from her own pen, but with each new album she's included more and more outside songwriters to help her write hits like 'The House That Built Me' and 'Mama's Broken Heart.' The sassy hitmaker often proves that a special relationship between songwriter and artist is needed to create a moment that touches hearts and inspires fans to reflect on their own circumstances.
You'll find songs from Lambert's four major-label releases on this list of her best lyrics. Hits like 'Over You' and 'Gunpowder and Lead' make the Top 10, but so do deep tracks from 'Four the Record' and 'Crazy Ex-Girlfriend.' The singer is capable of capturing the urgency of a revenge song, as well as the patience needed to work through a softer lyric like 'Dead Flowers.'
10

'Mama's Broken Heart'

"Wish I could be just a little less dramatic / Like a Kennedy when Camelot went down in flames / Leave it to me to be holdin' the matches / When the fire trucks show up and there's nobody else to blame"

Lambert calls this one of her favorite songs from 'Four the Record,' an album that adds three songs to the Best Miranda Lambert Lyrics list. Brandy Clark, Shane McAnally and Kacey Musgraves penned this song about the difference between how one looks and how one feels after a breakup. Lambert was the perfect candidate to bring the story to life, and she admits she had done so long before she was introduced to the lyric.

9

'All Kinds of Kinds'

"Cause ever since the beginning, to keep the world spinning / It takes all kinds of kinds"

This cut from 'Four the Record' is one of the most wildly imaginative songs ever included on a country album. 'All Kinds of Kinds' makes an early statement on the record, saying we should embrace all of our quirks and differences no matter how strange they're perceived. Phillip Coleman and Don Henry's characters feel pulled from a Tim Burton movie, and the two men masterfully give them heart and emotion that's impossible to turn away from.

8

'Crazy Ex-Girlfriend'

"Those pretty girls can play their game / But they're damn well gonna know my name / I'm a crazy ex-girlfriend"

Lambert is as blunt as a sledgehammer on the title track from her second studio album. While 'Crazy Ex-Girlfriend' was only a minor radio hit, it paved the way for songs like 'Only Prettier' and 'Gunpowder and Lead.' Lambert helped write these lyrics, and we shudder thinking about the man who ticked her off enough to cause this explosion.

7

'Kerosene'

"Now I don't hate the one who left / You can't hate someone who's dead / He's out there holdin' onto someone, I'm holdin' up my smokin' gun / I'll find somewhere to lay my blame the day she changes her last name"

Lambert's first big hit was 'Kerosene' in 2005. The song's message is supercharged by an arrangment and vocal performance that leaves no doubt as to how the singer and songwriter is feeling. Guns and the idea of a smoking gun are reoccurring themes in many of Lambert's lyrics. Great lyrics don't always have to beautiful -- often the best way to make a point is to be forceful and direct.

6

'Me and Your Cigarettes'

"Always there every time you need me / It ain't love, it's just like nicotine / You're addicted to a feeling you can only get / From me and your cigarettes"

This album cut from 'Revolution' was co-written by Pistol Annies member Ashley Monroe, and sounds like something that could have fit on the trio's debut album. It's an effective and clever metaphor that circles back around to punch the man she's singing to in the mouth... symbolically, of course. There's a certain dark danger that makes even soft and slow-paced songs like 'Me and Your Cigarettes' very effective additions. While 'Revolution' included many hit singles, the in-between material is what made it the Album of the Year.

5

'Only Prettier'

"So let's shake hands and reach across those party lines / You've got your friends just like I've got mine / We might think a little differently / But we got a lot in common, you will see / We're just like you / Only prettier"

'Only Prettier' is a wonderfully sarcastic lyric. An additional brilliant line is "I don't have to be hateful / I can just say 'bless your heart.'" Lambert is reaching back to her southern upbringing for that gem. The 2010 hit was written with the talented Natalie Hemby, a woman who has teamed up to co-write many of the singer's hits.

4

'Over You'

"Your favorite records make me feel better / Cause you sing along / With every song / I know you didn't mean to give them to me"

On paper, the 'Over You' lyrics aren't especially brilliant, but the backstory and her vulnerable performance create context and texture between each line. In addition to this featured lyric, "It really sinks in, you know, when I see it in stone" could be included on this Best Miranda Lambert Lyrics list. It's her most honest recording, even though it's really husband Blake Shelton's story.

3

'The House That Built Me'

"I thought if I could touch this place or feel it / This brokenness inside me might start healing / Out here it's like I'm someone else / I thought that maybe I could find myself / If I could just come in I swear I'll leave / Won't take nothing but a memory / From the house that built me"

This is the song that made Miranda Lambert a superstar. Tom Douglas and Allen Shamblin wrote the lyrics, but Lambert's sense of nostalgia made the single a Grammy winner. If she didn't have a specific house to look back to the performance would fall flat, but her unique childhood holds special one home that her mother and father built.

2

'Gunpowder and Lead'

"Slapped my face and he shook me like a ragdoll / Don't that sound like a real man / I'm gonna show him what a little girl's made of / Gun powder and lead"

The beauty of 'The House That Built Me' is a stark contrast to the raw power of 'Gunpowder and Lead,' a song Lambert co-wrote with Heather Little and released in 2009. The ability to switch gears is what makes this singer so special. She needed to prove she could do both to be a consistent Female Vocalist of the Year nominee and winner. 'Gunpowder and Lead' is a lyric that will forever be Lambert's signature.

1

'Dead Flowers'

"I feel like the flowers in this vase / He just brought them home one day / 'Ain't they beautiful,' he said / They've been here in the kitchen / And the water's turning gray / They're sitting in the vase / But now they're dead / Dead flowers"

While not a hit song on radio, Lambert's lead single from 'Revolution' contains some of her most poetic lyrics. Each verse is a lesson in metaphor, word economy and artistry. Never has a song expressed how it feels to be used up in a relationship as well as this masterpiece, which is why it's the No. 1 song on this Best Miranda Lambert Lyrics list.
More From Taste of Country