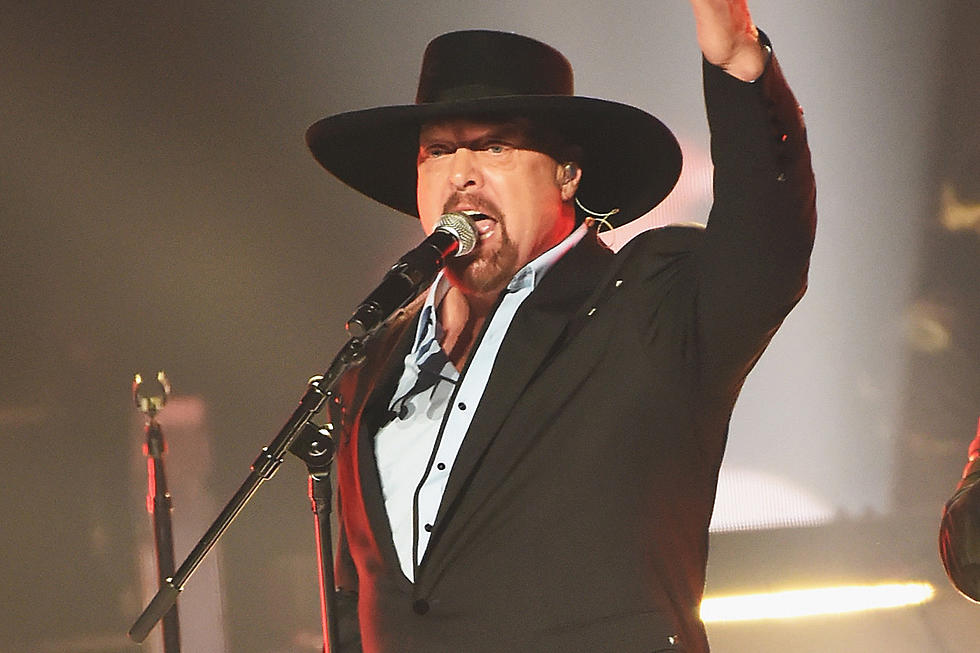 Montgomery Gentry Ready Stage Return With Here's to You Tour
Rick Diamond, Getty Images
After a four-month break, Montgomery Gentry will return to the stage for the first time without Troy Gentry when the band plays Sioux Falls, S.D. next month.
Eddie Montgomery and his Montgomery Gentry bandmates will begin the Here's to You winter tour on Jan. 19, and after opening two shows for Alabama will play popular area bars and honky-tonks through March 23. Recently-released tour dates also include several fair and festival dates from June through September.
After Gentry's Sept. 8 death in a helicopter crash, Montgomery Gentry canceled all tour dates indefinitely, but in recent weeks Montgomery indicated that a return to the road was in the works for 2018. Next year will mark the 20th anniversary of the band, and the 54-year-old says he's looking forward to celebrating.
It's not clear how they will replace or replicate Gentry's vocals during this tour. Fans can expect hits and selections from their upcoming Here's to You album, scheduled for Feb. 2. "Better Me" is the lead single from that album. The rock ballad was released shortly after Gentry's death and was played at a public celebration of his life at the Grand Ole Opry.
Montgomery Gentry's 2018 Here's to You Tour Dates:
Jan. 19 — Sioux Falls, S.D. @ Denny Sanford Premiere Center*
Jan. 20 — St. Charles, Mo. @ The Family Arena*
Feb. 9 — Columbia, Mo. @ The Blue Note
Feb. 10 — Springfield, Ill. @ Boondocks
Feb. 23 — Indianapolis, Ind. @ 8 Seconds Saloon
March 2 — Clifton Park, N.Y. @ Upstate Concert Hall
March 9 — Jordan, N.Y. @ Kegs Canalside
March 10 — Warrendale, Pa. @ Jergel's
March 16 — Medina, Ohio @ Thirsty Cowboy
March 17 — Columbus, Ohio @ The Bluestone
March 22 — August, Ga. @ Country Club Dance Hall and Saloon
March 23 — Birmingham, Ala. @ Iron City
June 2 — Marion, Kan. @ Chingawassa Days Festival
July 6 — Ft. Loramie, Ohio @ Country Concert at Hickory Hill Lakes
July 13 — New Salem, N.D. — ND Country Fest
July 14 — Pierz, Minn. @ Pierz Freedom Fest
July 20 — Hillsboro, Mo. @ Jefferson County Fair
July 21 — Springville, Ind. @ The Boogie
July 27 — Ridgefield, Ct. @ Ridgefield Playhouse
July 28 — Bar Harbor, Maine @ Criterion Theater
Aug. 2 — West Allis, Wisc. @ Wisconsin State Fair
Aug. 17 — Zanesville, Ohio @ Muskingum County Fair
Sept. 8 — Manistee, Mich. @ Little River Casino
Sept. 15 — Ventura, Calif. @ Boots and Brews
*Opening for Alabama
Country Singers Who've Died in Plane Crashes
More From Taste of Country