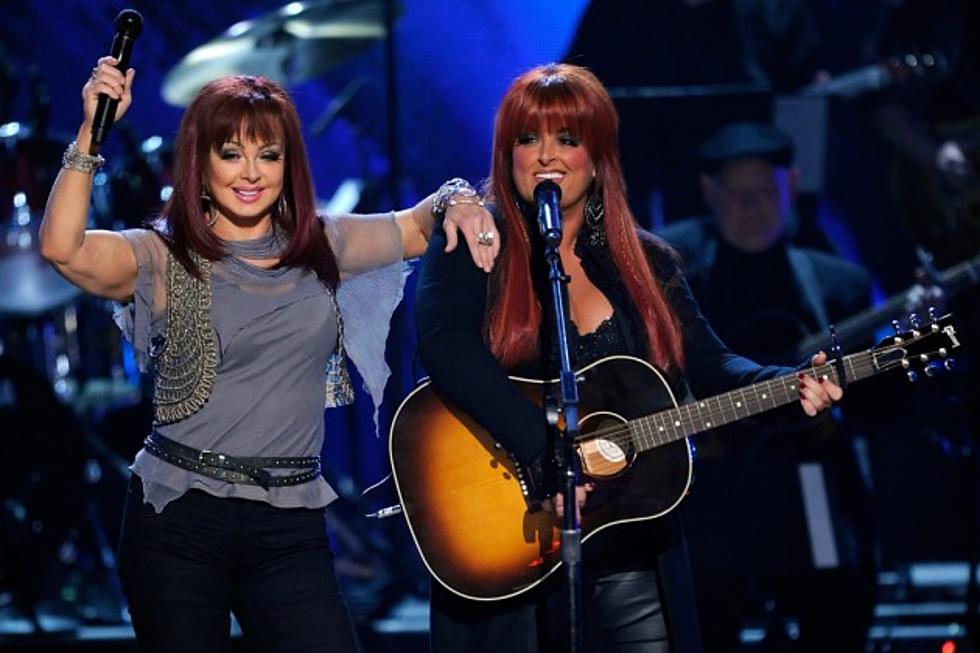 The Judds Recall Very First, Very Emotional, Very Unpredicatable Show in Las Vegas
Ethan Miller, Getty Images
If the Judds' residency in Las Vegas is as entertaining as a 15-minute conversation about their careers and relationship, the Venetian audience will be left begging for more time.
Naomi and Wynonna Judd recently sat down with us to talk about the nine-show stint that begins Oct. 7. It was literally a one-question interview, but the story the mother-daughter duo tell is very important to who they were then and who they are now.
She saved up money. Saved up $30 and I really needed that money for our utilities. I was working as a waitress putting myself through college, nursing school. But she was so into it, I couldn't not take her.
The nine shows at the Venetian will take place between Oct. 7 and Oct. 24 and include hits from the legendary duo's five studio albums, as well as songs from Wynonna's solo career. Wynonna Judd is preparing to release a solo album in February, but is much more focused on this fall's performances. She says the moment the first show begins will be like "taking a drink from a firehose."
"My spirit will have to catch up," she adds calmly, her mother nodding along. The following is a transcript of their conversation with ToC, with minimal edits for brevity and clarity.
Taste of Country: Do you remember the first time you played Las Vegas?
Wynonna Judd: We were opening for Merle Haggard at Caesar's Palace, and it was literally the first year of our uprising. We had just done a show in Omaha at the Aksarben which is "Nebraska" spelled backwards. And the next thing I know we're opening in Vegas and I think I've won the lottery.
Naomi Judd: Tell him the backstory.
WJ: I don't have the backstory.
NJ: Wynonna was 15 years old and we were living together —
WJ: Oh, that!
NJ: It was just one room over a real estate office in the middle of nowhere in Northern California. We had a teeny little bathroom, we were absolutely pitiful. Ashley (actress Ashley Judd) and I slept on a de-loused mattress on the floor and Wynonna got the little twin bed. So she was saving up her money. She wanted $15 to go see Merle Haggard. She saw it somewhere that Merle Haggard was playing the Oakland Coliseum.
WJ: With George Jones, it was my first concert.
NJ: She saved up money. Saved up $30 and I really needed that money for our utilities. I was working as a waitress putting myself through college, nursing school. But she was so into it, I couldn't not take her.
WJ: It changed my life.
NJ: So we went to see Merle Haggard at the Oakland Coliseum that night and the rest of history. It was so real, and it was her first foray.
WJ: I knew I wanted to do it. There's something about when the lights go down, and they come out with their polyester flare pants and they're all dressed alike. They just don't do that anymore.
Literally my first road experience was Vegas. Twenty-four-hour room service, they gave me $250 a day to buy …  I ended up buying wine and drinks for the guys. (To Naomi) I don't think you know that.
NJ: (Looks around, like mothers do when they learn something they didn't want to know) Well, that's nice.
WJ: Well I couldn't drink or do anything, so anyway. It was one of those magical — it felt like I was locked inside a moment for the night. We'd play for an hour, or some nights we'd do two shows.
NJ: Wait a minute. Go back. I couldn't get you out of the car. We pulled up and her face was as big as the side of this building, the marquee. And it said the Judds with Merle Haggard and you wouldn't get out of the car.
WJ: You just don't go from welfare to that easily. I've been playing and singing since I was eight or nine and yet we're in Vegas. And Vegas represents some of the biggest and the most outlandish stories there are. And so to me, Vegas feels very strange yet very wonderful at the same time.
NJ: But I have to remind you, every night our rooms were right across from Merle's. And of course we had our hair and makeup on and she had been dying for months, actually about a year, because we knew it was inevitable that we would see Merle. She could not wait to tell Merle that story, and she was sure that he would cry and break up and say 'You sweet girl! You saved your money, you mucked stalls and you saved up your money … "
Editor's Note: The conversation wouldn't occur. Naomi and Wynonna recall Haggard not being available to take their call — In fact, he couldn't play that night, so the Judds wound up headlining their very first night in Las Vegas. 
NJ: And the next day, Martha and Ken, our lawyer and secretary, got all these phones in my room and we were trying to get somebody to come and be the opening act. But it was fair season (when country stars make their money). It was a Busby Berkeley musical all of a sudden. We were the opening act, and after about four days he was able to do the show.
See the Judds Through the Years
More From Taste of Country