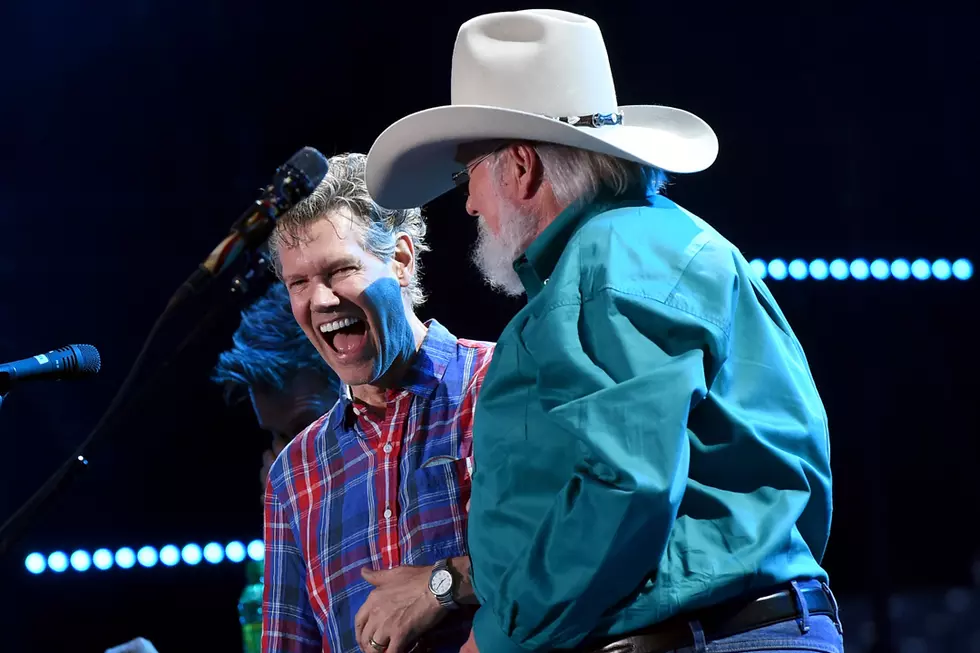 Randy Travis Surprises Charlie Daniels at 2016 Volunteer Jam [Watch]
Rick Diamond, Getty Images
Randy Travis turned up onstage at Charlie Daniels' 80th Birthday Volunteer Jam in Nashville on Wednesday night (Nov. 30) to help present his old friend with a very special award for his efforts on behalf of U.S. military veterans.
Wednesday night marked the 42nd time Daniels has pulled together an all-star lineup for the show. This year's concert was the biggest in the history of the event, featuring 3 Doors Down, Travis Tritt, Larry the Cable Guy, Kid Rock, Chris Stapleton, Luke Bryan and Daniels. It packed the Bridgestone Arena in Music City with more than 15,000 fans and raised $245,000 for the Journey Home Project, which helps U.S. military veterans in many different ways.
Travis surprised his fellow 2016 Country Music Hall of Fame inductee onstage toward the end of the evening, after a scorching rendition of "The South's Gonna Do It Again." A clearly stunned Daniels could only stand and gape as Travis was helped onstage, looking stronger than he has since a debilitating stroke in 2013 took away his ability to walk and speak. He has worked hard to recover since and made a few limited public appearances.
Travis helped present Daniels with the Rare Country Humanitarian of the Year Award, which he earned for his efforts with the Journey Home Project. Retired U.S. Army Lieutenant General Keith Huber, who serves as MTSU's senior adviser for veterans and leadership initiatives, was also on hand to help present the award.
"This has been an incredible year," the 80-year-old country legend told the crowd. "I am so honored to be inducted into the Country Music Hall of Fame along with my brother Randy Travis. I was so surprised when he came walking out here. This is one of the strongest, most courageous men that I know."
"And I can tell you," Daniels added, "he's getting better yet, and he'll sing again!"
Travis also addressed his friend, simply saying, "Thank you very much," as the crowd roared in approval.
See Randy Travis Through the Years
Randy Travis' Most Unforgettable Moments Ever!
More From Taste of Country