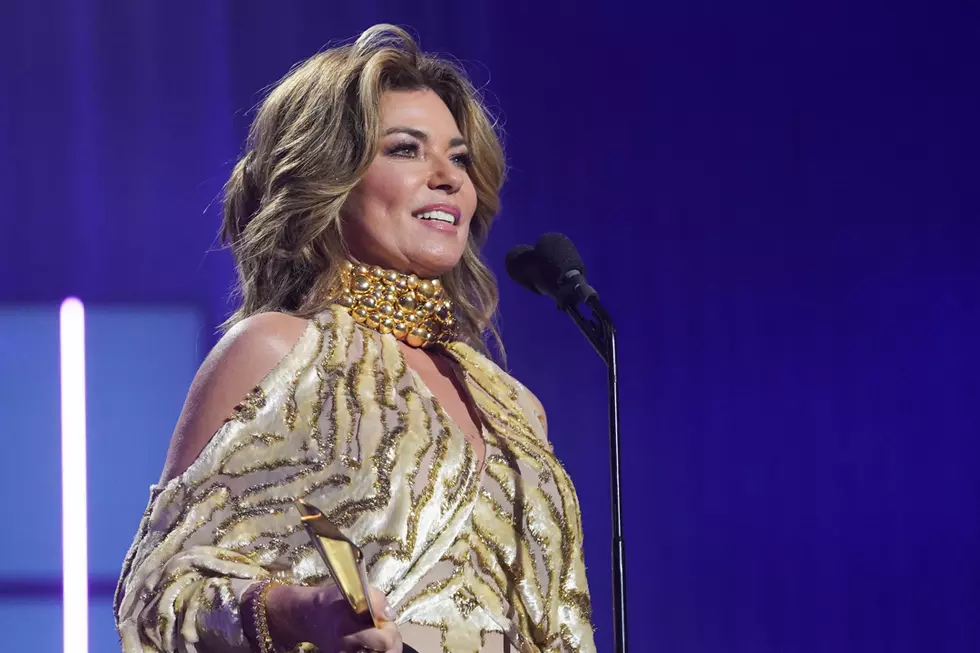 Shania Twain Shines in Striking 'InStyle' Cover Shoot [Picture]
Erika Goldring, Getty Images
Shania Twain is back in a big way in 2023. Her year will include the release of her sixth studio album Queen of Me and her major headlining tour of the same name. Before diving into all the exciting events to come, Twain is appearing on the cover of InStyle's "Everybody's In" special issue, released this month.
Twain poses for unique and artistic photos captured by photographer Danielle Levitt throughout the issue, but the most striking is undoubtedly the bold, can't-miss cover.
In the photo, Twain stands with her arms above her head, showing off an incredibly unique, jet-black gown consisting of pieces designed by ONRUSHW23FH and Agent Provocateur.
Find Shania Twain Concert Tickets Here
The dress features innovative long sleeves with pieces of fabric that protrude out before forming a glove over her hands. A delicate corset covers her middle, and the skirt cascades downward, forming a three-dimensional effect. Adorning the top of her head is a Mohawk-type headpiece extending several inches up. Twain's face looks flawless in the photo, and she accessorizes with Panconesi hoop earrings.
The singer stands against a bold red background, which only adds to the drama of the outfit.
Twain appears in the gown again later in the issue, but she trades the skirt for black Wolford tights, showcasing a more streamlined look. Other photos from the shoot show her in a yellow Diesel Dress with a plunging neckline and front zipper, which she pairs with Diesel high-heeled boots.
In additional photos, she dons her new pink hairdo and smiles while wearing a billowing, pink Lùchen dress and jacket combo. The shoot also features black-and-white photos in which the star wears a long Luar jacket with a sheer David Koma dress featuring a flower design.
Twain sat down for a wide-ranging interview for the issue, speaking about her upcoming album and tour, the journey of finding her voice amid Lyme disease, her battle with COVID-19 and more.
She also talked about another passion of hers: Mentoring and collaborating with young artists. She has found camaraderie in Kelsea Ballerini, especially, and Twain says she considers many of these artists as extended family members.
"Artists will ask for advice or will share stories and I feel a little bit like an aunt in a way," she says. "It sort of makes me feel auntie-ish, which I like. I enjoy it. I'm a nurturing person and I like to share my experiences."
Expanding upon the topic, Twain says she doesn't feel it is necessary to gatekeep the lessons and experiences she has encountered during her career.
"I've gone through them, so what good are they if I can't pass them on or share them?" she says. "It's like dying with a good recipe. It's a shame. Nobody wants to keep that for themselves. I enjoy passing any of it on."
Twain's Queen of Me album will be released Feb. 3. Her headlining tour begins April 28 in Spokane, Wash.
Country Music's 30 Most Powerful Women Ever:
More From Taste of Country