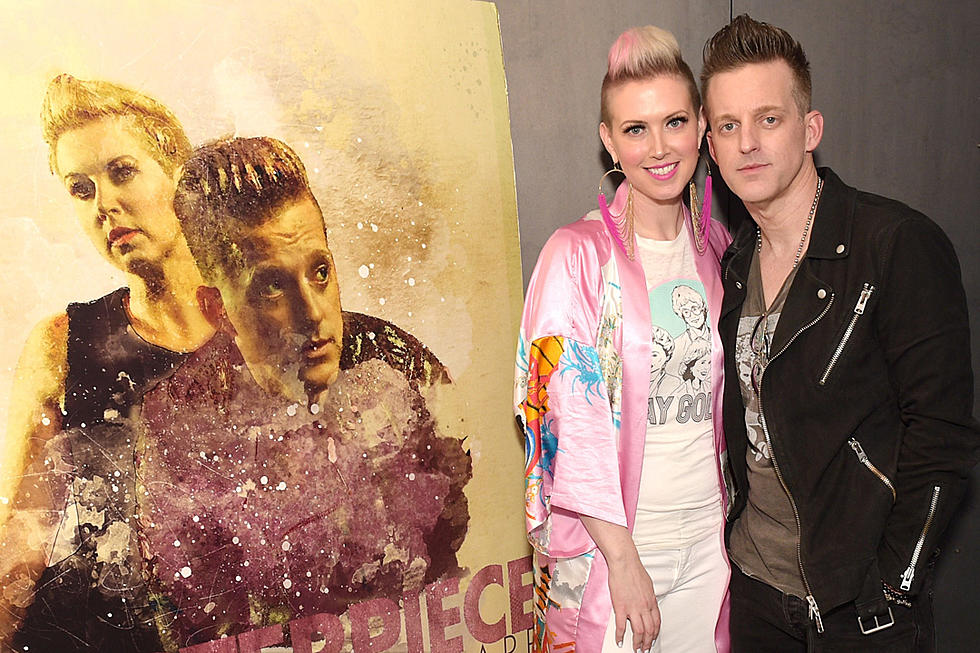 Thompson Square Talk Label Split, High Priorities and Their Real 'Masterpiece'
Jason Kempin, Getty Images
Keifer and Shawna Thompson like to joke that they have the same haircut. It's pretty close. She's now bleach-blonde and high and tight on the sides after years with Johnny Cash black hair that fell well below her shoulders. The change, the Thompson Square singer admits, was made out of necessity.
In fact, the married duo have made a few changes out of necessity over the last two years.
Seven years after making "Are You Gonna Kiss Me or Not" one of the most played radio songs of the 21st century, Thompson Square find themselves promoting a new independent album with little focus on country radio airplay. The 2011 hit is one of two chart-toppers and four Top 10 hits for the ACM and CMA Award-winning couple. A string of underperforming songs beginning in 2014 slowed their momentum.
"It's been kind of a rough three years — the thing had run its course," Keifer Thompson says, "And they (Stoney Creek Records) were gracious enough to let us out, which ... it's hard to get a record deal, but it's harder to get out of one."
"It wasn't a cheating situation — it was over with. But you know how when you have a long relationship, it never just stops. There's some ... dribble."
Baby Cooper was born in January 2016 and you won't find more doting parents. True story: Shawna drives a Mini Cooper that was a push present from Keifer. The duo are married couple of 19 years, and they're committed to family first, then the hustle of the music business.
For now. "We may do another label. I dunno, there may be another home for us somewhere," Keifer admits. "We've had a couple calls, but we just wanted to take a breath. We've been pounding our heads for seven years straight. We needed a reset."
You guys are independent artists now. Is there a lot of freedom that comes with that? 
Shawna Thompson: Oh, absolutely.
Keifer Thompson: It's everything. It's being able to do anything you want or need, almost immediately. Making decisions on artwork — we created the artwork for the project — we co-produced the record, we picked the other producers that we wanted to do it and we knew we were paying for it, so we could use whoever we wanted.
To what extent did you have to re-learn the business? 
KT: I take a lot more phone calls now. A lot more emailing. We hired a great publicist, which we've never had the publicist that you put on salary and there's plans and all this kind of thing. We had a great publicist, but she had 80 artists and was just overwhelmed. It's hard to be very focused on anybody when you're trying to take care of everybody.
You're not on the radio single cycle any longer. Is digital media and streaming something you had to learn a lot more about? 
ST: We're still learning. It's amazing how much it's changed since our first radio tour, which was 10 years ago.
KT: And I kept hearing "Own your masters!" I didn't know, you know. It's like "Well, if you own the masters and you get this many streams, you get this much. If you just write the song, you get this much."
ST: So yeah, we're learning.
KT: We're learning really quick. We've won awards and we've done all these great big things, and the most important thing now is just not screwing this kid up.
On Masterpiece, nothing sounds like it was written to be a single. There may be a good single on here, but nothing feels forced. 
KT: Yeah, we didn't write for anything aside from the song. And we didn't want anything light and fluffy. We wanted everything to have some meat on it — that was just really important to us. I think it's more importantly for us to be taken seriously musically than it is to just ding the bell (hit No. 1 on airplay charts) every once in awhile.
Did the title track come easily?
ST: It's kind of a cool story.
KT: I woke up at the house one morning with "masterpiece" repeating in my head and put it in my phone to write later. I just kept thinking about it and kept thinking about it, so I got up and grabbed my guitar. I went out on the back porch and was just trying to figure out what "masterpiece" was, and I started thinking about the definition of "masterpiece" being an artist's best work or something that you're never going to beat. For me that was Cooper. I could win every award there ever was and it's not going to mean more than this. I will never beat this.
She got up a couple hours later and I played it for her and she was like, "That might be the best song you've ever written" and I was like, "Cool." I write songs to impress her (laughs).
ST: (Laughing) After all these years.
Did you cry?
ST: I did.
KT: I have the work tape ... you can hear her crying, sniffling in the back. I still have it.
"Up in Smoke" really stands out because it shows some influences that fans might not have associated with your music. 
ST: We know it's rock-influenced. That's the reason we had Dann Huff produce it because he's like rock God on guitar.
KT: "Up in Smoke" is a true story about how I was on the backside of a bad relationship when I met Shawna and — (pauses) we just got together and the lyric just shows the transition of that.
It looks like there was another story you thought about telling there.
ST: (laughing) It could get a little Jerry Springer, we might not wanna go there.
Just point me down the right road.
KT: You know, I was still dating this girl and it was over in all senses of the term, but I'd moved to Nashville and met Shawna and that girl actually came out and saw her and knew exactly what was going on. It was over with. It wasn't a cheating situation — it was over with. But you know how when you have a long relationship, it never just stops. There's some ...
ST: Residual (laughs)
KT: ... Dribble at the very end. A couple of extra make-out sessions just for kicks. Yeah, there's some residual there, you know? So it was the dribble part because guys have a harder time with breakups than girls do, because they don't want to visualize the girl with another guy. I think it's harder for guys to deal with — it's a macho thing. It was one of those weird things where when I saw (Shawna) and I met her and I talked to her for the first time it was like that switch just completely flipped. I was like, "All the dribble was gone for me."
What's the Best Country Music Duet? Here are Our Faves!
More From Taste of Country