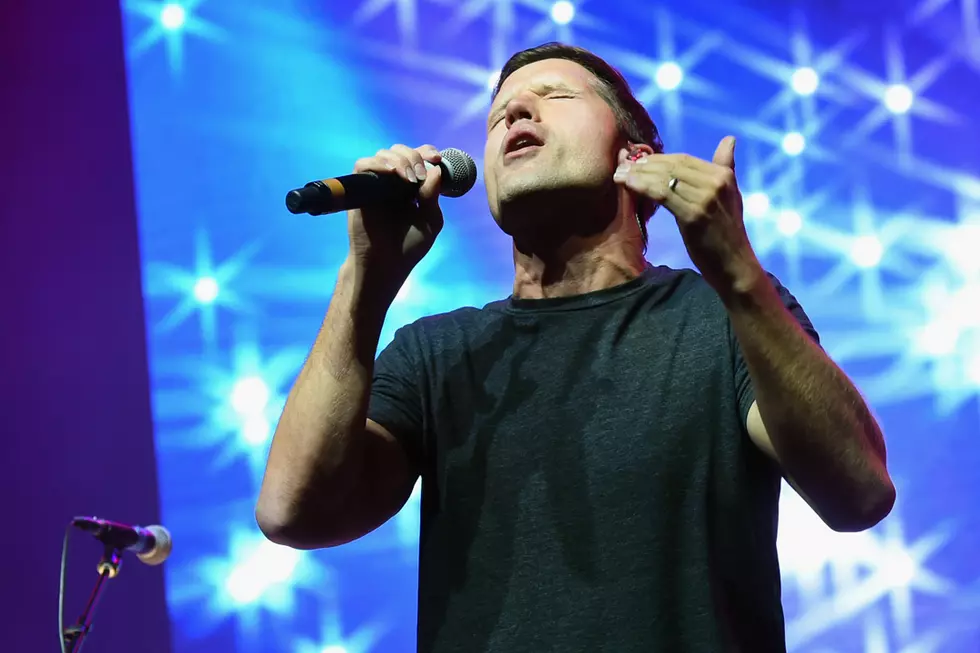 Walker Hayes' Good as Gold Tour Will Focus on Heavy Moments
Rick Diamond, Getty Images
Walker Hayes won't shy away from the pain when he begins his first headlining tour next month.
The "You Broke Up With Me" singer's debut album Boom is filled with vulnerable ballads, the kind of songs a typical artist will try to bury in his or her set. It'd be foolish to think of Hayes as typical, however. His music, his rhythms, his rhymes, his professional arc — heck, even his family life — it's all atypical.
The 38-year-old father of six (with another on the way in June) has been candid about his professional and personal struggles, which include losing a record deal and fighting off the stigma that comes with it, having a car repossessed by the dealer, alcoholism and his own pride. On Boom he sings about it all with the kind of detail one usually hides in a diary. The Top 10 hit "You Broke Up With Me" is a playful getting-over-love song, but it's the other songs on the album that fans will be calling for when he takes the stage to start the Good as Gold Tour in Uncasville, Ct. on Feb. 1. So, on a recent afternoon, he sat with his band trying to figure out how to bring those arrangements to the people.
"For 12 years I was playing writer's rounds," he says. "So this whole live band thing, it is a brand new thing to me."
Should "Craig" — a thank you letter of sorts to a man that gave his family a free van when they were at their lowest point — come with only piano accompaniment or be full band like on the album? How will he create the ambiance on songs like "Mind Candy" and "Halloween," or will he? Nicolle Galyon sings with him on the latter, a fragile love letter to his wife.
He'll figure it out. These are the songs he's excited for.
"I know people know the 'Halloweens,' I know they know the 'Craigs,' I know they know 'Beckett' and 'Beer in the Fridge," he says. "I'm excited to have those in the set and we'll figure out how to deliver it."
Walker Hayes' "Craig" Comes Full Circle
With the exception of "Beer in the Fridge" Hayes' music is danceable, even when slow or mid-tempo. You can move to "Beckett," a warm, good-natured ode to his son. That will play well later this year as he starts to open for Kelsea Ballerini. Her Unapologetically Tour starts on Feb. 8, and Hayes will find himself with 35 minutes each night — nearly double what a typical opener gets.
Don't be surprised if the focused, second generation newcomer slips new music into the set on occasion. He's well into his next album, saying it's a very deliberate album about what he's going through right now and how success has changed how people view him and his family.
"This song that I just finished has a lot to do with my sobriety," he says. "That is a reoccurring theme and will always be in my music. It's an interesting kind of perspective. It's kind of 'Beer in the Fridge' squared."
To be clear, album No. 2 is a long ways away. A second or even third single from Boom is likely. Right now he's setting his gaze on this tour and pushing "You Broke Up With Me" as far as it can go. A No. 1 song maybe, eight years after his major label debut?
"It would be a 10 for me," Hayes says when asked to rank how that would feel, "and I know what a 10 is worth. But I'd be happy with that 10 for that day and maybe a couple of days later but pretty soon I'll go, 'Hey I wanna do that again.'"
Watch Walker Hayes Talks About Boom, Sobriety
More From Taste of Country