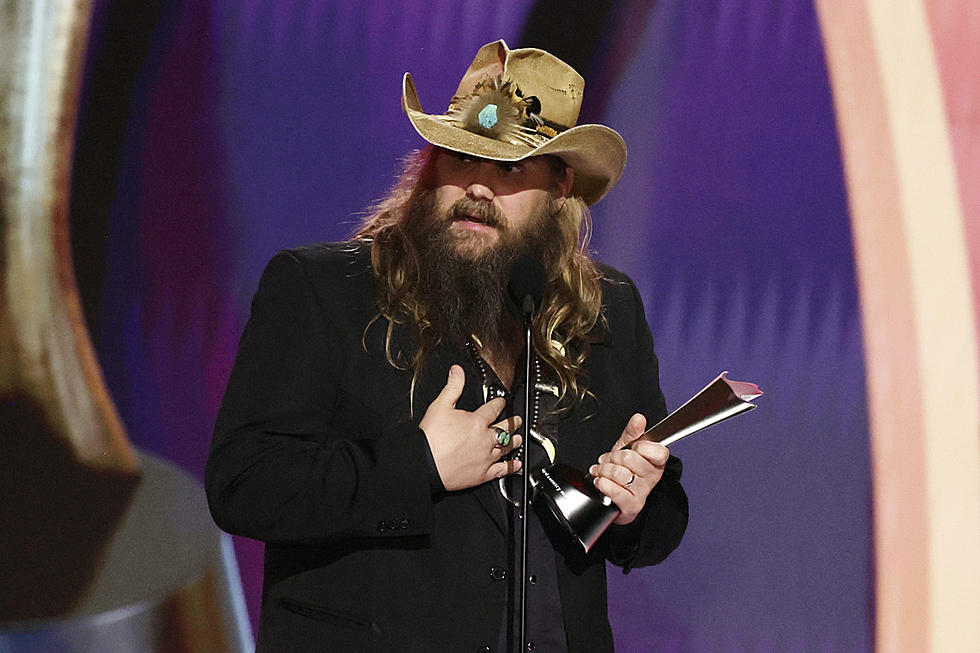 Here's Why Chris Stapleton Won Entertainer of the Year at the 2023 ACM Awards
Theo Wargo, Getty Images
Here is why Chris Stapleton won Entertainer of the Year at the 2023 ACM Awards on Thursday night (May 11). No, literally ... one picture explains it all.
Stapleton topped Morgan Wallen, Luke Combs, Miranda Lambert, Carrie Underwood Jason Aldean and Kane Brown to win his first Entertainer of the Year award.
A Taste of Country poll of 46 artists was tilted toward Wallen, with 41 percent believing he'd win his first Entertainer of the Year.
Prior to 2023, Stapleton had been nominated for Entertainer of the Year (CMA and ACM) 10 times and never won.
"I'm really at a loss of what to say," Stapleton said during his acceptance speech at the 2023 ACMs. No one watching believed he was exaggerating.
"By any imaginable metric, I don't deserve this, but thank you. There are so many other great people in this category. I stand up and I play music," he remarked. "That's what I try to do every night ... I've never thought of myself as somebody who would win this award, and I'm so grateful."
So, why did Stapleton win? The answer can be found in a photo snapped by John Shearer post-show:
The "Starting Over" singer isn't wrong in saying the metrics don't favor him. Stapleton's not released an album since 2020, and his last radio hit peaked in early 2022.
Sure, he's toured and sells out many of the largest venues in America. But other nominated artists (Wallen, Combs) do the same at a faster clip, and at least one other nominee (Underwood) brings a much more EOTY-worthy level of production to her fans.
This isn't to minimize Stapleton's contributions, but it's to say that in this voting cycle, he wasn't No. 1 in any single category, beyond — in many people's opinion — vocal talent and songwriting.
Nobody ever gets to see the final tally, but it's almost certain that with seven nominees instead of the usual five, ACM votes were spread thinner. This gives the dark horse a chance. This gives a narrative a chance. Voters who come back year after year love a good narrative.
Let's be honest, if we got through the Chris Stapleton era and he never won an Entertainer of the Year, it'd be a felony-level country music crime. Voters have recognized this in the past — by the numbers, Lambert probably wasn't most qualified to win in 2022, but she did. Eric Church didn't fill up the stat sheet when he topped Underwood, Lambert, Combs, etc ... at the 2020 CMAs, either.
Prior to that, George Strait (2013) and Brad Paisley (2010) won CMA Entertainer of the Year, because voters decided it was the right thing to do. ACM voters have historically mirrored the metrics a bit more accurately than CMA voters (which is odd, because they're the same voters), but nobody votes analytically. We vote for who we think deserves it, and that's an emotional response. There's nothing wrong with this, and the idea of a group of voters banding together to write a narrative isn't exclusive to music.
"I wanna say to my kids at home," Stapleton said in closing his acceptance speech, "they give up a lot of my time, and a lot of my wife's time so we can go do this."
His voice started to quiver here, and the camera cut to wife Morgane, who was near tears: "This is for them."
On Thursday night, the most talented country singer who's never won Entertainer of the Year got his. Of course, it helps that he's considered the kindest and most humble. Seriously, which of the other nominees would pitch in to clean up after the show?
One imagines Stapleton's final take on the evening to be telling the rest of the crew to head home early to their families, before adding the equivalent of, "I'll get the lights."
See Photos of All the Performances at the 2023 ACM Awards
Country Stars Step Out on the Red Carpet at the 2023 ACM Awards
See Dolly Parton, Jelly Roll, Ashley McBryde and more stars walk the red carpet ahead of the 2023 ACM Awards.
More From Taste of Country