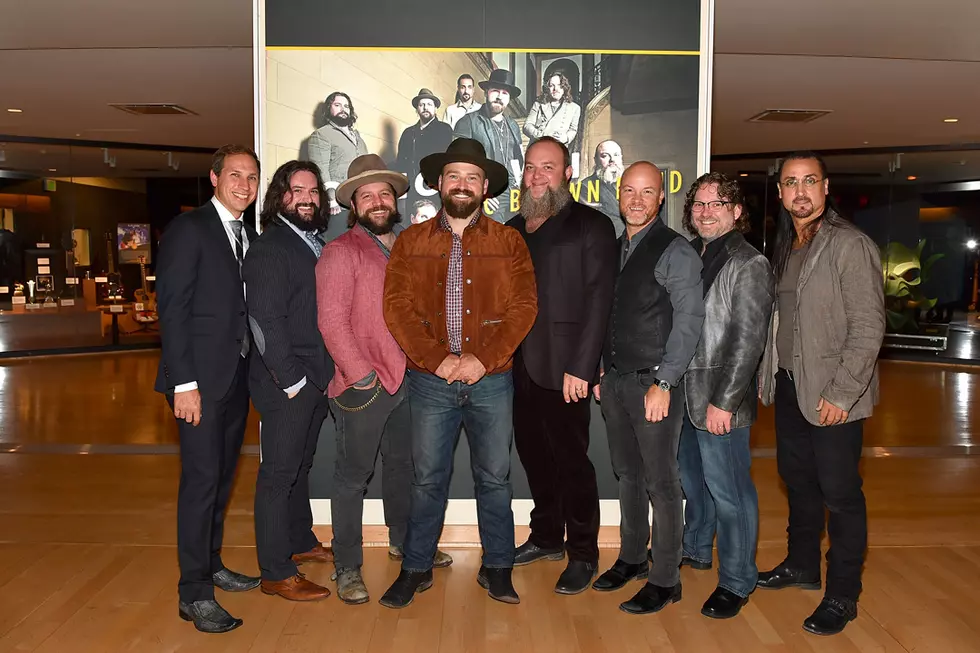 Zac Brown Band Get Emotional at Country Music Hall of Fame Exhibit Opening
Jason Davis/Getty Images
It was an emotional evening for Zac Brown Band at the Country Music Hall of Fame and Museum Tuesday night (July 19). The group viewed their new exhibit, Homegrown: Zac Brown Band, for the first time before a reception was held in their honor. Each of the eight members got noticeably choked up while speaking to an audience of friends, family and industry professionals at the museum's Rotunda after viewing the showcase filled with artifacts from the band's career.
"What an incredible honor. Thanks to everyone who have helped us," frontman Brown told those gathered. He the paused to take a minute, adding, "I'm going to take a minute to pull myself together. The guys that drove our buses, handled all of our equipment, that run all of our companies, that help us to achieve these great things ... I'm moved by all of it. I'm proud of these guys who are standing behind me. What an incredible presentation and chronology."
The exhibit itself presents some of the band's career milestones, which includes several ACM, CMA and Grammy Awards on display, as well as instruments from each player, handwritten lyrics and notebooks of the beginning of songs like Zac Brown Band staples "Goodbye in Her Eyes," "Chicken Fried," "Highway 20 Ride" and "Toes," as well as outfits worn on stage and in music videos. Additional highlights include: stage props like the dragon head that the band would frequently put on and march around the stage with, fan letters, newspaper clippings and concert posters.
Earlier in the evening, Zac Brown Band told press that they rarely slow down enough to look back to see what they have built together as a band. Brown admitted that seeing each member's personal items brought back memories.
"I'm amazed and humbled by it. I don't know why or how, but here it is," Brown said.
Throughout the evening, many band members mentioned their gratitude in that the exhibit has allowed them a moment to pause and look back on their careers, reminding them where they came from but also how much they have achieved.
"We never sit ourselves down and pat ourselves on the back," fiddle player Jimmy De Martini added. "The exhibit today was pretty emotional. When you're a kid you dream about someday having a song on the radio or playing in front of thousands of people. We get to do that almost every night. It's a dream come true."
After thanking the fans, the Country Music Hall of Fame and Museum and the band, De Martini shared his appreciation to bandleader Brown for his vision.
"Anything less than conquering the world is not enough for him," he conceded.
Still in awe of the display, John Driskell Hopkins also got nostalgic, remarking: "It's mind-blowing to think about where it all began and where it's gone. It's an amazing thing to be a part of this."
Homegrown: Zac Brown Band opens to the public on Friday (July 22) and runs through July 2017.
Zac Brown's Wild Kenny Chesney Story
More From Taste of Country