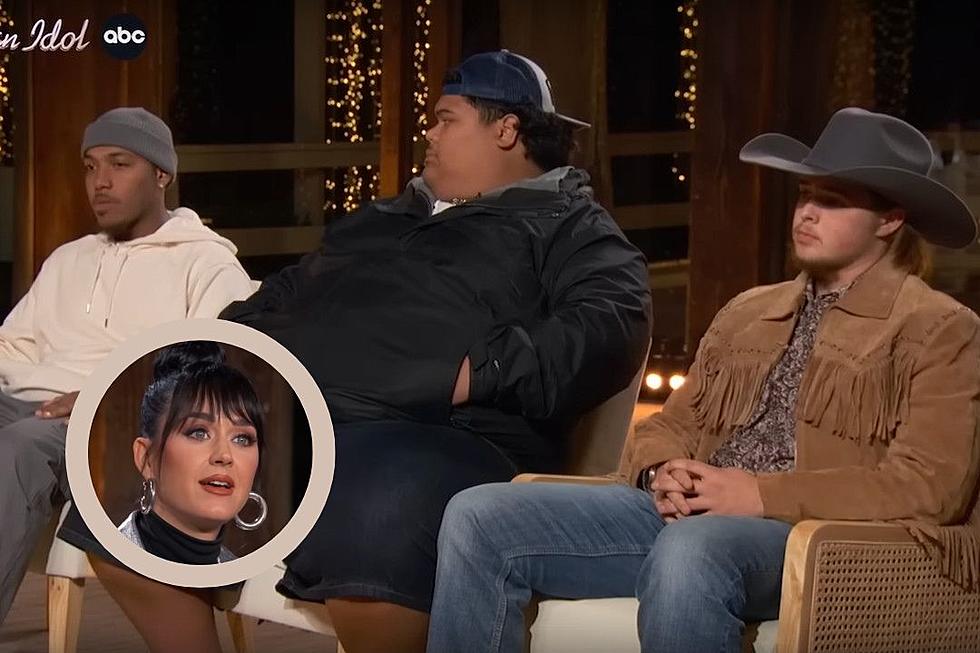 'American Idol' Hollywood Week Ends in a Shocking 'Plot Twist' [Watch]
YouTube
American Idol Season 21 is chock full of potential superstars, which means judges faced a difficult decision when choosing which contestants made it into the Top 24 on Monday night (April 10).
Luckily, changes can always be made to the reality series, and the latest episode ended with a major twist. Instead of whittling down the competition to the Top 24, judges Katy Perry, Luke Bryan, and Lionel Richie announced the addition of two more artists, making the pool of contenders a Top 26.
At the end of the two-hour broadcast, judges paired together Iam Tongi, Matt Wilson, and Colin Stough. All three singers had separate vocal strengths and were standouts in different genres.
Stough, a 19-year-old country artist, captured hearts and judges with Chris Stapleton's "Cold" as part of the Showstoppers Round. The Mississippi-born hopeful showed a new side of himself during his performance, singing without his guitar — a move he said was a way to showcase his stage presence for the judges. And he did just that.
Stough threw his heart and soul into the performance, earning big applause from the studio audience, who listened on and watched intently.
"I think you came into this as an HVAC maintenance guy. And now you actually kind of look the part," Perry told Stough afterward while the singer waited to find out whether or not he made it into the Top 24.
"I think we believe you. You look like an artist. You really do. I hope that that is the gift you received throughout this whole journey."
During the Showstoppers Round, Tongi, who was seated beside Stough, delivered a powerful and emotional rendition of "Sound of Silence" by Simon & Garfunkel as tribute to his father, who recently passed away. Wilson, meanwhile, performed a smooth and impressive cover on Chris Brown's "Forever."
Luckily, none of the three singers will be going home, as they all made it through to the next phase of the competition, turning the Top 24 into the Top 26 for the very first time in the show's history.
"There's only one more spot in the Top 24," Perry said before naming Tongi as the final artist in that slot.
But in a twist, she added, "Colin, Matt. Plot twist. Us judges, we like to change things up every season. We have so much talent this season. We don't think there's a Top 24. We think there's a top 26. You guys are in the Top 26!"
"When I first auditioned, which I'm not really a big emotional guy, you know, but you go from telling yourself all day every day, that you know, you're not good enough," Stough said, reflecting on his Idol journey thus far. "Then you go in there, and that's an experience of a lifetime, dude."
American Idol airs Sunday and Monday nights on ABC.
14 'American Idol' Singers Who Secretly Hooked Up — Or Did They?
At least two couples who met through
American Idol
got married, while one more could be headed in that direction. Not all
American Idol
hookups have a happy ending, however. Here are seven of the most talked about meet-ups, plus the
real
scoop on how serious things got.
PICTURES: See Inside Carrie Underwood's Beautiful Post-'American Idol' Home
Carrie Underwood invested her money wisely after winning American Idol in 2005. One of her first big purchases was a 3,099-square-foot home in the well-to-do Nashville suburb of Franklin, Tenn. Underwood paid $384,000 for a luxurious 3-bedroom, 3.5-bathroom stone and stucco home in a private gated community.
The house features a library, a vaulted ceiling and lovely amenities throughout, but while it's very nice, it's certainly not the kind of home you'd picture for a budding country superstar. Underwood wound up being a huge success right out of the gate with her debut album, Some Hearts, and she sold the home in Franklin for $372,500 in 2007, when she purchased the Brentwood mansion that she would later share with her husband, Mike Fisher.
More From Taste of Country