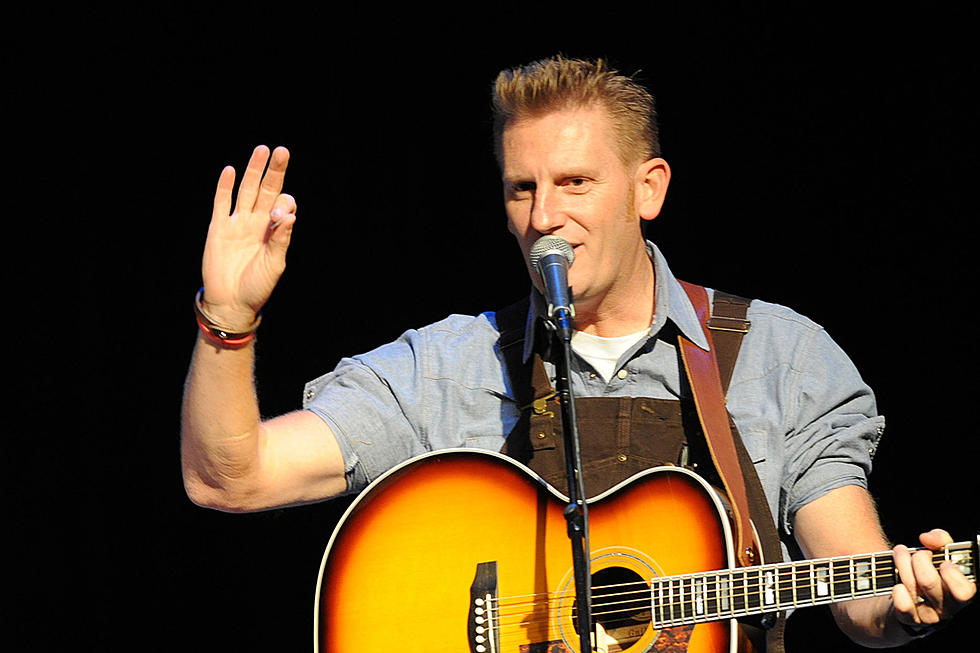 Rory Feek Will Play More Solo Concerts in 2018
Rick Diamond, Getty Images
Joey + Rory singer and guitarist Rory Feek is returning to the stage in 2018 for a series of concerts that will mark his first full schedule of shows since his wife and singing partner, Joey Martin Feek, died in 2016.
Feek has announced a string of concert dates beginning in April. He's not hitting the road for a tour; instead, the singer-songwriter will perform a series of intimate shows at the concert hall he and Joey built on their farm an hour outside of Nashville.
In late 2017, Feek played his first concerts since his wife died, and his new shows will follow a similar format. Billed as An Evening With Rory Feek, the shows will feature him sharing not only songs, but also stories from before he and Joey met, as well as the kinds of personal glimpses into their life together that endeared the couple to fans all over the world.
"What Rory does on stage is more like a TED Talk with music, than it is a concert," Feek's manager, Aaron Carnahan, says in a press release. "Rory's an unusually gifted storyteller who is able to weave songs, stories and video components seamlessly together in a way that not only entertains an audience, but also profoundly impacts their character and marriages and the way they look at life."
5 Unforgettable Joey + Rory Songs
Joey + Rory came to public attention after competing on Can You Duet in 2008, and they went on to release a string of successful albums and star in a popular television variety show. Feek chronicled his wife's brave battle with cancer in his blog, This Life I Live, which inspired fans all over the world.
Since Joey's death in March of 2016, he's produced a documentary about their life titled To Joey, With Love, and written a New York Times bestselling autobiography, This Life I Live: One Man's Extraordinary, Ordinary Life and the Woman Who Changed It Forever. Feek will release his second book, Once Upon A Farm: Lessons on Growing Love, Life, and Hope on a New Frontier, in June.
Tickets for all of the upcoming An Evening With Rory Feek shows are available via his official website.
Rory Feek's An Evening With Rory Feek Concert Dates for 2018:
April 13 — Columbia, Tenn. @ Hardison Mill Farm Concert Hall
April 14 — Columbia, Tenn. @ Hardison Mill Farm Concert Hall
May 11 — Columbia, Tenn. @ Hardison Mill Farm Concert Hall
May 12 — Columbia, Tenn. @ Hardison Mill Farm Concert Hall
June 15 — Columbia, Tenn. @ Hardison Mill Farm Concert Hall
June 16 — Columbia, Tenn. @ Hardison Mill Farm Concert Hall
July 6 — Columbia, Tenn. @ Hardison Mill Farm Concert Hall
July 7 — Columbia, Tenn. @ Hardison Mill Farm Concert Hall
Aug. 10 — Columbia, Tenn. @ Hardison Mill Farm Concert Hall
Aug. 11 — Columbia, Tenn. @ Hardison Mill Farm Concert Hall
Nov. 23 — Columbia, Tenn. @ Hardison Mill Farm Concert Hall
Nov. 24 — Columbia, Tenn. @ Hardison Mill Farm Concert Hall
Nov. 30 — Columbia, Tenn. @ Hardison Mill Farm Concert Hall
Dec. 1 — Columbia, Tenn. @ Hardison Mill Farm Concert Hall
Dec. 7 — Columbia, Tenn. @ Hardison Mill Farm Concert Hall
Dec. 8 — Columbia, Tenn. @ Hardison Mill Farm Concert Hall
See Photos From Joey Feek's Private Memorial Service
More From Taste of Country