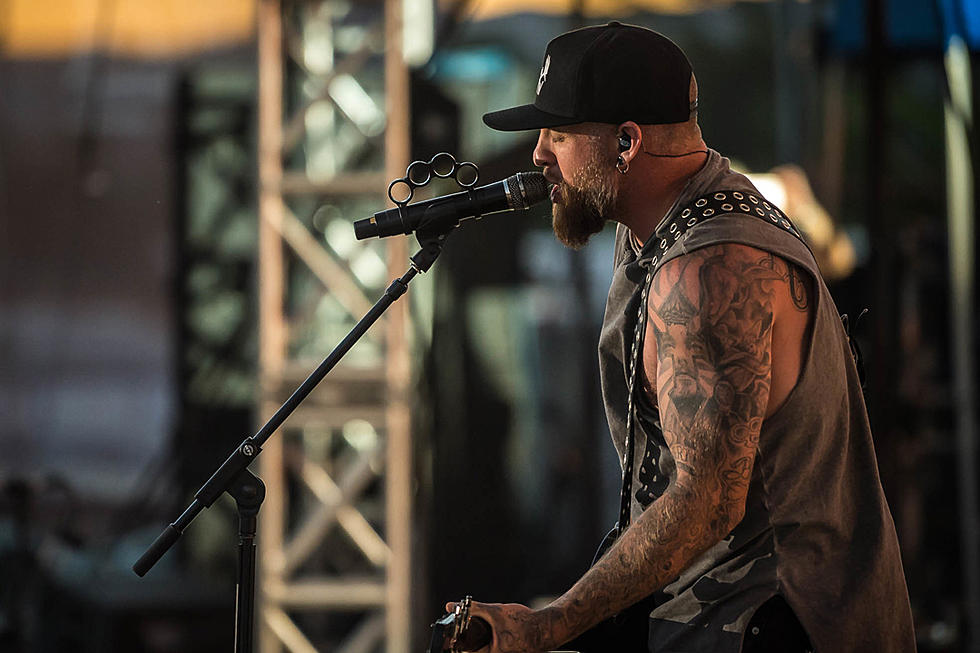 Brantley Gilbert Brings New Emotion to Country Jam Colorado
Keith Griner
The last time Brantley Gilbert played Country Jam, he was newly sober, unmarried and childless. Life changes meant a very different show on Sunday night (June 17) in Grand Junction, Colo.
The rock-heavy 90-minute set still satisfied those who came to feel his fiery, testosterone-fueled brand of country music, but the Georgia-raised singer found plenty of time to pay tribute to the military, his wife, 7-month-old son and all fathers in the crowd.
Spending Father's Day away from home was difficult for Gilbert — something he admitted before a two-song acoustic set that featured "Them Boys" and "My Kinda Crazy." He mentioned his wife Amber prior to "You Don't Know Her Like I Do," a song played over images from the couple's wedding and relationship through the years. "One Hell of an Amen" may have been the concert's emotional highlight. It came mid-set and found the singer paying tribute to the military (recognizing how he appreciates those who serve even more now that he's a father) and cancer survivors.
"I won't say a lot about cancer, but I will say 'that' to cancer," he said with two middle fingers held high in the air. There wasn't a fan in attendance who was opposed to that sentiment.
These emotions didn't hold down an intense reminder of how many hits Gilbert has, however. He opened with "My Kinda Party," a song written for Jason Aldean. "Country Must Be Country Wide," "It's About to Get Dirty" and "Hell on Wheels" followed, setting an early pace that let those who came for the mellifluous tones of Carly Pearce or even Thursday's headliner Brett Eldredge know that this was a different type of set.
Gilbert's "Dirt Road Anthem" included a little-heard third verse and a chorus that became a massive singalong. The crowd roared for "Bottoms Up," and even though Gilbert has matured and toned down some since playing Country Jam in 2014, the last few songs and encore were a hair-raising reminder of the intensity he once brought to club shows. "Read Me My Rights," "The Ones That Like Me," "Take It Outside" and "The Weekend" gave way to an encore that featured a short AC/DC cover and finally "Kick It in the Sticks."
Just three songs from Gilbert's latest The Devil Don't Sleep album made the setlist, and prior to the show he admitted that he's already thinking about new music:
Kip Moore was direct support for Gilbert, with Lauren Alaina, Carly Pearce and Jackson Michelson setting the pace for the final day of the four-day festival. Miranda Lambert, Florida Georgia Line and Eldredge were headliners on other days.
See More Photos from Country Jam 2018!
More From Taste of Country