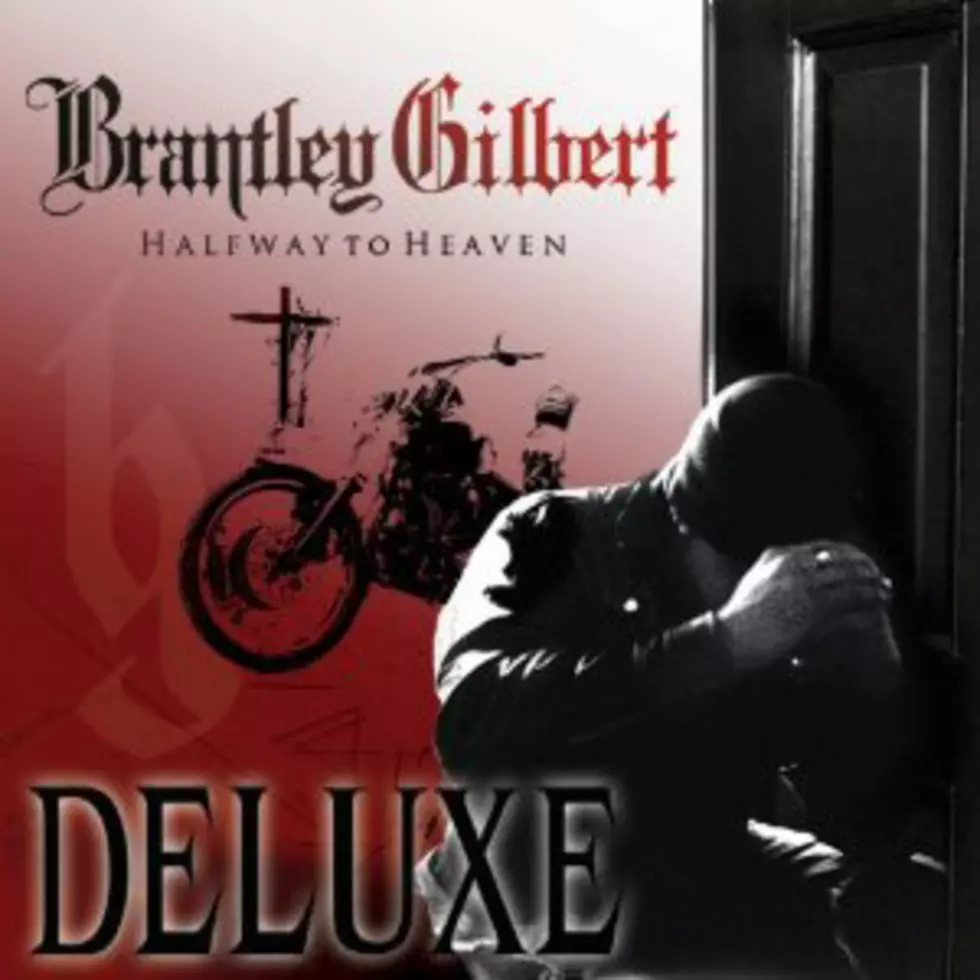 Brantley Gilbert, 'Halfway to Heaven (Deluxe Edition)' – Album Review
Ask a long time Brantley Gilbert fan why he's so special and you'd better find a comfortable chair. Even Scotty McCreery's fans think Gilbert's supporters are a little nuts. "Loyal" may be a more tactful word to describe the early believers in Gilbert's music, but that adjective comes up about ten yards short of a 31-foot putt. It's not just the songs on 'Halfway to Heaven' that have Gilbert's clergy growing every weekend, it's the live show.
The 27-year-old singer does a good job capturing the energy of that live show on the rowdiest tracks from his just released deluxe version of an album he put out 18 months ago. The album begins with 'Hell on Wheels,' a moonshiner's anthem that makes 'Copperhead Road' seem soft. 'Kick It in the Sticks' is by far the best of the loud-and-proud, however. It's sort of like 'Dirt Road Anthem' -- c0-written by Gilbert and included on this album -- on steroids. If you like your country with daisies and three-part harmonies, this isn't your album.
Or maybe it is. Gilbert's ballads come as naturally as the blue collar, guitar driven rockers. 'My Kind of Crazy' is a sweet love story sang with honesty over a delicate piano. The two about the his life-changing car accident are the most memorable. Gilbert doesn't really like talking about the accident on Old 129 near his hometown in Georgia, but the title track and 'Saving Amy' offer up his half of the conversation.
On 'Halfway to Heaven,' the singer details what went wrong that night -- drunk driving, oak tree, etc. -- before sharing how it forced him to take his life and talents more seriously. 'Saving Amy' tells the story of a young man who died in a car crash, but watches over his fiance from heaven. Clearly this isn't Gilbert's story, but it's easy to see how his crash influenced the poignant lyrics. Emotionally he's as vulnerable during these ballads as he is confident and commanding during the beer bottle-raising rockers.
Aside from 'Hell on an Angel,' the three songs new to the deluxe edition don't really add much to an already dynamic project. There's plenty to be excited about in the first 12 cuts. Almost as exciting is this young singer's potential. Country music isn't really hurting for young superstars right now, but no one is going to turn away another.