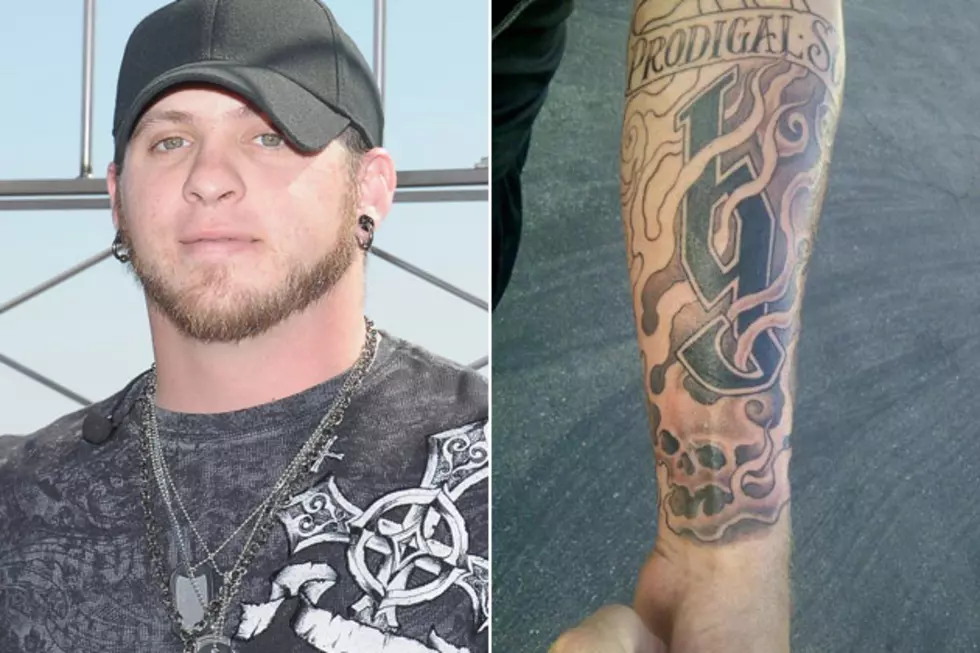 Brantley Gilbert Gets a New Tattoo
Michael Loccisano, Getty Images / Twitter
Brantley Gilbert is no stranger to being inked. The ACM New Artist of the Year nominee already has at least three tattoos, including one on his left arm that has a skull in it, one on his rib cage and one between his shoulder blades.
Now, the 'Kick It In the Sticks' singer is sporting some new ink, and it looks like it might become a sleeve all the way up his left forearm, though we can't see in this photo if it wraps all the way around his arm. The new tat, which reads 'Prodigal Son,' also sports an emblem that's a lower-case b and g mixed into one. Gilbert tweeted a photo of his newest skin art Wednesday afternoon (April 4) saying, "Not finished yet, but here is a glimpse...."
Gilbert's debut album, which he dropped in 2009, was called 'Modern Day Prodigal Son' and featured the title track 'A Modern Day Prodigal Son' about a wayward man reading the story of the prodigal son in the Bible and coming back. The chorus culminates, "Lord I'm a renegade, a rambler / I've squandered all I've owned / a bonified runaway, I'm a gambler / can't count the lies I've told / and I need redemption, how 'bout forgiveness / and I pray for open arms, and be with me lord / 'cause I'm comin' home, like a modern day prodigal son."
Perhaps it's the debut album or the story of the song that has stuck with Gilbert these past three years, but whatever the case, he took the next step and emblazoned the moniker across the inside of his arm, right where he can always see it.
More From Taste of Country