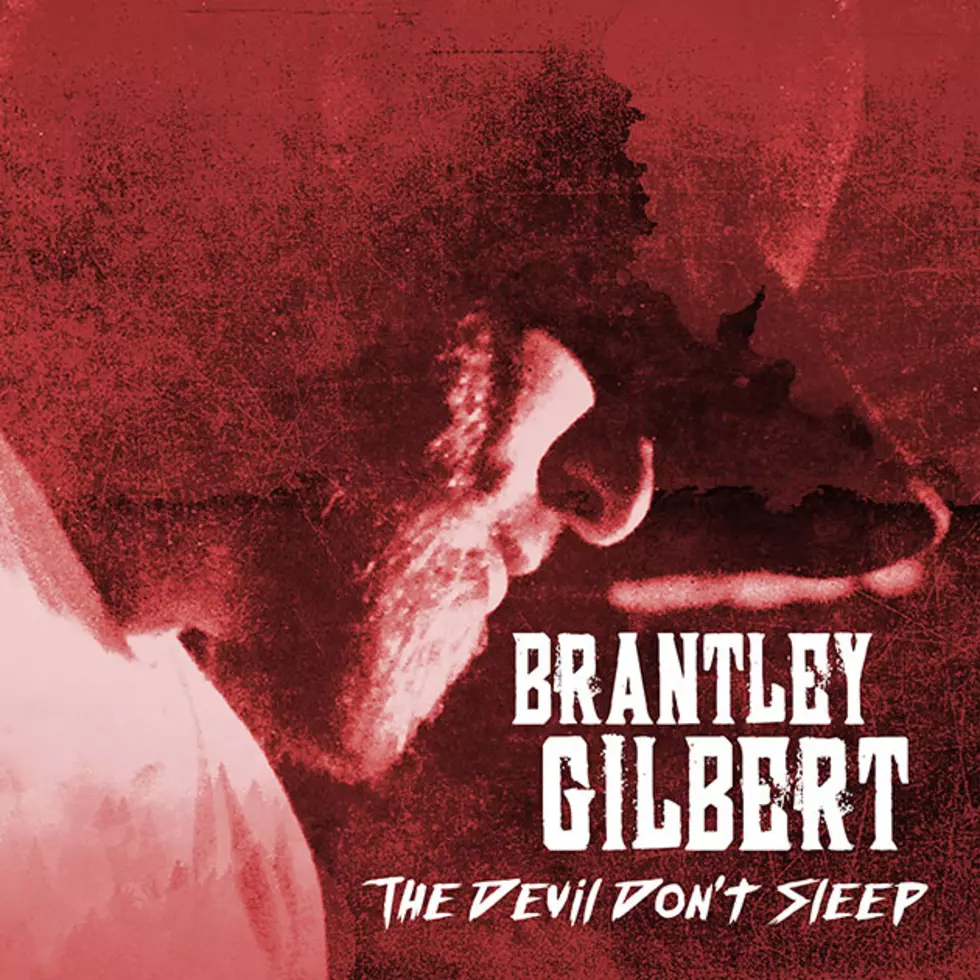 Brantley Gilbert, 'The Devil Don't Sleep': Everything You Need to Know
The Valory Music Co.
Some artists refuse to leak their albums before the official release date, but Brantley Gilbert is too excited about The Devil Don't Sleep to keep it a secret.
Gilbert's new album drops on Jan. 27, but the Georgia-born singer has already posted a generous preview of the album on his Instagram page. He shared the songs over 16 separate posts that have since combined for more than 200,000 video views.
Therefore, Gilbert's new album is officially not a secret, which is the perfect storm for Taste of Country to dish out the details.
The Title
The title of Gilbert's forthcoming album is The Devil Don't Sleep. A track by the same name also graces the album at No. 14.
As to why Gilbert chose this title for the album, he cites the phrase as a personal reminder.
"The Devil Don't Sleep is all about knowing that the devil is always there, and there's always temptation," Gilbert explains. "It just keeps me on my toes, and it's just kind of a constant reminder to me to move forward and keep my nose in the right direction."
One of the temptations Gilbert speaks of is alcohol. Though he's been sober for more than five years, he still considers himself to be in the recovery process.
"Decisions are always there to make, and The Devil Don't Sleep, for me, [means] always just being aware that I am an addict," Gilbert notes. "I'm a recovering addict, but I'll always be an addict. Those temptations are there. There's a lot of roads that go left."
Brantley Gilbert Says The Devil Don't Sleep is a Reminder
The Release Date
The Devil Don't Sleep will be released on Jan. 27, 2017. Both the standard album and the deluxe version, featuring 10 extra tracks — five demos and five live cuts — are available for pre-order through iTunes and Gilbert's website store. The album is also available for preview on Gilbert's Instagram page.
The Record Label
The Devil Don't Sleep will be released by Big Machine Label Group's The Valory Music Co. This will be Gilbert's second originally issued album with Valory, along with 2014's "Just As I Am." Gilbert has been with the label since 2011.
The Single
Gilbert released the album's first single, "The Weekend," in July of 2016. The song celebrates ditching the daily grind for a weekend of partying with references to shots, spring break and "wake and bake." Gilbert explains the inspiration for the song hit while he and his bandmates were on the road.
"We were rolling through the Midwest, South Dakota, Oklahoma, Minnesota, and you see how hard people work and how much they need to let it go when they get to Friday," Gilbert notes. "All those people coming out to the shows and rocking hard; they meant business. I wanted to write a song that matched that intensity to kick back even harder than you work. That's where 'The Weekend' comes from: all those people who came out and threw it down with us."
The Album Cover
The Devil Don't Sleep album cover features Gilbert's profile in a baseball cap and his usual facial scruff. The standard, 16-track album's cover is red, while the deluxe version cover is blue.
The Songs
The standard issue of The Devil Don't Sleep contains 16 tracks, while the deluxe version contains a whopping 26 tracks. The tracks are as follows.
Brantley Gilbert, The Devil Don't Sleep Track Listing:
1. "Rockin' Chairs"
2. "The Ones That Like Me"
3. "The Weekend"
4. "You Could Be That Girl"
5. "Smokin' Gun"
6. "Bro Code"
7. "It's About to Get Dirty"
8. "Tried to Tell Ya"
9. "In My Head"
10. "Way Back"
11. "Baby Be Crazy"
12. "Outlaw in Me"
13. "Bullet in a Bonfire"
14. "The Devil Don't Sleep"
15. "We're Gonna Ride Again"
16. "Three Feet of Water"
17. "At Least We Thought It Was" (demo) *
18. "I've Been There Before" (demo) *
19. "Against the World" (demo) *
20. "Closer Than We've Ever Been" (demo) *
21. "You Promised" (demo) *
22. "Read Me My Rights" (live) *
23. "Hell on Wheels" (live) *
24. "Grown Ass Man" (live) *
25. "Outlaw Women" (live) *
26. "Rick It in the Sticks" (live) *
* deluxe version only
As noted, the bonus tracks are a collection of demos and live songs; some that are several years old and two previously unreleased songs, "You Promised" and "I've Been There Before."
"As we've been playing shows throughout the years, there's songs or work tapes or demos, that people have asked about that have been available, or they could dig them up and find them in random places," Gilbert explains, "but we finally wanted to make them available for everybody."
The Songwriters
Lead single "The Weekend" was written by Gilbert and Andrew DeRoberts. However, the two never met in person until well after the song was finished.
"I was actually having a conversation with a man named Kos Weaver, who signed me to my first publishing deal at Warner Chappell," Gilbert tells Nash Country Daily. "He's working with Andrew now, and I had not met him, but I was starting to experiment with writing with some tracks, and Kos just said, 'You know this guy's extremely talented.' I said, 'Would you mind sending me some of his stuff,' and he did. He sent me two tracks, and both of them actually made the record. He's just an extremely talented guy. I listened to him and probably called him 10 or 15 minutes later, and within a week, we had both of them written over the phone, which was a first for me. I'd never written anything in its entirety over a phone."
Gilbert and DeRoberts finally met in person at a listening party for the new album.
The Tour
The Devil Don't Sleep Tour will host Gilbert along with special guests Tucker Beathard and Luke Combs. The 26-show trek kicks off Feb. 2 in Pennsylvania and wraps up April 29 in Minnesota. However, some loose dates on June 10, July 21 and August 26 have been added to the tour according to Gilbert's Instagram post, so perhaps even more dates will pop up. In addition to the aforementioned states, the trio will also perform in Maine, Kansas, Missouri, West Virginia, New York, Ohio, South Carolina, Indiana, North Carolina, Illinois, Louisiana, Mississippi, Kentucky, Michigan, Iowa, Wyoming and Vermont.
Country Stars Who've Suffered Tragedy
More From Taste of Country