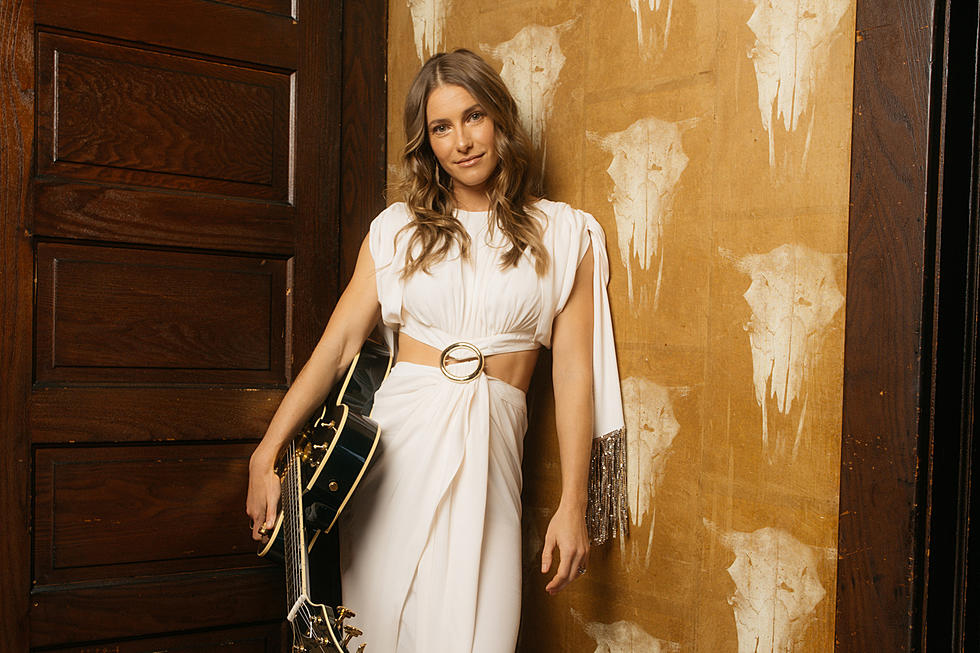 Caroline Jones Shares Stories of 'Grit and Perseverance' on New 'Superpower' EP [Interview]
Tyler Lord
Caroline Jones has had quite an interesting journey on the road to her new EP, Superpower. The multi-genre singer, songwriter and multi-instrumentalist got married and joined one of the biggest bands in the world as a full-time member over the past two years, but in a new interview, she tells Taste of Country that her goals for her music really haven't changed — they've just increased.
"I definitely surprised myself when I met my husband (America's Cup sailor Nick Dana) and got married," Jones admits, laughing when she's reminded that she previously described herself as "independent and stubborn ... sometimes to a fault" in a 2021 interview with ToC.
Jones adds that she had never intended to get married, and was, in fact, "vehemently opposed" to the idea. But she's found that marriage has brought about the exact opposite result than she might have once feared.
"I think, if anything, my husband's brought (independence) out in me way more," Jones states. "I've become, I would say, way more open, and way more courageous since meeting him."
That's also true of her participation in the Zac Brown Band, Jones adds. She first opened for the group, then played in the band as a special guest before ZBB announced that she was joining as a full member in 2022.
"I've always been such an over-preparer and such a perfectionist, and you just can't afford to do that as much in a live situation every night with eight other people on stage," she says. "You're just kind of thrown into the fire, and you realize that you make mistakes that way, but you also learn much faster, and I don't think I knew that before."
"Both of those relationships have made me a lot less timid and given me a lot more emotional courage and confidence," she says. "I think that's really played into, especially the writing of these songs; the theme of this record, which is grit and perseverance."
Jones takes a droll view of what married life must be like from her husband's perspective in "Normal Person," one of the standout tracks on Superpower.
"You ain't dealing with a normal person / You ain't signed up for an easy ride," she warns in the humorous song.
Jones worked with Vince Gill on another song, "By Way of Sorrow." The Julie Miller composition is the only song on the project that Jones did not write.
"It just sounds like a classic to me, and it's such a moving, powerful song," Jones states, calling Gill's participation "an indescribable honor."
"He's on my short list of all-time heroes," she gushes. "A one-of-a-kind voice, both his actual voice and his guitar. He's one of those players like Mark Knopfler, Willie Nelson ... you can tell it's Vince Gill right away."
In the EP's title track, "Superpower," Jones sings of the highs and lows of a music career that the public doesn't see.
"But not giving up is my superpower ... and my Kryptonite," she sings with rueful resolve.
Jones says the struggles of the music business change as she grows her career, but they never really go away.
"But in the end, I'd rather struggle in music my whole life than do anything else," she states firmly. "This is just who I am. I feel an obligation to myself, and to every little girl, little boy dreamer out there, to ... I think we need more emotional courage in this world, and people who are willing to be who they are, no matter what that looks like in terms of how it comes back to them in success. It's never been about that for me. I'm just lucky to have a career in music. Really lucky, and to keep that perspective is important."
Jones "really wanted to push myself musically in the making of this record ... but my goals are always the same. To get better at all of my crafts — singing, songwriting and musicianship — and then to connect with more people."
Superpower is currently available for streaming alongside a selection of more music and merchandise. She'll join her bandmates in the Zac Brown Band on the road during the Summer of 2023 for their From the Fire Tour, interspersed with solo concert dates of her own. Jones plans to release a full-length album in the fall.
Country Music's 30 Most Powerful Women Ever:
More From Taste of Country