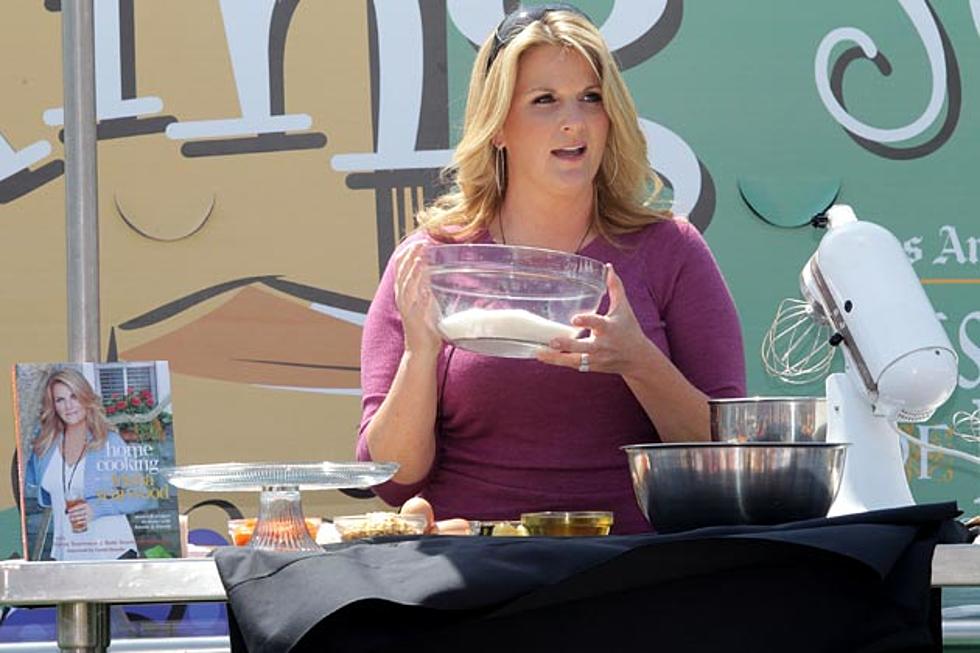 Fancy Chili Recipe by Trisha Yearwood
Frederick M. Brown, Getty Images
"In my family, it's more of an idea of just trying to get your kids to eat more vegetables, and it works," says singer, author and cook Trisha Yearwood of the family-favorite dish she calls Fancy Chili, which combines carrots, diced tomatoes, red bell peppers and other healthy ingredients.
Yearwood appeared on 'The Today Show' to promote the upcoming second season of her Food Network show 'Trisha's Southern Kitchen,' which premiered Oct. 20. She also demonstrated making the healthy chili for NBC's Matt Lauer.
"When I make this at home I use either really lean beef or ground turkey works just as well," Yearwood reveals of her chili recipe. Even better? It's a one-pot dish. "That's always good, especially if you are doing the dishes," she says with a laugh.
Yearwood does say that she and husband Garth Brooks differ in how they like it served. Garth likes the chili served over rice, while Trisha likes it served over cornbread. Brooks will join his wife during an upcoming episode of 'Trisha's Southern Kitchen,' and Yearwood says her superstar husband is no slouch in the kitchen.
"I teach him how to make stuff, which now he has no excuse. He is a good cook, but he tends to make things up in the kitchen. He adds tortellini to everything," she says with a laugh. "I don't let him make cookies."
Trisha Yearwood's Fancy Chili Recipe Ingredients:
1 tablespoon olive oil 2 garlic cloves, minced
1/2 cup chopped green onion
1/2 pound lean ground beef
2 tablespoons hot chili powder
1 28-ounce can fire-roasted dice tomatoes
1 15-ounce can black beans, rinsed and drained
1 medium red bell pepper, cored, seeded and diced
4 carrots, peeled and grated
1/2 teaspoon brown sugar
Pinch of salt
White rice, for serving
Fancy Chili Recipe Directions:
1. In a large saucepan, heat the oil over medium heat.
2. Add the garlic and green onion and cook for about 1 minute.
3. Add the ground beef and cook until browned, about 5 minutes.
4. Stir in the chili powder until fully combined. Add the tomatoes, beans, bell pepper, carrot, brown sugar and salt.
5. Bring the mixture to a boil, then reduce the heat to low.
6. Cover and simmer the chili for 15 minutes.
7. Serve over white rice.
Note from Trisha: For a large party, double the beef.