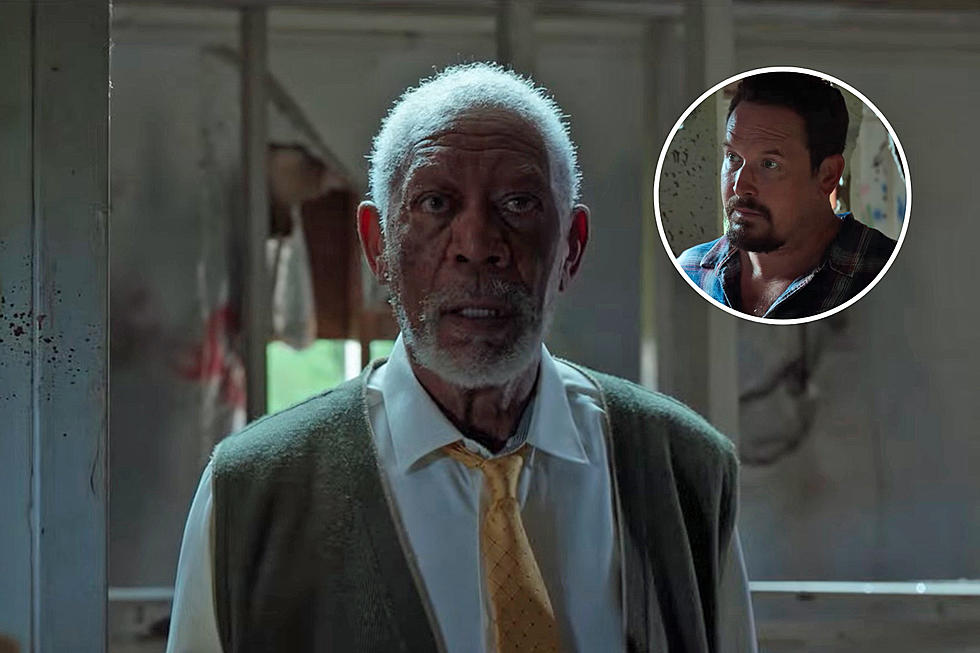 'Yellowstone' Star Cole Hauser Teams With Morgan Freeman in New Trailer for 'The Ritual Killer' [Watch]
YouTube
Yellowstone star Cole Hauser (Rip Wheeler) joins forces with Morgan Freeman in an upcoming film titled The Ritual Killer, and a new trailer for the film gives fans a glimpse of a tense psychological thriller.
"A detective on the verge of retirement teams with a professor of African Studies to track down a serial killer who is performing the ancient black magic practice of Muti," IMDb describes The Ritual Killer, which stars Freeman as Professor Mackles and Hauser as Detective Boyd.
People premiered the first trailer for the upcoming film on Wednesday (Feb. 15), and according to a synopsis, Boyd approaches Mackles for his assistance after a serial killer kills two children. They team to try to find the killer who is performing the ritual murders, but the investigation is complicated by Boyd trying to "process the death of his daughter," as well as an "unspeakable secret" Mackles hides from the detective, according to People.
The Ritual Killer is set to debut in theaters and on demand on March 10.
Fargo actor Peter Stormare and former NFL player Vernon Davis also star in the film, which George Gallo — whose credits include writing Robert DeNiro's Midnight Run from 1988, as well as a story credit on Bad Boys in 1995 — directed.
Hauser and Freeman previously teamed for The Minute You Wake Up Dead, which premiered in November of 2022. Freeman is also set to partner with Hauser's Yellowstone co-star, Kevin Costner, to produce an upcoming joint project, The Gray House, which finds Costner's Territory Pictures teaming with Freeman and Lori McCreary's Revelations Entertainment for a Civil War spy drama. The period piece will play out as a six-hour limited series via Paramount Global. Costner and Freeman's production companies are teaming with Big Dreams Entertainment's founder Leslie Greif to produce the program, according to Deadline.
Season 5 of Yellowstone aired its mid-season finale on Jan. 1. The show is tentatively slated to resume in the summer of 2023.
Matthew McConaughey is reportedly in talks for a new show in the Yellowstone franchise amid reports that Yellowstone will end at the conclusion of Season 5 due to a breakdown in negotiations between Kevin Costner and Paramount over scheduling.
As part of Taste of Country's comprehensive coverage of all things Yellowstone, check out our Dutton Rules podcast on Apple Podcasts and Spotify.
PICTURES: See Inside 'Yellowstone' Star Cole Hauser's Spectacular California Ranch
Cole Hauser doesn't just play a rancher on Yellowstone, he's lived that life off-screen, too. The actor's 5-bedroom-6-bathroom, 5,402-square-foot rural home on a very private, double-gated three-acre parcel of land includes the lavish 4-bedroom, 4-bathroom main residence, as well as a guest house and a separate studio apartment. The main house runs completely on solar power and comes with a 3-car garage, with easy transitions between indoor and outdoor living spaces, and the exterior of the property includes a pool area and a hot tub, as well as fenced-in horse corrals.
PICTURES: See Inside Kevin Costner's Spectacular Colorado Ranch
Yellowstone star Kevin Costner lives the ranch life when he's off the set of the hit show, too. The Oscar-winning actor owns a 160-acre ranch in Aspen, Colo., that's a spectacular getaway, complete with a main residence, a lake house and a river house.
The luxury retreat also features a baseball field, a sledding hill, an ice rink, multiple hot tubs and views of the Continental Divide. The ranch property comfortably sleeps 27 people, and it's currently available to rent for 36,000 a night.
More From Taste of Country