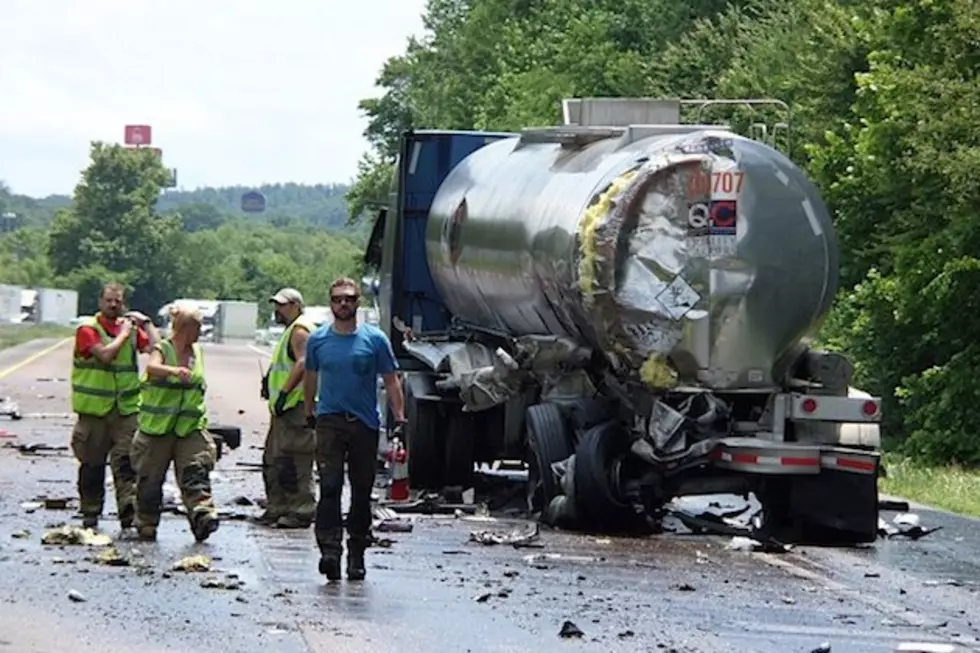 Craig Morgan Shares Dramatic Details of Highway Tanker Accident
Facebook
Earlier this month, fans jokingly started referring to Craig Morgan as country music's superhero after he stopped to assist victims of a tractor-trailer accident he came upon on I-40 in Tennessee.
The 'Wake Up Loving You' singer was heading home from a show in Texas, but stopped to secure the scene and help the victims before first-responders arrived. Sometimes, a great picture can overstate the intensity of a moment. The singer says that wasn't the case this time.
During an interview with Taste of Country, Morgan recalled the three trucks involved and the two seriously injured victims. "One of them real bad," the singer says, adding, "he had a severe laceration to his forehead. I could actually see his skull plate. He was pretty bad off."
The singer and his crew helped put out fires and were waiting for emergency crews when Morgan realized he needed to figure out what was inside the tanker. He found the template on the truck and referenced the placard book he carries on his bus or in his car's trunk for just this type of situation. The truck was full of vanilla, which he says is extremely combustible.
"And it didn't ever say 'vanilla,' but it said extremely flammable, use only CO2 and chemicals to extinguish fire," Morgan explains. "So I'm like 'We need to back everybody up' [laughs]."
A doctor on scene tended to one of the injured drivers while Morgan worked to secure the area. It's a position he's comfortable in, he says. "I'm not gonna pass it up. People make a big deal out of it, but you gotta understand, I was in the Army for almost 11 years of active duty," he relates. "I was a sheriff's deputy for three or four years, I was a volunteer fireman, I'm a certified EMT, so that public service kind of stuff is what I've always done my whole life."
"I still work with the sheriff's department as a reserve officer now," the singer continues. "For me, I'm not gonna pass it up. If there's someone that needs help, I'm obligated to do that. And I think more people should."
The Humphreys County sheriff praised Morgan, saying he did exactly what needed to be done at the scene of the accident. But this is far from the first time Morgan has been in the right place at the right time. In Feb. 2011, he pulled two children from a burning home near his house in Tennessee.
So perhaps he's not a superhero after all -- just someone who's trained and willing to react when called up. Still, he's pretty heroic.
More From Taste of Country