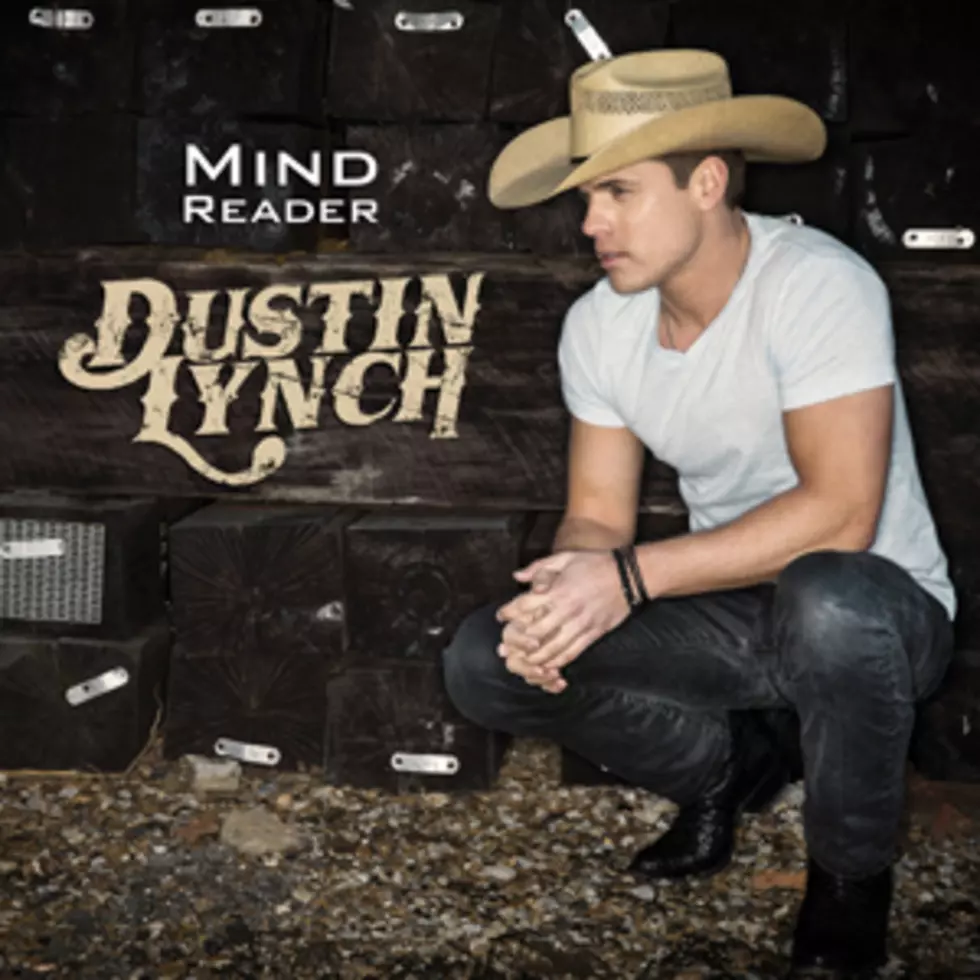 Dustin Lynch, 'Mind Reader' [Listen]
Broken Bow Records
Dustin Lynch's "Mind Reader" is the first single from Where It's At that's an accurate representative of the entire project. The sexy mid-tempo song leans into Lynch's R&B influences. It's a song that truly separates him from a crowded pack of up-and-coming male artists.
"Mind Reader" is an appetizer for a meal he serves up in plenty on the 2014 album. His vocal style and lyrics turn up the heat, while the instrumentation plays it traditional to keep the song between the country radio buffers. A yearning steel guitar weaves between every verse and chorus after it introduces his love story.
"How'd you know to wear your hair like that / How'd you know to turn up that song / How'd you know them little tore up jeans / Was gonna tear me up and turn me on," Lynch sings. "Girl its like you know me too good / But you barely know me at all / Yeah the way its going tonight, you probably know I'm ready to fall 'cause …"
Two-thirds of the Peach Pickers wrote "Mind Reader," Lynch's sixth career single. It's his first try at a true candle-melter, and he pulls the mood off effortlessly. In lieu of a clever hook, he relies on sincerity. The chorus goes:
"Baby you're a little mind, baby you're a little mind reader / Yeah that's what you are / You play it off a little shy but baby you're a heart stealer / And right here in this car / Its like you knew that smile was gonna melt me down / It's like you knew those lips are what I'm needing right now / And girl when you lay 'em on mine / Yeah it's like you're reading my mind."
Since his platinum-selling debut single "Cowboys and Angels," Lynch has released country-rocker after country-rocker and received a mixed bag of reviews and radio airplay (although he's coming off back to back No. 1 hits). "Mind Reader" is a more nourishing single than any since his debut and he should be rewarded with another strong seller.
Why Fans Will Love It: Lynch tries on a new hat with this sexy love song, and it fits very well.
Key Lyrics: "Baby you're a little mind, baby you're a little mind reader / Yeah that's what you are."
Did You Know?: Ben Hayslip and Rhett Akins wrote "Mind Reader." Dallas Davidson is the third Peach Picker.
Listen to Dustin Lynch, "Mind Reader"
Dustin Lynch and More Country Men Shirtless!
More From Taste of Country