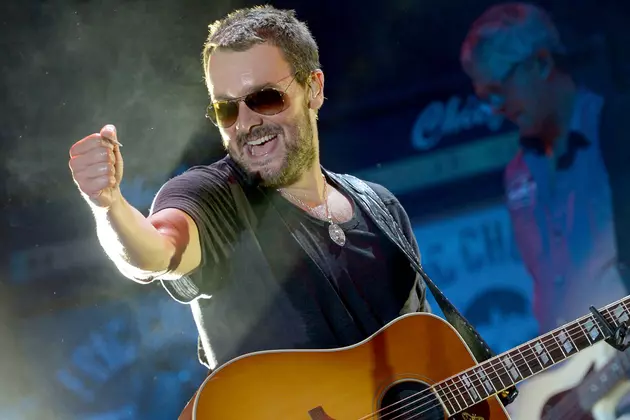 Eric Church Strikes a Major Blow Against Ticket Scalpers
Rick Diamond, Getty Images
Eric Church has always gone out of his way to fight scalpers, but his latest move is the boldest yet. The country superstar has canceled an astounding 25,000 tickets that had been purchased for his upcoming shows after identifying them as being bought by scalpers.
Church is currently on the road for his Holdin' My Own Tour, and he tells the Associated Press that he plans to keep doing everything he can to stop what he considers a criminal organization that is making millions from exploiting music fans.
"They buy thousands of tickets across the U.S., not just mine, and they end up making a fortune," he tells the wire service. "They use fake credit cards, fake IDs. All of this is fraud."
Church and his team have put special procedures in place to identify tickets purchased by scalpers, and this isn't the first time that he's canceled improper purchases and put those seats back on sale to legitimate fans at fair market prices, but it's certainly the biggest.
6 Bada-- Eric Church Moments
"We're getting better at identifying who the scalpers are," Church says. "Every artist can do this, but some of them don't. Some of them don't feel the way I feel or are as passionate."
The "Kill a Word" singer and his team took even greater steps than usual to ensure fair ticket pricing when they put the Holdin' My Own Tour on sale.
"In this era where growing inequality seems to be the norm, we wanted to do everything within our power to put the advantage back in the hands of true fans rather than those that take advantage of the system, and by extension our people," John Peets, Church's manager, said in announcing the tour. "It was important to us to invest time into evaluating and redesigning the ticket buying process and build the technology to level the playing field."
The 25,000 tickets for upcoming shows on the Holdin' My Own Tour will be released back for sale on Tuesday (Feb. 21) at noon local time in the tour markets. Church has already released some previously purchased tickets for his tour stops in Canada, which kick off Feb. 28 in Ontario. Additional tickets for his shows in Washington and Oregon will go on sale on Feb. 27.
See Pictures From Eric Church's Hall of Fame Exhibit
More From Taste of Country