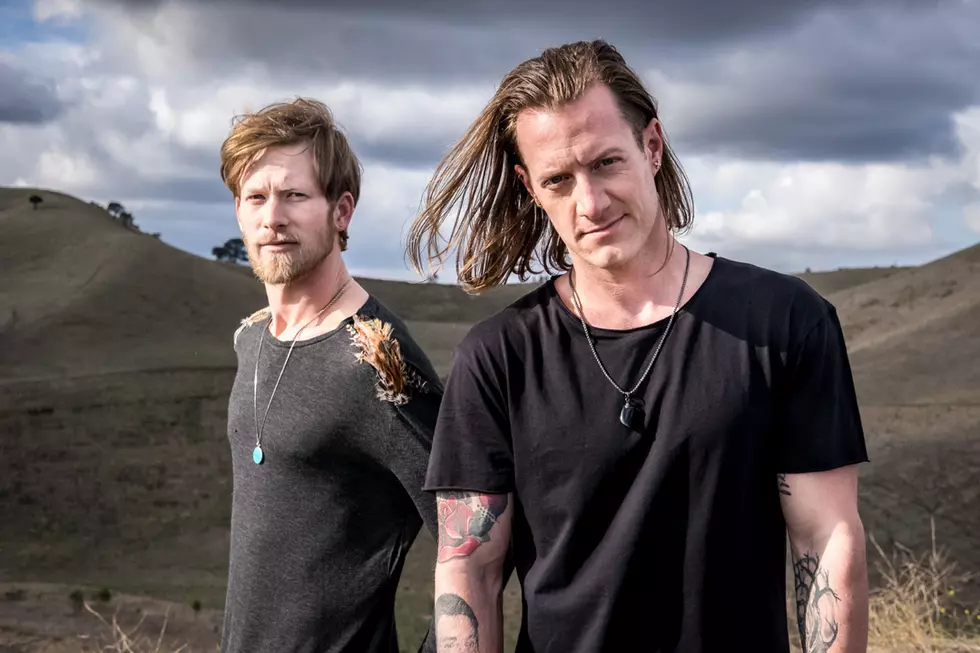 Battered, Bruised, But Still Smiling: The Evolution of Florida Georgia Line
Courtesy of Florida Georgia Line
Call them the "Cruise" guys if you'd like, but Florida Georgia Line's new Dig Your Roots album proves the duo's story is deeper, darker and much more complex. In the face of criticism, they keep growing.
Florida Georgia Line still have swagger, and that really pisses some people off.
The act made up of Tyler Hubbard and Brian Kelley mixed rock, hip-hop and Alan Jackson beginning with their breakout single "Cruise" from 2012's Here's to the Good Times (Republic Nashville). They were agents of change, and in country music, change goes down like warm beer.
Traditionalists think they shouldn't be here — they don't belong! They labeled them "bro-country" or "hick-hop." But mainstream audiences have always been on FGL's side, driving their debut release to No.1 on Billboard's Country Albums chart and since then, twice platinum.
Hubbard and Kelley are clumsily caricatured: urban cowboys with a penchant for Fireball whiskey, middle fingers pointed at the establishment. They're the "Cruise" guys.
"If they want to call us the 'Cruise' guys, we'll take it, because that's the biggest song in history," Hubbard laughs from beneath the low brim of his Tree Vibez Music ball cap. "I literally look at it almost as like, man, if we don't have haters we're not doing something right. For every hater of FGL, there are 10,000 lovers."
Less boastful, Kelley nods in agreement, a proud puppy's smile on his face. His 2-year-old German Shepherd, Sage, watches from beside the couch. "No label put this together. Me and Tyler met and built this thing from the ground up with the team around us," he says.
The two men are tall and athletic, dressed as you've so often seen them: country western with hip-hop flare. Kelley is especially bouncy, seated in his publisher's office on Music Row. It's like he's got something he can't wait to tell you.
Their sophomore album, Anything Goes, aimed more at radio's bread and butter with the straightforward ballad "Dirt" as its lead single. More success followed. The record took the top spot on both the Country Albums and the Billboard 200 charts, despite mixed reviews. They'd defied easy one-hit-wonder status, but they hadn't yet shaken their party-bro reputation.
That may change for good with Dig Your Roots, FGL's third album, out last month via BMLG Records. Featuring guest work from Tim McGraw and some of the most personal writing of their careers, the album marks a surprisingly mature — and at times even spiritual — new era for the band.
"I think we've answered a lot of questions with this album," Kelley says. "We're very conscious of what we're saying, and there are more eyes and ears watching and listening than ever to what we're doing."
"We're letting the fans in deeper to who we are," Hubbard adds, "and any time that we do that is us being vulnerable."
Vulnerability is a good starting place to describe the framework of the band's third LP.
Five years since "Cruise" landed like an atom bomb on Nashville, the men of FGL have done some growing up. Kelley wed Brittney Marie Cole in 2013; Hubbard married Hayley Stommel in 2015. ("Grow Old" is a song Hubbard hunted down from singer Canaan Smith: "It was mine and my wife's first dance song at our wedding. So we recorded it and I surprised her with that at the wedding," he reveals.) Both men are closer to having babies than they were on "Dayum Baby."
"I think it's an evolution of the family life changing them a little bit," says Dan Van, who is part of the country radio programming consultant team at Albright & O'Malley & Brenner. "Let's be honest about it: They're getting older and they see things completely different."
Part of that difference is finally opening up, in song, about tragic, life-altering moments from five to 10 years ago.
Hubbard's father, Roy, died at age 43 in a helicopter crash, an event Tyler's talked about politely, but not at length in interviews. He was just 20 then, and his father was his world.
"I have a very detailed memory of that day, when it happened," he says, "and actually making the conscious decision, 'You know what, I'm not gonna let this tear me apart and make me a bad person and make me angry and bitter. I'm not gonna blame God … I'm going to ask for God to give me peace and to give me healing and give me understanding and really try to move forward and make this a positive thing.'"
Full healing is, of course, a never-ending process. In 2014 Hubbard told Taste of Country that part of the reason he proposed to wife Hayley in a helicopter was to slay a few demons.
"He was my best friend," Hubbard adds. "He worked really hard. He had strong faith, was a great, great dad to me my brother and my sister, and a great husband to my mom."
That reverence comes through on title track "Dig Your Roots," as the star pays homage: "Every night when I'm singing, I know he's looking down / Up there next to Pawpaw / Got the best seats in the house. / When I close my eyes I can still hear him say / the same thing I'm gonna tell my kids / You got to dig your roots."
"I learned a ton from him. He probably taught me even more than I realize at this point in my life, but I'm continually learning every day something that he taught me."
Hubbard is at the front of a tragic fraternity. "Cruise" co-writer Chase Rice also lost his father too soon, as did Cole Swindell.
"What I've learned through talking to him is … we're going through something like a lot of people have gone through," Swindell says of Hubbard. "Hearing people's stories and being here to tell them, 'Hey I'm just like you. I've been through the same thing.' It's been a very humbling experience."
In 2010 Kelley faced his own tragedy. He too found comfort in Hubbard's courage and faith. His parents were in town to see the duo at Hotel Indigo, a songwriter's night in Nashville. Fans were starting to fill the space in anticipation of seeing Florida Georgia Line, so Ed and Mary traveled from Ormond Beach, Florida to take in the show.
"They come in and they're being Mom and Dad, and Dad's vacuuming the top floor," Kelley recalls. "And I get a call, she goes 'Hey, I think Dad's having a heart attack'."
Kelley and Hubbard flew up the stairs to find his father on the bed, saying he was all right, but looking anything but. Kelley, then just 25 years old, says he knew something was terribly wrong when his father agreed he needed an ambulance — asking for help just wasn't in his character. As paramedics pulled up the singer's driveway and loaded his father in, Hubbard asked Kelley if he could pray with him.
"And we sat there, he put his arms on me he just prayed … man, we prayed," Kelley says, recalling the incident with equal parts amazement and excitement.
"They were sitting up there at the top of the hill for a while with the doors open and I'm like, 'Why is this taking so long?' Finally I get to the hospital, 30 or 45 minutes later, and I come to find out he went into cardiac arrest. They had to shock him back to life. Little did we know, Tyler was praying when that was going on."
These events inspired "While He's Still Around," a song FGL started with Chase Rice and Jesse Rice six years ago and finished shortly before finishing Dig Your Roots. On this song, Kelley sings lead:
"Cause you never know when the phone is gonna ring / Sayin' heaven had it out to make you wings / And all those things that you were gonna do / Are just tear drops raining on a church pew. So I'm gonna try to say before I got to pray it / Hoping that he's looking down / And tell him that I love him / While he's still around."
Given its lyrical fodder, it shouldn't surprise that Dig Your Own Roots represents a new willingness to share their faith on the radio. That's certainly the case with lead single "H.O.L.Y.," which stands for "High on Loving You." Released in late April, the song shot to No. 1 on Billboard's Country Airplay chart in three months, and remains one of the bestselling songs in country radio five months later.
"It's a spiritual thing for a lot of people, you can tell," Hubbard says of performing the song live. "We sing and grown men look like they're worshiping in the middle of an FGL show."
That's in stark contrast to the party-loving, whiskey-fueled singles of the band's early work. In fact, of the 15 songs on Dig Your Roots, only two capture the anthemic wall of sound producer Joey Moi helped build on previous albums. The pivot is not an evolution as much as it is a reinvention — a necessary one in post-Chris Stapleton Nashville.
"They were getting some conversations from the media and the industry about how their music wasn't resonating with the country crowd," radio consultant Van says, referring to the critical blowback on Anything Goes' latter day singles. Rolling Stone Country lambasted the duo's 2015 CMA Awards performance, calling "Confession" a "syrupy bit of try-hard earnestness that, on the heels of a real-deal R&B ballad, was tone deaf."
Hubbard admits they pay attention to, and in some ways respond to, the current country climate — more so they create their own climate and their own standards. Their motto is "Better is better," and that's meant quick transitions to keep up with, or stay ahead of, the format.
Is this third album vindication?
Hubbard describes it as the next step in a well-thought-out plan. This — the music, the lifestyle, the family life and extensive line of music-related products — is exactly what they dreamed up when they first formed at Belmont University nearly a decade ago.
"We did see this. I think you have to dream big," Kelley says. "You have to envision this. You have to picture yourself on a stage and in an arena with screaming fans, packing out stadiums and a good band behind you. I think if you can envision that, you can make that happen."
Van says he thinks the perception of who FGL are has started to change since "H.O.L.Y.," a trajectory not unlike Carrie Underwood's, who overcame reality-TV beginnings and awkward early live shows to become one of country's most universally beloved performers.
"They've always told me, 'Hey, we're just here making the music that we feel is important and the music that we feel is what we want to do," Van says about how Florida Georgia Line handle criticism.
And though critics may keep predicting a crash, one has yet to come and isn't likely to anytime soon. Dig Your Roots went to No. 1 on the Top Albums chart, comfortably parked alongside contemporary heavyweights Jason Aldean, Keith Urban and, yes, Chris Stapleton.
"We've got the universe inside our pockets," Kelley says, referring to himself, Hubbard and all of us. "Man, all you got to do is dig your hand inside and see what's going on."
More From Taste of Country