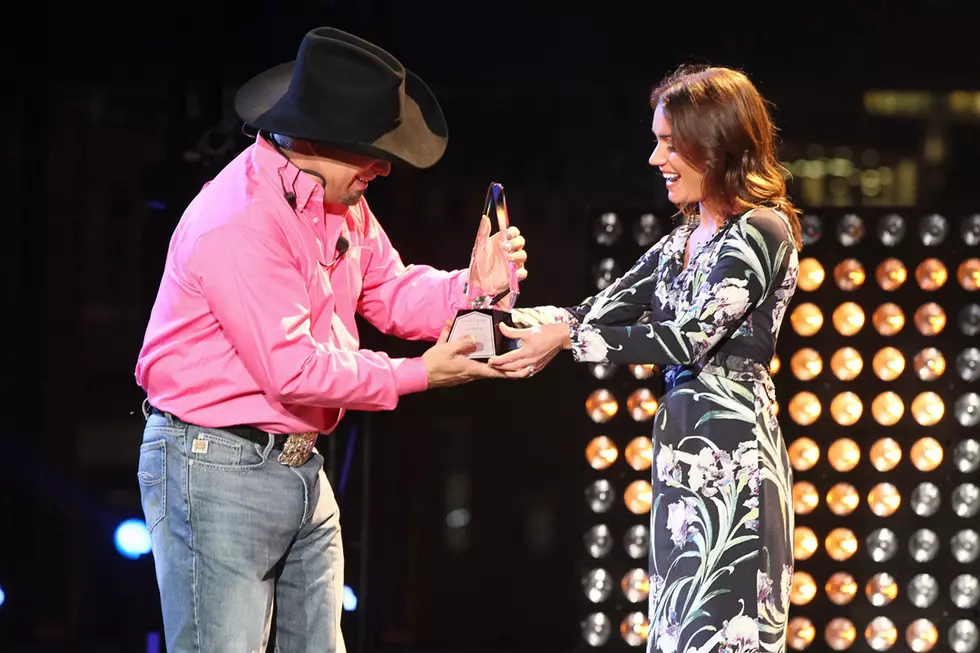 Reba McEntire, Kelly Clarkson + More Help Garth Brooks Celebrate Seven Diamonds
Ethan Miller, Getty Images
Monday night's (Oct. 24) Garth Brooks concert in Nashville promised special guests, and the world's only seven diamond album-certified singer didn't disappoint. In fact, even Brooks was surprised by a few of his collaborators.
Reba McEntire was first, and Brooks admitted he knew she'd be coming. Jason Aldean was a surprise, and when the host/guest of honor read Kelly Clarkson's name, he was taken aback. Everyone came to the stage for a single song from one of the seven albums to sell over 10 million copies, except Steve Wariner. After joining his old friend to sing "Long Neck Bottle" (from the Double Live album), Clarkson dragged him back on stage to sing his own "The Weekend." It'd be one of two non-Garth songs performed.
The other was Trisha Yearwood's "Walkaway Joe," a song that's as much of a staple of his live show as "Friends in Low Places," the song that closed the show. The first seven songs all came from the seven diamond albums. McEntire's "Not Counting You" (from Garth Brooks) was first, followed by a soulful version of "The River" (from Ropin' the Wind) by Chris Young.
Aldean, a new artist Brooks admits he is a big fan of for opening new doors for him in country music, joined Brooks to pay tribute to Chris LeDoux in "Much Too Young (To Feel This Damn Old)," from Brooks' The Hits album. LeDoux's name was mentioned frequently. The late singer's influence on the "Baby, Let's Lay Down and Dance" singer is absolute. Brooks first walked out on stage wearing his signature gold buckle, a buckle he wore the last time he performed with LeDoux. For this night only he replaced it with a gift from the state of Tennessee: a seven diamond-studded buckle with the names of all his albums etched on it.
Before singing "Walkaway Joe," Yearwood and her husband performed their hit "In Another's Eyes" (from the Sevens album). It was as if they were the only two people within miles of Nashville's Ascend Amphitheater as they sang to one another lovingly. Clarkson's version of "We Shall Be Free" (from The Ultimate Hits) came late. Brooks' solo rendition of "The Thunder Rolls" rounded out the first part of the show. His hit from No Fences was a huge singalong.
After a short presentation of an actual seven diamond album award from the RIAA, Brooks returned to the stage for a short acoustic set that included his most well-known hits ("Unanswered Prayers," "The Dance" among them) and then "Friends in Low Places." Fireworks closed the show, adding an unnecessary, but exhilarating exclamation point to a night that was full of them.
Everything You Need to Know About Garth's Next Album
More From Taste of Country