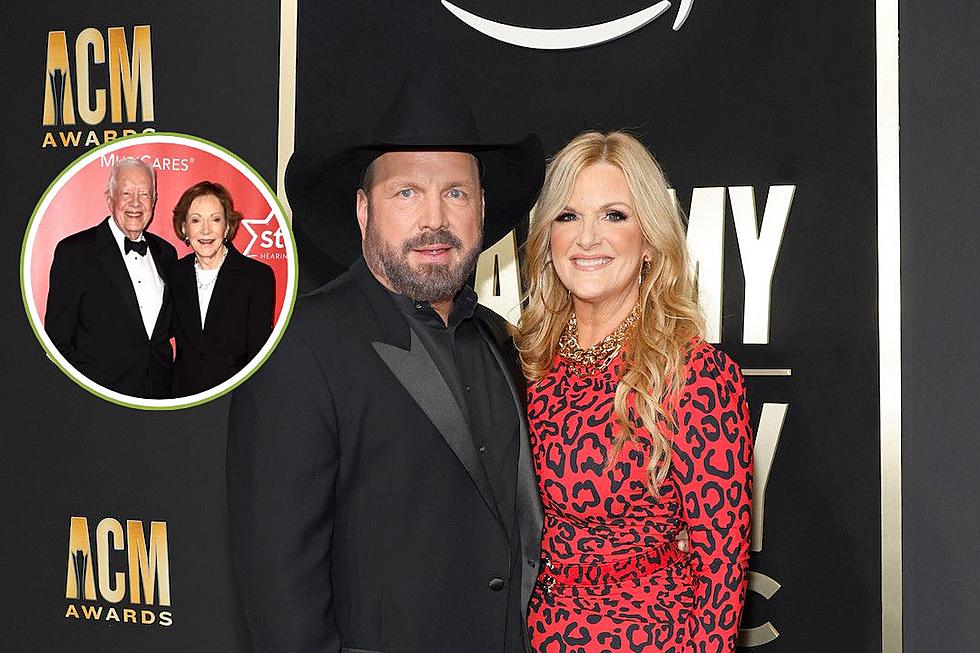 Garth Brooks + Trisha Yearwood Joke They 'Bicker' Just Like Jimmy + Rosalynn Carter
Jason Kempin, Frazer Harrison, Getty Images
What do Garth Brooks and Trisha Yearwood have in common with a former U.S. President and First Lady? Plenty.
Over the years, the country power couple have grown close to President Jimmy Carter and his wife Rosalynn over their mutual passion for building affordable housing through Habitat for Humanity builds and the Jimmy and Rosalynn Carter Work Project. But Brooks points out that he and his wife also share some commonalities as a couple with the Carters.
"They've inspired us in a lot of ways, in the ways you expect: Humanity, humbleness, work ethic. But they've also inspired us by their example as husband and wife," Brooks shares with People.
"We worked beside them for the last 15 years, and you notice right away they bicker back and forth about the right way to do things," he jokes. "That kind of works for us too!"
In 2023, Brooks and Yearwood stepped in as the official hosts for the Carter Work Project, marking the first time since 1984 that the Carters haven't been onsite for a build. Jimmy Carter — who celebrated his 90th birthday on Oct. 1 — entered hospice care in early 2023, while Rosalynn was diagnosed with dementia in May.
As the country couple take the reins on the Work Project, they're feeling the gravity of upholding a powerful legacy that the former President and First Lady built.
"To whom much is given, much is expected," Yearwood notes. "We'll never fill their shoes, but we're doing the best we can."
See Inside Garth Brooks and Trisha Yearwood's Malibu Beach House:
Garth Brooks
and
Trisha Yearwood
's former beachside house in Malibu offered a gorgeous vacation paradise for the country music power couple to relax.
Brooks and Yearwood bought their 4-bedroom, 3.5-bathroom, 4,200-square-foot house in Malibu for slightly less than $5 million in June of 2008. The house itself is fairly modest, but very well-appointed, featuring an open floor plan.
The living room boasts a corner fireplace and multiple sets of French doors that open to the backyard. The kitchen includes marble countertops, while skylights offer plenty of natural California sunlight. The den features floor-to-ceiling bookshelves on either side of a fireplace of white brick.
The backyard is spectacular, featuring a loggia, an outdoor fireplace, a half-court basketball court and elaborate landscaping. The house provides direct access to the world-famous Malibu beach via a set of steps.
The couple sold the house in Malibu in late 2016 for $7 million.
Gallery Credit: Sterling Whitaker
More From Taste of Country