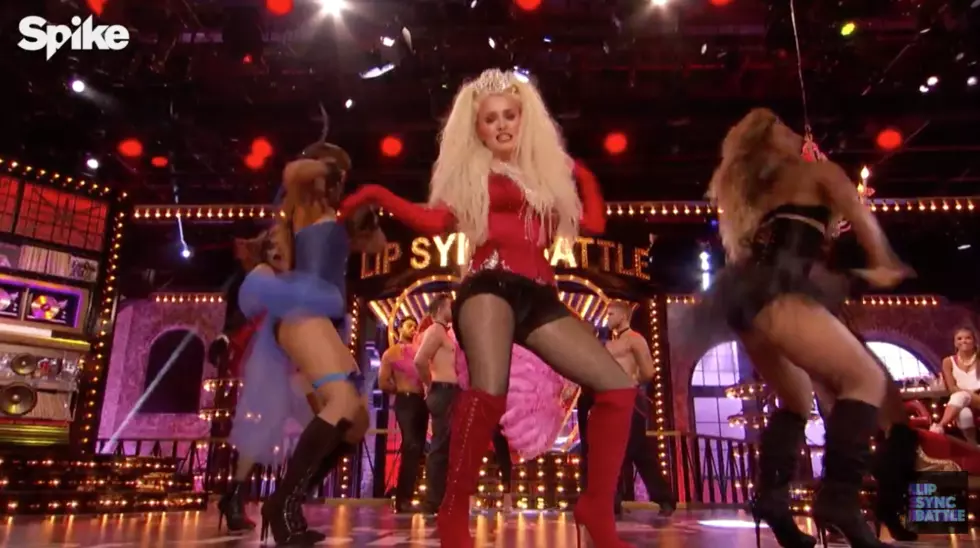 Hayden Panettiere Brings Out Secret Weapon for Lip Sync Battle
YouTube
Nashville star Hayden Panettiere sets out to prove she's more than just a country girl on this week's Lip Sync Battle when she goes up against Eva Longoria with the mega-collaboration from 2001 "Lady Marmalade." And she's got something up her sleeve to make her performance rock: Christina Aguilera.
The actress is shown in the trailer for the upcoming episode in full Aguilera garb from the "Lady Marmalade" music video, bringing her A-game with her attitude and delivery. Then the audience — not to mention Longoria — gets a big surprise when Aguilera shows up to do her own verse she recorded more than a decade ago.
Panettiere will appear on Lip Sync Battle this Thursday, Feb. 11, on Spike TV.
Nashville is on hiatus until its return March 16 and is now on its fourth season. Panettiere plays a young country artist, Juliette Barnes, and sings her tunes alongside Connie Britton's character, Rayna James, and rising stars Lennon and Maisy Stella as James' daughters. The show won an International Impact Award at the CMT Artists of the Year program in 2015.
Aguilera is returning to The Voice in its upcoming 10th season alongside fellow coach Blake Shelton, taking the place of his girlfriend Gwen Stefani, but Shelton says Stefani may be pulled in as a mentor for his team. "I don't want Gwen to not be on the show, why can't we have a fifth coach?" Shelton said to Extra in December. The Voice Season 10 kicks off Feb. 29 on NBC.
100 Greatest Country Albums of All Time
More From Taste of Country