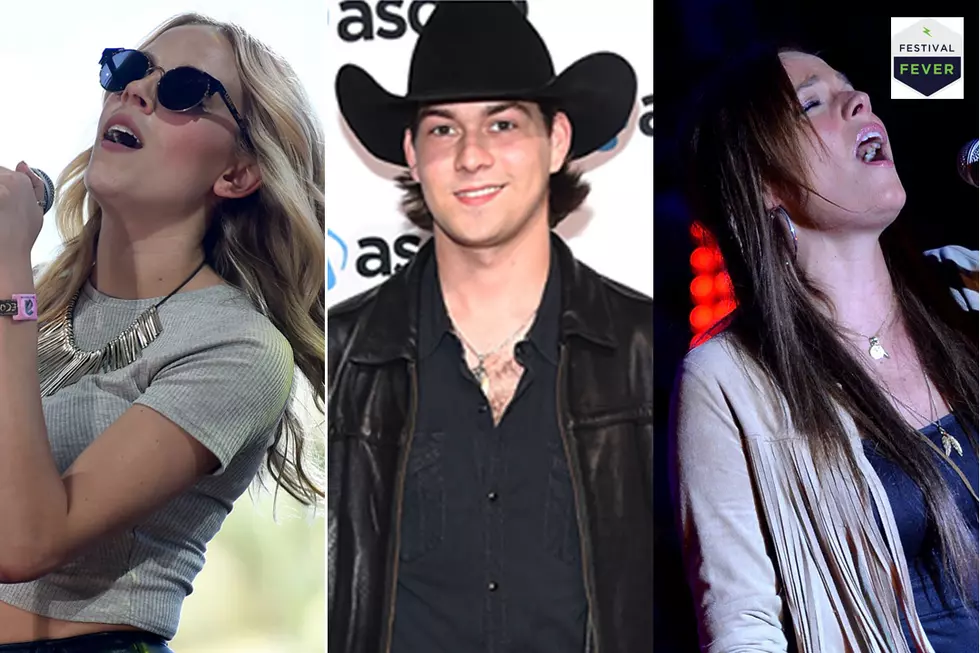 5 Hot New Acts to See at ToC Fest 2016
Frazer Harrison / Michael Loccisano / Jason Davis, Getty Images
What a difference a year can make. While so much of 2015's country music scene was dominated by a debate over women and their role in the genre, 2016 has been a much more inclusive year — and nowhere is that more apparent than in the lineup for the 2016 Taste of Country Music Festival.
It's almost hard to remember that the so-called "Tomatogate" firestorm happened in 2015. It seemed to serve as a wake-up call to many in the country scene, where female artists and songwriters have been struggling for traction for several years as "bro-country" dominated playlists. The last year in country music has been a very different story, with a number of female artists -- including Kelsea Ballerini, Cam, Maddie & Tae, Mickey Guyton and Maren Morris -- making huge strides both at radio and in the media.
Taste of Country has been a steadfast supporter of women at every level of country music with our #LetTheGirlsPlay features, which spotlight a new artist every month and a new cover song from Nashville's Song Suffragettes once a week. We chose Ballerini as our Artist of the Year in 2015, and the lineup for the 2016 Taste of Country Music Festival includes a number of country music's most up-and-coming females. But that doesn't mean there aren't still some great newer male artists at ToC Fest, too. Take a look at the gallery above, or the list below, for a preview of some of the can't-miss acts at the upcoming 2016 Taste of Country Music Festival, which takes place June 10-12 at Hunter Mountain in New York.
5

With the recent debut of Shuteye, Logan Brill has truly claimed her place as one of country music's most-heralded rising performers. Taste of Country, Billboard, the LA Times, Rolling Stone, the Huffington Post, CMT, Country Weekly and Pollstar have already featured the 25-year-old, who is set to perform on the Bud Light Stage at the 2016 Taste of Country Music Festival on June 9 and June 10.

Frazer Harrison, Getty Images

Frazer Harrison, Getty Images

4

Adley Stump has had a big year. In addition to her Like This (Deluxe) EP being named New and Noteworthy by iTunes, she's been featured on Taste of Country, the Taste of Country Nights radio show, iHeart country stations all over the country and Slacker, as well as the CMA Music Festival and various TV appearances. Her "Stay at Home Soldier" single and video drew accolades, and she hit No. 1 on Amazon with a collaborative book about the music business. The Season 2 Team Blake alum on The Voice will perform on the Bud Light Stage on June 12 at the 2016 Taste of Country Music Festival.

3

Amanda Watkins is not entirely unknown to country music fans. She was one-half of the duo Miss Willie Brown, and after they dissolved in 2013 she decided to pursue a solo career. Watkins is a noted songwriter with a Big & Rich cut under her belt, and she's also graced the stage at the Ryman Auditorium in Nashville and toured with Dierks Bentley, Brad Paisley, Jamey Johnson, Frankie Ballard, Martina McBride and more. In 2015 she released "If I Was Over You," which features Johnson, and she'll have that and more new music to perform when she takes the Bud Light Stage on June 9 at the Taste of Country Music Festival in 2016.

2

Like the title song of her recent EP, Annie Bosko is a fighter. The singer-songwriter first scored a major success at SiriusXM radio with "Crooked Halo," then followed up with Fighter, a six-song EP that showcases her various styles and moods. The feisty "Fighter" anchors the project with its strong lyrical message of hope.  "It's something that's much bigger than me … there's a greater power, and I really believe that, because that song continues to heal people and help people," Bosko tells Taste of Country. Look for that song and more in her set when she plays a 3PM set on the Ram Guts & Glory stage on June 10, followed by a 9:15 set on the Bud Light Stage later that night at the 2016 Taste of Country Music Festival.

1

William Michael Morgan is an artist that fans of traditional country music really need to see at the 2016 Taste of Country Music Festival. The young rising country star is a hat-wearing, down-home singer whose debut single, "I Met a Girl," and straight-ahead delivery are reminiscent of a young George Strait. He's set to play the Ram Guts & Glory Stage at 1:30PM on June 11 at this year's ToC Fest.

Michael Loccisano, Getty Images

Michael Loccisano, Getty Images
More From Taste of Country