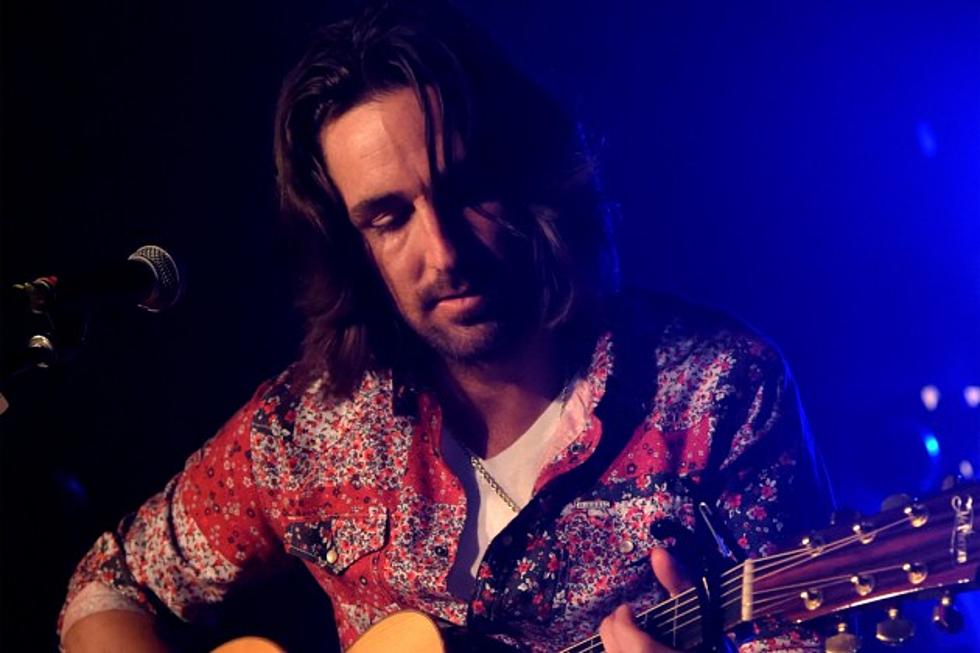 Jake Owen: 'What We Ain't Got' Is the Perfect Song at an Imperfect Time
Rick Diamond, Getty Images
The last two years have humbled Jake Owen. Musically, he's continued to run songs up the country music charts while filling up amphitheaters nationwide. But the birth of his daughter and his father's cancer scare set this once swashbuckling kid from the beach back on his heels.
Perhaps the worst of it came in 2013. "Stepping on stage every night," Owen says, pausing to grab hold of the details, "like my mom would call me and cry and say, 'I just don't know what's gonna happen with Dad.' And this would be an hour before showtime. And then I have to go out there -- Mr. 'Barefoot Blue Jean Night' -- and smile and act like everything was totally OK and lift everyone else up when I wanted to be lifted up a little bit."
It's showing every other songwriter in town that you can still write great songs like this and have them be heard on the radio.
Owen's 'Days of Gold' album wouldn't be released until one month after Steve Owen officially beat cancer. The battle -- along with the things a newly-minted family man thinks and experiences during the tender early years -- deeply affected him and his fourth studio album.
"Knowing that no one is untouchable ... the one person you lean on the most in your life, as a man, is your father," Owen relates. "And to watch the guy you thought was untouchable … really be brought down by it made me realize I'm just a tiny piece of this whole equation."
'What We Ain't Got' is a song Owen connected with immediately and fought to make a single. The 'Beachin'' singer calls it a calculated risk that he's earned the right to take. There's nothing else on the radio quite like it. Most of the Top 40 playlist works as an escape from reality, while this Travis Meadows-penned ballad drives you head first into it.
"I'm at a point in my life where it's important to me to release songs like this that I've always believed in," Owen says. "I just now have the opportunity to actually put it out there."
It's not his first ballad, and it's not the first time he's showed his scars. The self-penned 'Startin' With Me' was his second single, and album cuts like 'Journey of Your Life' are just as personal. However, Owen recognizes he's better known for rowdy country rockers ('Yee Haw,' 'Eight Second Ride') and beachy summer melodies ('Beachin',' 'Barefoot Blue Jean Night') that don't cut very deep.
On some level, he wants to get away from having 'Barefoot Blue Jean Night' as a signature song. During an hour-long conversation with Taste of Country and other selected media, he repeatedly compared the depth and importance of 'What We Ain't Got' to his double-Platinum hit from 2011. He's grateful, but after 10 years, he's ready to turn the page.
"I'm really excited to use the platform that song gave me and the audience that it gave me, and the ears that it gave me … the chance it gave me to do what I've always loved," Owen says. "Make music that means something to people. This is a song that means something to people."
Fans and fellow artists have stopped him to share a story or say thank you for recording 'What We Ain't Got.' Charles Kelley from Lady Antebellum wrote him a nice note, he says. Frankie Ballard left a voicemail thanking him for giving lesser-known artists a chance to put out songs they believe in. Owen's calculated risk could start a trend.
"It's showing every other songwriter in town that you can still write great songs like this and have them be heard on the radio," he says. "I'm just thankful this song is opening up doors for songwriters in town, is opening up doors for artists in town … I'm just happy to be the messenger of the song."
And that's what he is: a messenger. Owen takes very little credit for the song, instead heaping it on Meadows and co-writer Travis Jerome Goff. He found the song listening to Meadows' 'Killin' Uncle Buzzy' album -- a project written and recorded as the oft-troubled songwriter tried to kick a lifelong drug habit. Owen's version doesn't change a thing.
"There is one line in this song that says 'I wanted the world until my whole world stopped.' As a 33-year-old man that's married with a child ... I every day try to balance my life and being what some people would say is a star with just being a real guy, and being a father and a husband, a brother and a son ... and trying to maintain all of that together."
Producer Joey Moi isn't who one would naturally choose to record such a sparse production, but Owen liked that the song took everyone -- including Moi -- out of their comfort zone. They did three vocal takes with a pianist at Ocean Way Studios in Nashville, let Sarah Buxton record backing vocals and called it a day. Simple in, simple out. But powerful.
"I've learned over the last few years that in my career, in order for me to continue to move down the road and just be a part of this genre in the years going forward, it's all about great songs," Owen says.
He's started thinking about and even recording tracks for his fifth studio album, and one gets the impression the project will feature more songs of this weight. He doesn't just want to be "Mr. 'Barefoot Blue Jean Night'" any longer, and if this song succeeds, he'll have a strong argument for why he shouldn't be.
Watch Jake Owen Make a Special Fan's Dream Come True
More From Taste of Country