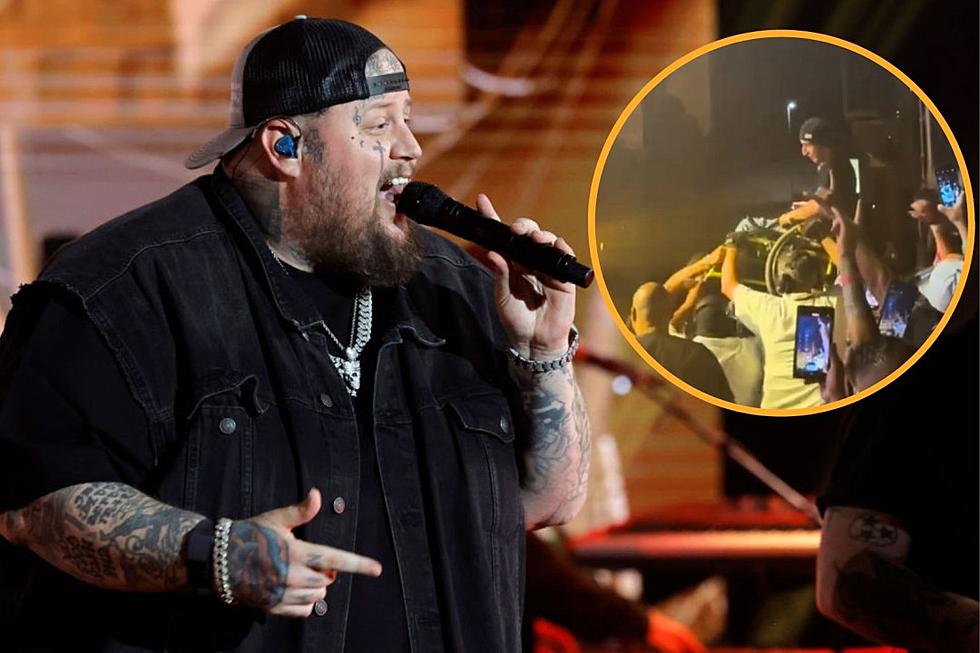 Disabled Fan Crowd-Surfs His Way to Jelly Roll's Stage for Duet [Watch]
Getty Images, TikTok
A Jelly Roll fan in a wheelchair crowd-surfed his way to the stage to sing with the star.

It's becoming a trend at Jelly's concerts for the star to bring fans (or "bad apples," as the fandom is lovingly called) from the audience onto the stage to sing with him.
He recently sang "Save Me" with a little girl sporting fake Jelly Roll face tattoos, and another holding a sign asking to sing with the star. Jelly Roll also shared the stage with an 11-year-old rapper to belt out "Son of the Dirty South." Duets like these have become a touching collaboration between Jelly and his biggest fans.
The latest video was posted earlier this month, to the @onlyjellyroll TikTok account. It shows Jelly stopping the show to call out a fan in the audience who "needs to get on stage."
Seeing that the fan is in a wheelchair, Jelly asks the crowd for help in getting him on the stage. They oblige, the epic video shows, raising the young man above their heads and crowd-surfing him to reach Jelly on the stage.
Now that's how you make an entrance!
Jelly welcomes him with a great big Jelly Roll-style hug. The smile on the fan's face is one of excitement and astonishment that he's actually on stage with the singer.
They share a mic and belt out the hit "Save Me" together — watch the cool moment unfold in the video below.
Note: There is some brief language at the beginning of the video that is NSFW. 
10 Things You Didn't Know About Jelly Roll
The
Jelly Roll: Save Me
documentary on Hulu tells
Jelly Roll'
s complicated life story and spares no details. He's shockingly honest about addiction, prison, his childhood and his insecurities. Here are 10 key takeaways from the project.
Gallery Credit: Billy Dukes
50 Classic Country Artists Today's Fans Should Know
Today's country music stars owe a debt of gratitude to the legends who formed and cultivated the genre, starting in the early 20th century. These 50 classic country artists remain relevant today. Some developed a style that's emulated on today's country radio. Others set a bar for vocal talent or songwriting skill.
This list of 50 influential classic country artists features country music singers who started their careers before 1990. It's ranked by each artist's current influence on the country music format today, not individual, lifelong impact. Tell us where we got it right or wrong on
Twitter
.
Gallery Credit: Billy Dukes
More From Taste of Country