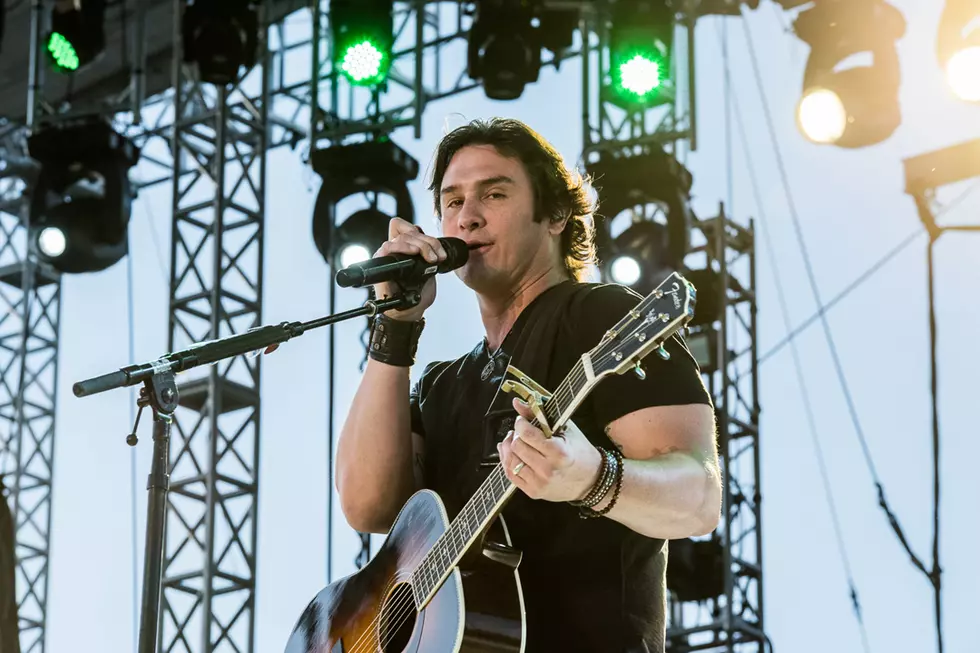 Joe Nichols Pays Tribute to Hank, Merle and Mix-a-Lot at Country Jam
Chad Johnson
At Country Jam in Colorado, Joe Nichols broke from his set of country hits to cover the legends: Hank Williams Jr., Merle Haggard and Sir Mix-a-Lot. The "Undone" singer stayed true to his roots while revealing four new songs from an upcoming album and one unexpected cover.
"Freaks Like Me" — the lead single from an album Nichols says he's hoping is released in the fall — opened a no-frills 75-minute set that was exactly what crushed he main stage to see. The song served as sort of an introduction to those unfamiliar with the traditional-leaning singer. Although judging from how much noise fans made during the many singalong moments, there were few of those.
Nichols is an artist that surprises one with more radio hits than one can recall. "Hard to Be Cool," "What's a Guy Gotta Do?" and "She Only Smokes When She Drinks" are three he brought to the stage from his early career. "The Shape I'm In" became a military tribute on Military Night at Country Jam. There was no shortage of red, white and blue in the audience and the song took yet another new meaning when he turned it into an upbeat gospel number.
It was at this point the show really found a groove. Sixty almost apologetic seconds of Sir Mix-a-Lot's "Baby Got Back" (he'll include it on his next album) led to Williams Jr.'s "Whiskey Bent and Hellbound." Haggard's "Big City" and "Misery and Gin" were home runs, the latter sang with only piano accompaniment.
"Girl in a Song," "Tall Boys," and his new single "Undone" were the other three new songs Nichols played on Friday night (June 17). "Undone" is indeed his sexiest song, and the females gave him the response he wanted. "Brokenheartsville" followed, and the massive singalong became the set's highlight. After three more songs he closed with "Tequila Makes Her Clothes Fall Off" and "Gimmie That Girl" just as the Colorado sun was setting and Brad Paisley's most devoted fans were jockeying for the best positions in front of the stage.
More From Taste of Country