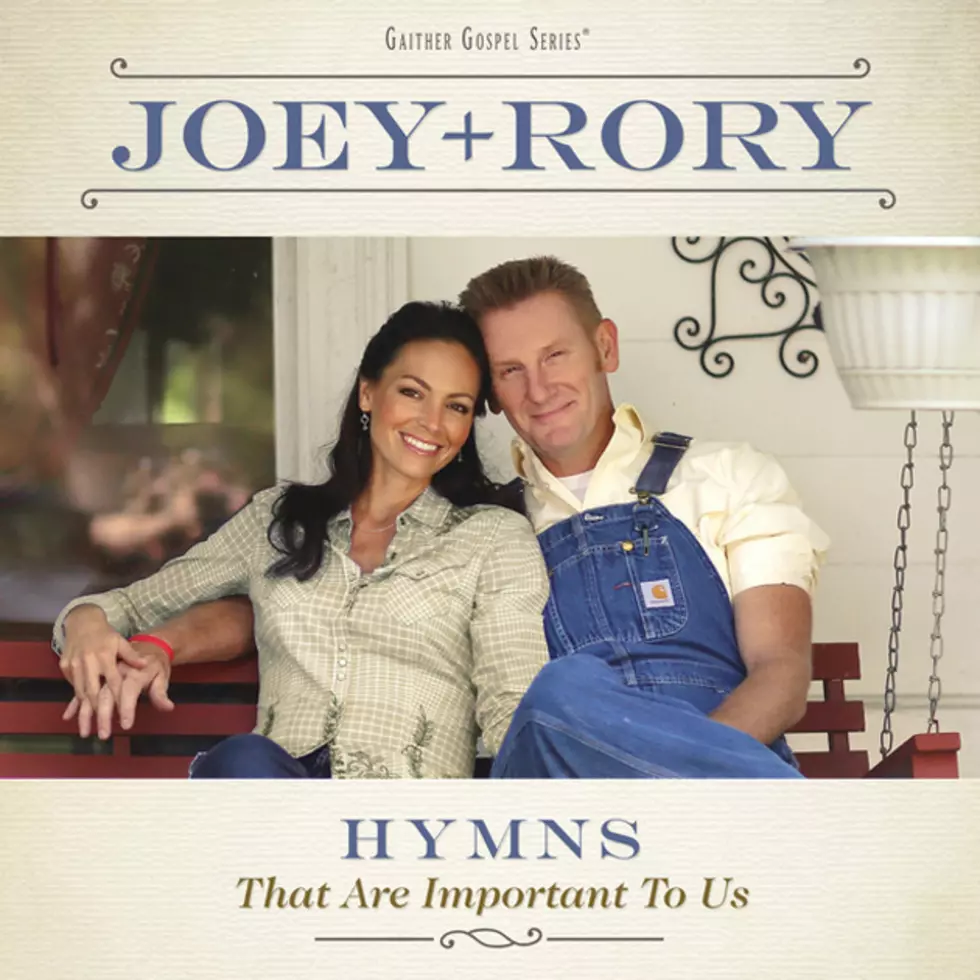 Album Spotlight: Joey + Rory, 'Hymns That Are Important to Us'
Gaither Music Group
Joey + Rory's Hymns That Are Important to Us project was so important to them that they recorded it despite Joey Feek's battle with Stage 4 cancer.
The album consists primarily of classic gospel hymns that Joey learned during childhood. She took comfort in those songs while she was undergoing surgery, chemotherapy and radiation, and in order to get the project completed, she even sang some of her vocals in the hotel room between treatments.
The release is important to the couple and their fans in more than one way. It not only marks their final recordings together and the final musical work of Joey's life, but it marks Rory's final recordings, too, since he has already announced his decision that he has no plans to continue singing and performing after Joey is gone.
Read on to find out all of the details about the new Joey + Rory album, Hymns That Are Important to Us.
The Producer:
Hymns That Are Important to Us was produced by Rory Feek and Joe West.
The Label:
The new album comes by way of Gaither Music Group, one of the most important brands in contemporary gospel music.
The Songs:
The songs mostly consist of traditional gospel hymns that have been inspirational to Joey Feek over the years, as well as one original track titled "When I'm Gone."
1. "Take My Hand, Precious Lord"
2. "I Surrender All"
3. "He Touched Me"
4. "Softly and Tenderly"
5. "Jesus Loves Me"
6. "It Is Well With My Soul"
7. "The Old Rugged Cross"
8. "I Need Thee Every Hour"
9. "How Great Thou Art"
10. "I'll Fly Away"
11. "Jesus Paid It All"
12. "Suppertime"
13. "When I'm Gone"
Why "When I'm Gone" Is So Important:
"When I'm Gone" previously appeared on another album, His + Hers, and has become a fan-favorite. Sung by Joey, the song is written from the perspective of a woman who is dying, telling the loved ones she's leaving behind that they'll be okay when she's no longer with them. Recorded before Joey was diagnosed with cancer, it has now become even more haunting given the reality of their situation, and the couple decided to include it on the album as a message to fans everywhere who are dealing with their own adversity. That one track was produced by Gary Paczosa.
The Release Date:
Hymns That Are Important to Us was released on Feb. 12. A special deluxe version is available via Cracker Barrel, featuring a booklet filled with pictures, and Joey + Rory's observations about the project, their faith and their life together.
A DVD Release Is on the Way:
The couple filmed a live performance of some of the tracks before Joey became too ill to perform. That performance will be released on DVD.
See Some of Joey + Rory's Best Songs Over the Years
See Joey + Rory Through the Years
More From Taste of Country