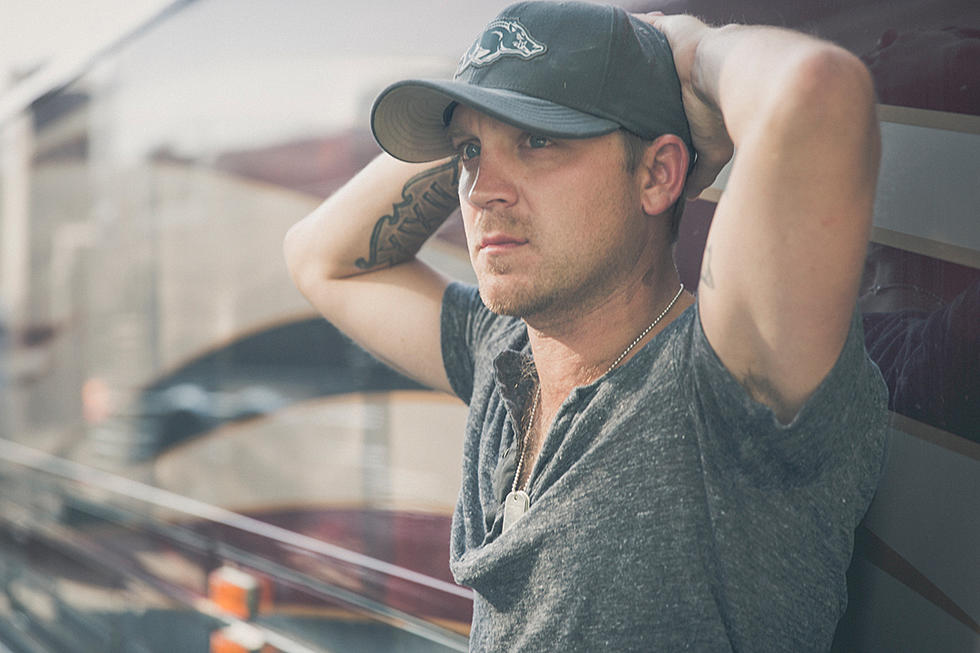 Kinda Don't Care: Justin Moore Shakes Expectations for New Album
Erik Voake for Taste of Country
After three years away, Justin Moore opens up about big changes in his musical approach, his personal life and why he 'Kinda Don't Care' what anyone thinks.
Justin Moore is two people. Onstage he swaggers with bravado, one of the most energetic and even cocky performers in country music today. He's known to dance and dive toward the edge of the stage to slap high-fives with fans lucky enough to be up front at one of his raucous live shows.
Then there's Justin Moore offstage, a laid-back 32-year-old Arkansan for whom the title of his fourth studio album, Kinda Don't Care, is something of a life motto. This version of the rising star meets us at an intimate studio on Nashville's Music Row on a sunny Wednesday afternoon, dressed down in jeans and a ball cap, to talk about the record, what he considers to be a pivotal project.
Despite a run of easily recognizable hits that include "Small Town USA," "If Heaven Wasn't So Far Away," "Till My Last Day" and "Point at You," Moore remains strangely under-reported; he's an artist whose music you've heard, but unless you're a particular fan, you very well might not be able to place his name with those songs. It's a situation that Moore says he would like to rectify with Kinda Don't Care, but it's not make-or-break for him.
"I don't concern myself with things that I can't control," he shrugs. "I worry about the things that are real. Facts. Those are the things that, at the end of the day, I can look back on my career and say, 'I did this, and I did that.' That's more important than being able to look back on my career and say, 'Man, people perceived me to be this ...' That's more important to me. I don't really care. Whatever. Unfortunately, sometimes in our business perception is reality. That's kind of the thought from people, but that's kind of bulls---. It's really not. Reality is reality," he says with a laugh. "As long as I keep showing up and playing shows and people keep coming to see them, I'm happy."
After a nearly three-year hiatus between albums, Moore found himself at a crossroads when it came time to record again, stuck between the traditional-minded music that led him to develop his rowdy rebel-with-a-heart-of-gold persona and the increasingly pop-leaning sounds that dominate contemporary country radio. He is returning to a very different landscape than the one he left. His last full-length, 2013's Off the Beaten Path, notched No. 1 and No. 2 singles before his cover of Motley Crue's "Home Sweet Home" derailed his run of hits and stalled at No. 30. The followup single, "This Kind of Town," peaked outside the Top 40.
"We'd never taken a break," Moore says of his time off. "And I needed to take a breath."
 
Three years later, things are very different for Moore personally, too. He and his wife, Kate, welcomed their third daughter, Rebecca, in July of 2014, and the couple are currently in the middle of building a new family home on a piece of land in Moore's tiny hometown of Poyen, Arkansas, that has been in his family for generations — a massive project that Moore ruefully calls "the house I'm not certain will ever be completed." But the singer seems anything but stressed about it; he's such an imperturbable presence in person that it's hard to square the soft-spoken man in front of you with the performer in an oversized cowboy hat who peacocks in front of packed arenas.
Where he does afford a little worry is Kinda Don't Care, the biggest musical risk of his career. Moore is one of the few hat acts among country's younger crop of stars, and passionately traditional.
"This is the most diverse album we've recorded, easily," he says. "I stretched my legs and was pushed to get out of my comfort zone. I was concerned about that because I've never wanted to contradict myself in relation to what I've done and said and have been as an artist. That core fanbase that's been there from the get-go, I don't ever want them to be disappointed."
He recalls producer Jeremy Stover, who helmed all of Moore's albums since his self-titled debut in 2009, noticing his anxiety as they waded into uncharted waters.
"He pulled me aside and he said, 'Man, do you realize that if you sing it, it sounds like you, and it sounds country? You can't sound any other way. You need to chill out. Stop worrying about this and freaking out about it, because if you have passion for this music and you love this music, that's gonna become infectious and other people are gonna love it'," Moore recalls. "And I said, You know what, he's right. I needed to let go and not care about it and let people hear it and let them know how excited I am about it."
On his first three albums, Moore wrote the bulk of the material, but Kinda Don't Care features only two of his co-writes. Several tracks host synthesizers, programmed drum sounds and a hard departure from twang-y melodies. "Hell on a Highway" stars a bouncing electronic bass; "Goodbye Back" — which Moore co-wrote — is awash in synths, compressed vocals, a glossy sheen of chorus effects and a poppy chanted vocal hook. You'll hear canned handclaps on the album's feel-good track "Got It Good." Producer Stover places these sonic left turns in the verses, which then give way to more country-rock arrangements in the choruses to create balance.
"That's something now that is becoming a norm on most records, and obviously that's something we had to take a look at," Stover says of the contemporary production. "To be able to move that forward, for what the vision was for what we had talked about for the record."
The new sound might come as a shock to Moore's core audience; it certainly shocked Moore at first.
"I had never opened myself up to that possibility," Moore admits with a wry laugh. "I was thinking to myself, 'George Strait didn't do that. I don't need to do it.' But I'm bright enough to understand that I have to continue to grow and evolve as an artist in order to stay up with what's happening. My job is to deliver music to the record company that radio wants to play and fans want to hear, and if I can come up with a more modern sound that fits into today's climate, without compromising what it is that I think is true and genuine country music, then I'm all about it."
Moore names "Goodbye Back" and "Got It Good" as two potential radio singles. The latter was under the advisement of Kate, who told him he was making a mistake when he passed on "Drinking Class", an eventual hit for Lee Brice.
The singer is in more familiar territory on lead single "You Look Like I Need a Drink" and "More Middle Fingers," a duet with Brantley Gilbert. As the title implies, the guitar-driven song is a kiss-off to all of the things that Moore feels like we shouldn't care about, including fat cat bankers and politicians bickering on TV.
"We are in a society right now, in my opinion, that is so consumed by being politically correct that half the time, we're not correct," Moore says. "And I've always thought, and even more so now, that people should do and say the right things, and if someone's offended by that, that's their problem."
The track would have to be cleaned up in a radio edit to see release as a single, but Moore is looking forward to playing it onstage with Gilbert on their Take It Outside Tour, which also features Colt Ford. The singer invited Gilbert to take part just from seeing the title, before he'd even heard the song.
"And when I heard it, I said, 'Yes, man. Slam dunk,'" Moore recalls. "I don't know who the hell wouldn't agree with everything it says, unless it's the people it's talking about. The politicians or whatever."
It's easy to attribute both Moore's lower profile and his sense of calm about his career to a strong focus on his home life. He married Kate in 2007, and they have three daughters together ranging in age from 2 to 6. References to all of his girls frequently pepper his conversation, and Moore makes no apology for the fact that his home life is his primary focus.
"I make this very clear: This is my job and my career, but it's not my most important job," he says. "My most important job is being Dad to three little girls, and that's also my favorite job, even though this one's pretty cool."
Moore's older daughters are involved in sports; he coached them in basketball last year and was also involved with softball. He tries to arrange his schedule to be present for all of their games, and he says as they grow older, that's only likely to increase. But he's not worried that more success will translate into more time away — Moore says it's the exact opposite. He's been able to cut back from more than 200 shows per year to less than half that number as his career has grown.
"I'm fortunate that I'm at a place right now where we play about 85 shows a year, which allows me a lot of time at home with my wife and my three daughters," he says. "Plus, the more success you have, you have your own bus. You don't have to be on a bus with 12 other idiots. So I get to bring my family out fairly often, with the exception of school."
The two older girls are old enough now that they – and their friends – understand what Moore does for a living. Sometimes his daughters ask him why someone wanted a picture with him at Cracker Barrel, and some of their friends have seen him on TV and shyly approached him to ask, "Are you a singer?"
That doesn't necessarily win him points with his kids.
"I think I'm kind of embarrassment at this point in their lives," he admits. "I'm hopeful that at 10, 11, 12, when they get to meet the Justin Biebers of that time, hopefully I'll be the cool dad."
When he's not working, Moore has been dealing with his construction project, which he swears will be the family's forever home. They have even taken more kids into account as they build.
"My wife wants a boy so bad she can't stand it," he says with a laugh. "I'm the exact opposite. There was probably a window of time where I thought I was missing out on something by not having a boy, but that gap has quickly closed … I don't know, we'll see what happens down the road. My wife usually wins most battles in our home, so she'll probably win this one."
He jokes that the house also ensures a degree of career longevity.
"I told my wife, 'Do whatever you want, 'cause I'm not building another one. You'd better get this one the way you want it.' So she took that to the extreme, and this house will ensure the fact that I will never be able to retire as long as I live." He takes a deep breath. "I'm gonna be here for a while! I'll be playing casinos at 85 years old."
Moore says over and over that Kinda Don't Care is the best album he's made, and he can't wait for his fans to hear it. He's clearly still got the competitive urge that fueled his rise to fame, but it's tempered with experience. Though he says he'd "love to go from a B act to an A act," Moore readily admits that his priorities and view of his place in the world have simply changed over time.
"When I got into this business, I wanted to be the biggest in the world — bigger than Garth Brooks and sell more records and have more No. 1s. That's not really my intention any longer," he says. "All those things would be fantastic, but I just don't like chasing stuff just as a status thing. I don't need that for my ego. As long as I never have to get another job and I get to do this, I'll be happy as a lark. I will consider myself and my career a success. As long as I can look in the mirror and be proud of myself for not only my professional career but also my personal life and the husband and father that I am and the Christian that I am, I'm happy. And if the rest of that stuff comes, awesome. But if it doesn't, it's been a good ride, and it'll be a good ride until it's over."
More Justin: The Taste of Country Photo Shoot
More From Taste of Country