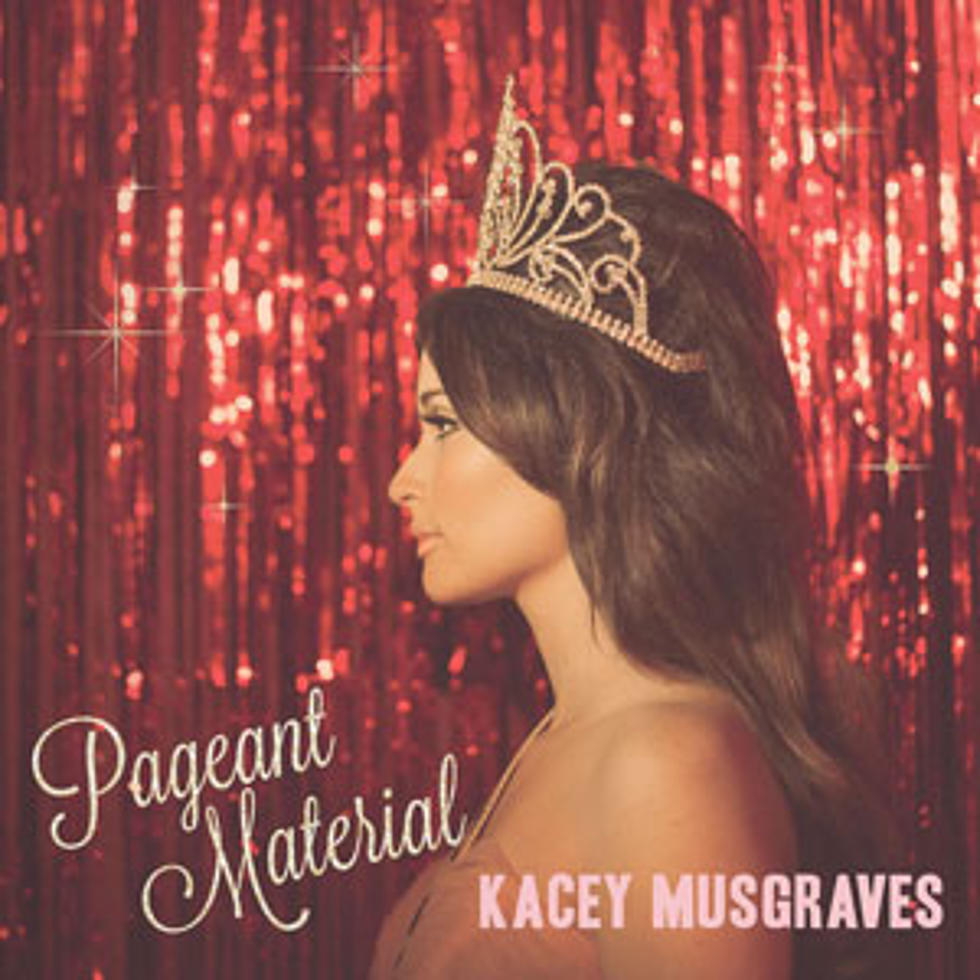 Album Spotlight: Kacey Musgraves, 'Pageant Material'
Mercury Nashville
Fans searching for sharp, stabbing statements from Kacey Musgraves on Pageant Material will miss the sweet, sweet tones and sentiments that are at the heart of her second studio album. With exceptions, gone is the small-town malaise, replaced by the kind of songs a girl in love writes and records.
Some of the songs are songs Taylor Swift (Egad!) would have written had she grown up middle class with a saltier circle of friends and family. "Die Fun" is one example. The lilting ballad is performed over an acoustic guitar for 30 seconds before a thin arrangement surrounds her. The song asks Musgraves to carry it, and she's more than capable of selling her message about living in the moment.
"Somebody to Love" and "Late to the Party" are two more honest love songs that separate Pageant Material from Same Trailer, Different Park. "I'm never late to the party if I'm late to the party with you," she gushes. This is what's new on the Texan's second album — songs about being in love right now.
Musgraves says her feelings toward her hometown are all love, but the vague discomfort she leans against during tracks like "This Town" and "Family Is Family" give the impression hers is a love/hate relationship. It could be the tone of her voice or an extension of how she represents herself. She isn't afraid of the truth, even when it comes to herself.
"I made it all the way past Austin City Limits / Maybe for a minute I got too big for my britches / But I'm just a dime store cowgirl / That's all I'm ever gonna be / You can take me out of the country / But you can't take the country out of me," she sings on "Dime Store Cowgirl," a signature track on Pageant Material that's as close to an autobiography as you'll find on an album.
There are statements: "Biscuits" and "Good Ol' Boys Club" find her on a soapbox, but neither is quite the refreshing look at society "Follow Your Arrow" was and is. Musgraves is a singer willing to take risks, and at this point the next risk would be to shock fans by releasing a song like the vulnerable "Late to the Party" to radio.
Key Tracks: "Dime Store Cowgirl," "This Town," "Late to the Party," "Somebody to Love"
Family Affair: In addition to including a song about family, Musgraves' late grandmother makes an appearance on Pageant Material, telling a story about a drug-fueled hospital mishap. The singer's sister also helped with the project, as she took the picture that covers the album.
Did You Know?: Musgraves says she's a daddy's girl, but adds that she loves her mother, too.
Kacey Musgraves Talks About Songs on Pageant Material
More From Taste of Country